Accelerating its digital journey to boost productivity and sales
Clothing retailer Kenjo Fashion taps on government support schemes to digitalise its operations for long-term resilience.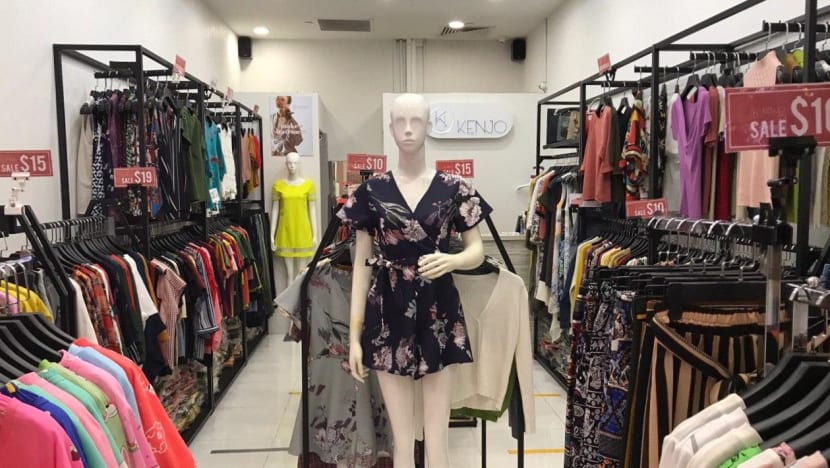 When Circuit Breaker measures were put in place earlier this year in response to the COVID-19 situation, Kenjo Fashion's business dried up completely, putting the business at risk of closure. Even with the gradual easing of restrictions that started in June, safe distancing measures that remained in place have significantly slowed traffic to its shops.
Founded by Mr Kenny Lim in 2018, Kenjo Fashion has outlets in three shopping malls – White Sands Shopping Mall, Bedok Mall and Eastpoint Mall – and specialises in affordable trendy fashion and accessories for ladies. "When we opened in Phase 2 of the Circuit Breaker, business was already down 30 to 40 per cent. We had to reduce our prices, which were already very low. Our goal now is not to make profit, but to survive," said Mr Lim.
With no e-commerce presence, Kenjo Fashion was particularly susceptible to the impact caused by COVID-19, as the company depended entirely on walk-in customers for its revenue. To cope during this crisis, Mr Lim decided to take advantage of government grants to accelerate the digitalisation of his operations to cut costs, improve productivity and generate sales. 
STARTING ITS JOURNEY
Kenjo Fashion started its digitalisation journey before COVID-19. It put in place solutions for cashless payment, inventory management and accounting with support from the Productivity Solutions Grant. These digital tools have been particularly important in helping it cope during the current slump in business.
"With the inventory management system, I can immediately tell which products are selling well in which outlets. This allows me to move items that don't sell well from one shop to another where they are better received," explained Mr Lim.
NEW CHANNELS FOR SALES
With the onset of the crisis, Mr Lim decided to take the plunge into e-commerce by tapping on Enterprise Singapore's e-Commerce Booster Package. He has started listing the company's products on online shopping platforms such as Qoo10. 
Transacting on the e-commerce platform, in addition to registering for PayNow Corporate and the Nationwide E-invoicing Network, will allow Kenjo Fashion to receive a payout from the Digital Resilience Bonus (DRB) initiative under the Infocomm Media Development Authority (IMDA). Announced during the Fortitude Budget earlier this year, the DRB provides extra support to uplift the digital capabilities of enterprises in the food services and retail sector. Eligible enterprises that adopt pre-defined categories of digital solutions can receive one-time cash payouts of up to S$10,000.
The company has also applied for Workforce Singapore's Career Trial scheme, which subsidises the cost of hiring one to two full-time employees to help build up its e-commerce channels. This enables Kenjo Fashion to build deeper capabilities in digital marketing and e-commerce so that it can increase online sales. 
Today, Kenjo Fashion also runs Facebook Live sessions three times a week to promote its brand, which helps the retailer to engage with regular customers as well as attract new shoppers.
Mr Lim explained: "The main goal of Facebook Live is not to push products, but to entertain our customers and draw them into our physical stores. We see around five to 10 regular customers coming into our stores every week because of the sessions."
THE ROAD AHEAD
The government grants that Kenjo Fashion has received have been instrumental in helping the company implement new technology. Without this support, Mr Lim believes that it would not have been able to digitalise as quickly or effectively as it has.
In the longer term, he aims to build up the company's e-commerce business to be a standalone operation that can meaningfully contribute to overall revenue. He is also exploring digital solutions in the area of human resource (HR) management to further improve efficiency and cut costs. "With a digital HR solution, there will hopefully be fewer errors in payroll. Right now, I am using part-timers to do the job manually," he revealed.
Kenjo Fashion is just one of many small and medium enterprises (SMEs) that are starting to draw from the hard lessons emerging from the COVID-19 situation, and are pro-actively digitalising their operations for long-term resilience.
MORE ABOUT SMES GO DIGITAL 
In April 2017, IMDA launched the SMEs Go Digital programme to make going digital simple for SMEs, through Industry Digital Plans, pre-approved solutions and digital consultancy. More than 20,000 SMEs have adopted various digital solutions under the programme.
How can SMEs benefit from the programme?
SMEs can use the Industry Digital Plans for their sector to find out if their business is digital-ready.
SMEs can adopt relevant pre-approved solutions based on their stage of growth and receive support under the Productivity Solutions Grant. These solutions are listed on GoBusiness Gov Assist.
Newly incorporated SMEs and those that have not digitalised can take up a Start Digital Pack to get a head-start. SMEs that sign up for a minimum 18-month contract will receive cost waivers for at least six months.
SMEs that are looking to grow their business and sell overseas can go onto established business-to-consumer (B2C) and business-to-business (B2B) e-commerce platforms under the Grow Digital initiative.
In addition to all these support measures, the Digital Resilience Bonus, as announced during the Fortitude Budget, provides extra support to uplift the digital capabilities of enterprises in the food services and retail sectors.
If you are from the food services or retail sector, find out how you can go digital and receive the DRB auto-payouts of up to S$10,000. Visit imda.gov.sg/DRBonus or contact your nearest SME Centre or supporting banks (DBS, OCBC or UOB) for assistance.
Subscribe to the SMEs Go Digital Telegram channel for the latest news on digitalisation support.