Entertain often? Here are top tips on how to design the perfect home bar
Take your entertaining to the next level by making the bar area a focal point of your home.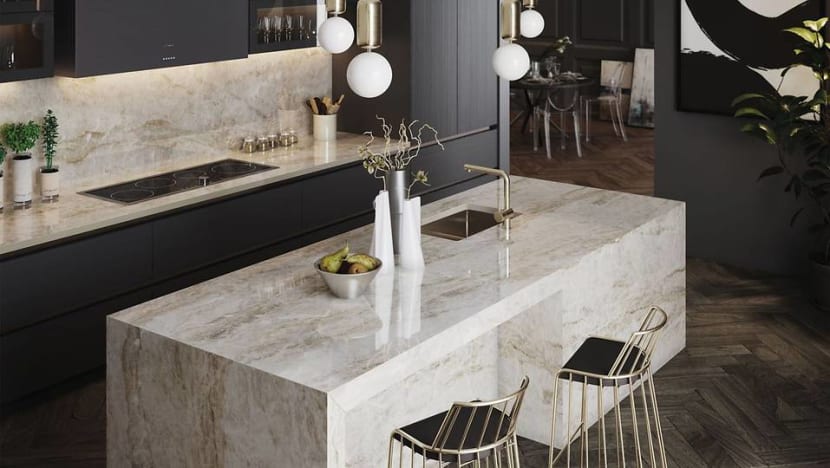 For the consummate entertainer looking to redecorate, creating a home bar seems like a natural decision. It not only provides a convenient place to store and showcase your prized bottles; it also creates a social space for family and friends to gather.
There are two ways to incorporate a bar at home, said LH Chan, design principal of TDC. The first is against the wall, using a tall console that functions as storage and display, with an integrated countertop for preparation. The second is a full-fledged bar counter, which takes up more space but promotes a social setting where guests can congregate.
Either way, planning and organisation are key. "You'll need sufficient storage space – at least a small fridge to store mixers, fruit, ice and more; and also a wine chiller," said Chan. "For the counter, make sure there's enough room for any small appliances, tools or other objects you would place on it. Think about multi-functionality to utilise your home bar more – it could make for a nice breakfast counter or coffee corner."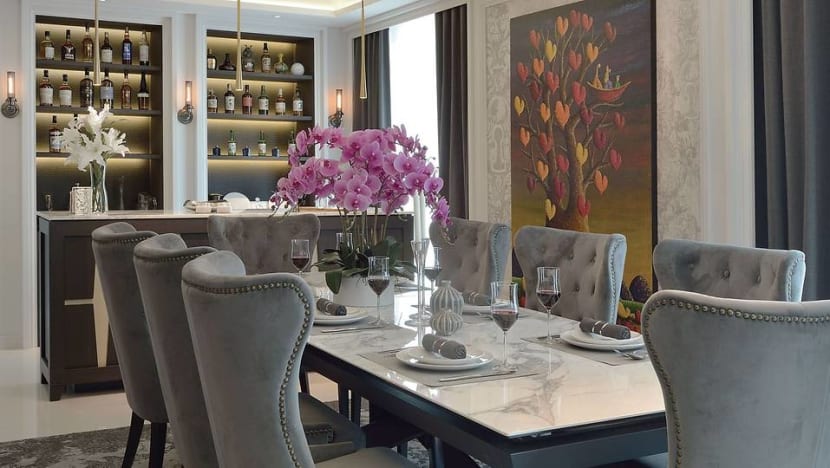 If you're getting a bespoke design, a mixture of open shelving and concealed cabinets is ideal. "Use glass display shelving to showcase your best glasses and bottles, and keep less attractive items hidden in under-counter cabinets," said Elliot Barratt, managing director of Elliot James Interiors. "Have the spirits you use most frequently at the front, so you can access them easily and you won't disturb the rest of your bottle display."
When it comes to setting the tone and mood for your home bar, consider using mirrored surfaces and other reflective materials to create a polished look and give the impression of depth. "Reflective surfaces always look glamorous, especially when combined with atmospheric lighting," said Barratt. "It's better to keep the look timeless, so no themes or sports memorabilia. You can still make the bar fun by including your own beer pump on tap, cool accessories and playing with your bottle selection."

For a finishing touch, install a dazzling decorative pendant lamp above the island counter. "This will visually balance the top and bottom design elements," says Chan. "Factor wiring into your lighting plan beforehand, to allow you to control the mood by switching on specific lights for different settings and purposes."
Here, we pick out the essential elements that you need to craft a bar area in your home.
SMOOTH OPERATOR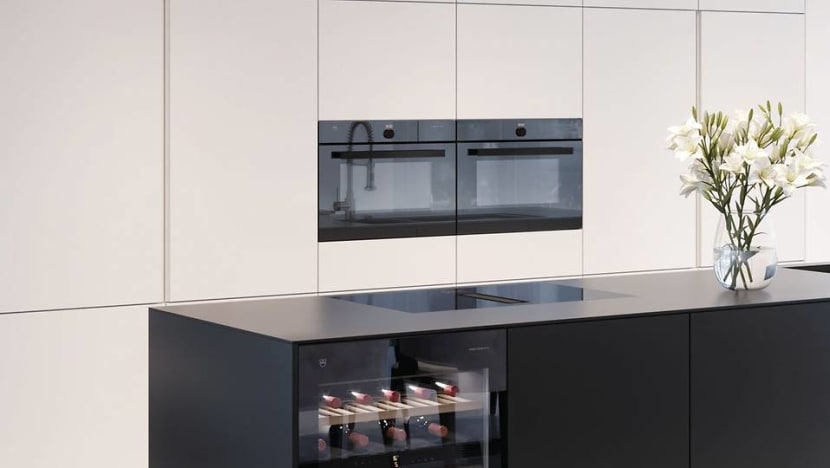 Keep your fine wines at the perfect temperature with the V-Zug UCSL 60 wine cooler. It features two flexible zones for white and red wines that can be set to specific temperatures. Designed to be fitted underneath a worktop, its mirrored front glass panel adds to its seamless look.
Available at V-Zug
ARTISTIC TWIST
The sculptural form of the Kelp Fortuna pendant lamp from Brand Van Egmond makes it a great statement piece for your bar area. Its design is composed of glass "icicles" that have been hand-blown and pulled at the same time, as well as organic, kelp-like structures that give it an artistic flair.
Available at Marquis HnC
DRINK IT UP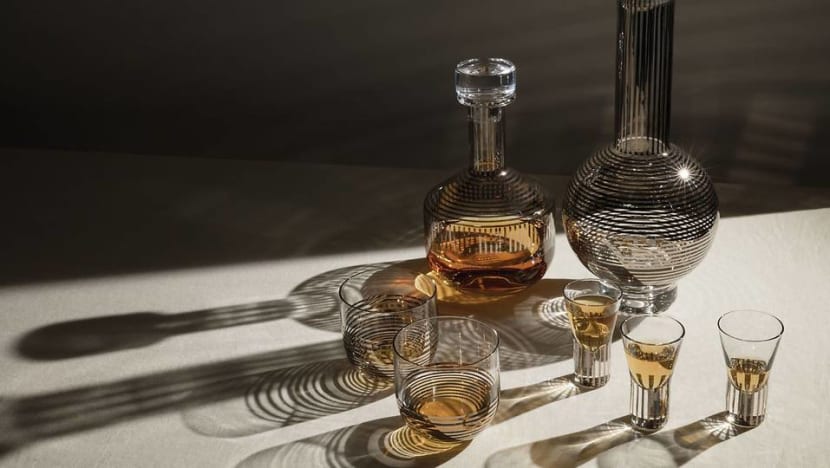 Taking its cue from the functional look of scientific glassware, the Tank barware from Tom Dixon has a minimalist appeal. The collection consists of different sets that include a whisky decanter, jug, ice bucket, shot glasses and more. Get it in the hand-applied platinum stripe finish for a luxurious touch.
Available at Xtra

NATURAL SHINE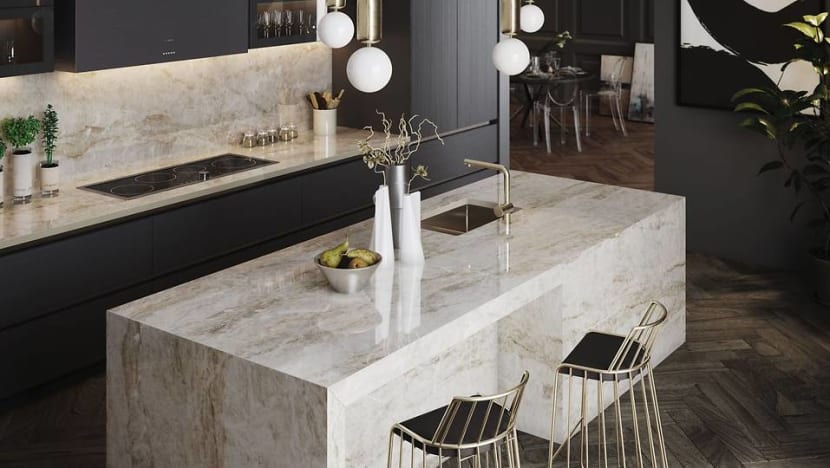 Complete the elegant look of your bar area with the Dekton Stonika Xgloss range of ultra-compact surfaces from Cosentino. It features realistic marble and crystalline veins in neutral tones, an eye-catching sheen and a highly-resistant finish for backsplashes and countertops.
Available at Cosentino
STUNNING SHOWCASE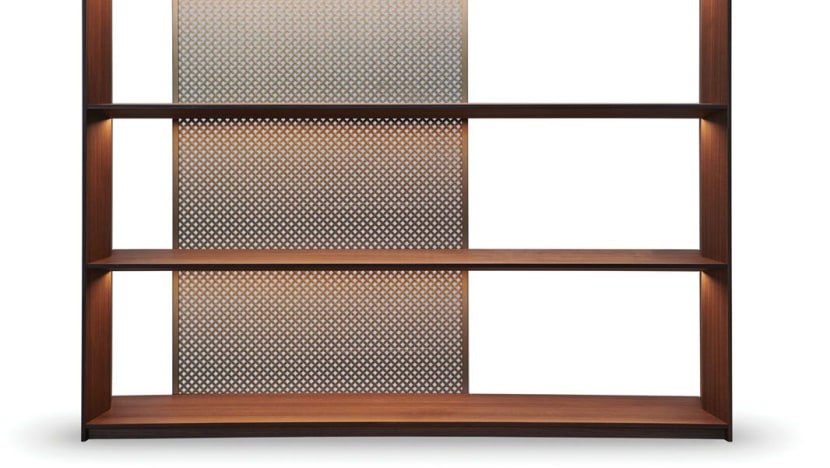 With built-in LED lighting within the shelves, the Molteni&C Ava shelving unit will beautifully illuminate your collection of spirits, stemware and bar tools. Sporting a eucalyptus wood finish, it also features a sliding laser-cut panel and slim shelves for a sleek, streamlined look.
Available at P5
TOP SEATS
The design of the Feel Good stool by Flexform pairs timeless style with contemporary lines and rounded proportions to create a versatile piece that looks great at any bar counter. Its sleek legs are available in a variety of metallic finishes as well as solid Canaletto walnut or ash wood.
Available at Flexform
AT YOUR SERVICE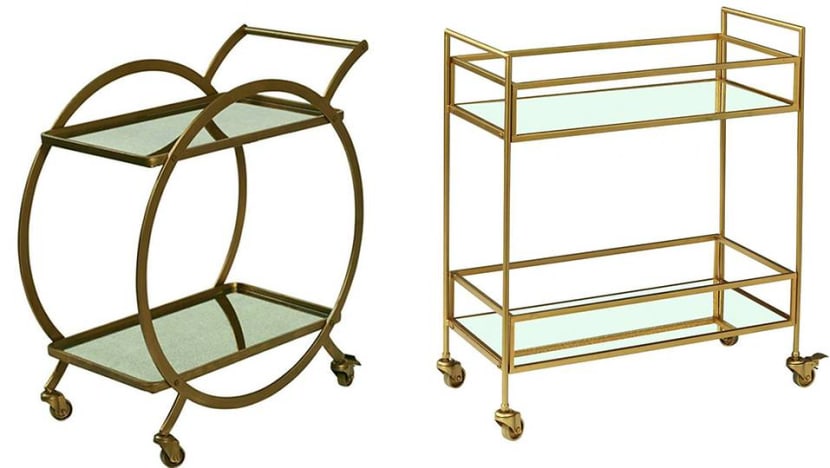 Featuring a gold-tone finish, mirrored shelves and sleek proportions, the Walter and Fenton bar carts from Maissone are nothing short of glamorous. Use the cart as a moveable display of your favourite drinks and glassware; serving cocktails and canapes can't get more stylish than this.
Available at Maissone
ALL ROUNDER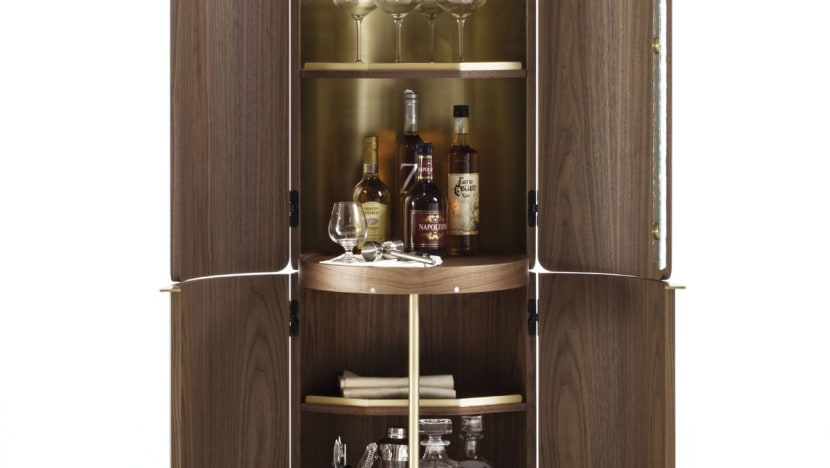 Tall, cylindrical and compact, the Mary bar cabinet from Porada features curved doors that swing open to reveal storage for glasses and liquor, and a handy surface for pouring yourself a drink or two. Canaletto walnut tones and brushed brass detailing give this freestanding unit an elegant and understated look.
Available at Marquis HQO​​​​​​​