Young and ambitious: Meet the new culinary trailblazers in Singapore's dining scene
Fernando Arevalo, Keirin Buck And Manogren Thevar are rule-breaking chefs helming their first restaurants, Preludio, Le Bon Funk and Thevar.
There's nothing easy about running a successful restaurant business, especially in a competitive market like Singapore. Its variety when it comes to cuisine styles is internationally renowned, but that only makes it harder for consumers here to choose or frequent a favourite restaurant while also finding time to try out new ones.
On the bright side, the market's fertile blend of concepts and cuisines is the ideal breeding ground for talented young chefs looking to blaze their own trails.
The likes of Ivan Brehm of Nouri, whose "crossroads cooking" style – a personal celebration of our shared culinary heritage – has earned him an even larger band of fans, not to mention a Michelin star within the first year of opening and a spot on this year's Asia's 50 Best list. 
Embracing creative diversity has also made it possible for chefs like Shigeru Koizumi of Esora to proffer a brave and genuine expression of contemporary Japanese fare and to shine – earning it the Best New Restaurant accolade at last year's T.Dining Best Restaurants Awards. Here are three more talents who stand out amid strong competition.
FERNANDO AREVALO OF PRELUDIO
It's not often that a restaurant comes along to change the way you think about fine dining. El Bulli did it. And now, Preludio's 34-year-old chef-owner has adopted the same freedom of "author's cuisine" to express his trans-border, multi-dimensional creative menu at his first solo adventure.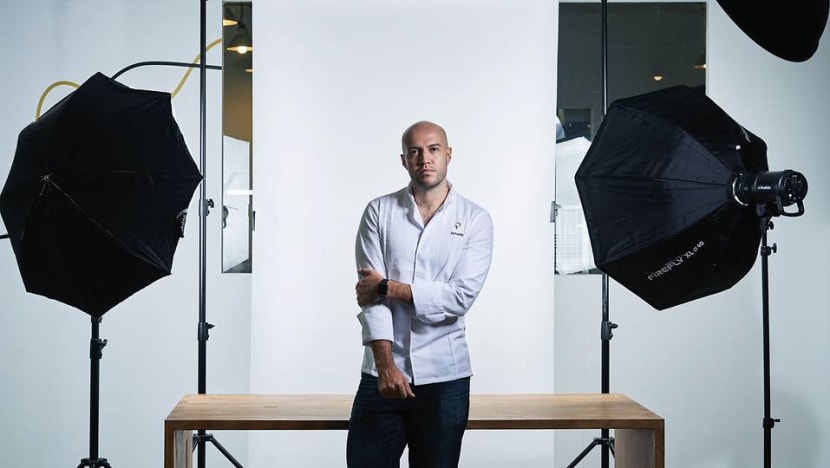 "Change comes from a detailed, experienced and analytical way of looking at restaurants," said the thoughtful Colombian chef, whose aim of improving the restaurant experience is paying off, reaching out to diners who may arrive with some scepticism, but leave with an awakened sense of the pleasures of dining well.
At the risk of giving away some of the surprises, the experience begins with two consecutive courses that are visually identical. Some customers try to push back the dish or even get frustrated at the perceived mistake in service. "It's not good enough to give people what they think they want – if you make the rules, we'd be mediocre."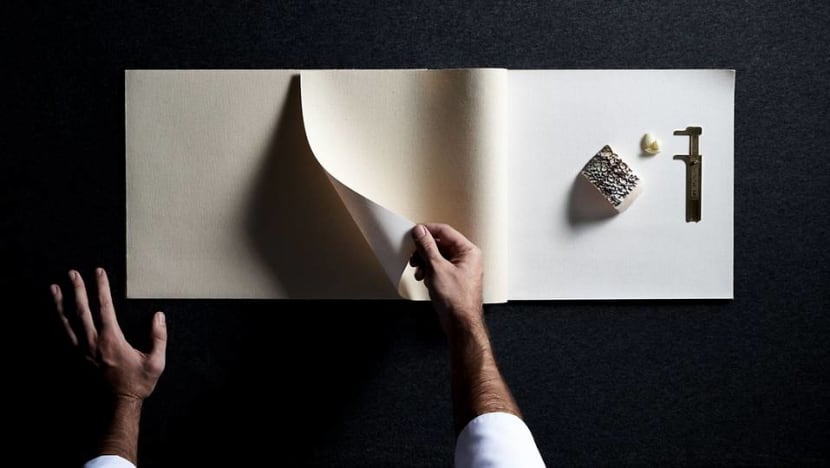 To get away from being hemmed in by a cuisine, Preludio is characterised by "chapters", of which the first is Monochrome. It has proven to be liberating for the team, as they have created strong concepts that would otherwise not have come to light. Bone marrow, for example, is not simply served as is. 
Veal bones are soaked in salted water, then sous vide'd and roasted, and further grill blasted. Only then is the marrow removed and seasoned with thyme and lemon juice to accentuate its elemental flavours. It's paired with 10-day fermented chanterelle mushrooms, an espuma spun from porcini mushroom trimmings and russet potatoes, and aged Oscietra Sturia caviar. A customer who refused to eat bone marrow discovered to her astonishment that this was, in fact, her favourite dish.  
"When some people hear about the Monochrome menu, they might think it's a gimmick but it's never been about the colour palette. It's about bringing food to a higher level, using this concept to inspire us."  
Preludio, 182 Cecil Street, #03-01/02 Frasers Tower, 6904 5686
KEIRIN BUCK OF LE BON FUNK
Food from scratch, made to look deceptively simple, is Keirin Buck's calling card. "I don't try to fluff anything, in fact, I think my dishes look kinda ugly," he laughed, noting how he favours using big strong-flavoured herbs with well-developed accents. For instance, peas that are cooked to its ideal state may split, look grey inside and not be perfectly round, but they taste its best.
The 32-year-old Canadian chef of one-year-old Le Bon Funk grew up with a healthy regard for fresh produce. The youngest of four sons of "70s hippie" parents, now organic farmers in northern Ontario, Keirin dropped out of school to cook, in the mid-2000s when the restaurant scene in Toronto was booming.
"It was a time to just take advantage of everything," Keirin explained, working almost around the clock at different restaurants to learn home-cured charcuterie, natural breads, and then eventually bringing together all his skills to Bar Isabel in 2013. Its owner, successful young restaurateur Grant van Gameren, is still the biggest influence in Keirin's career in serving dishes that are not just interesting, but thought-provoking.
A honeymoon in Singapore led to Keirin moving here with wife Yumie, to work at Burnt Ends where he admittedly had no experience with that style of cooking but found a good fit with its philosophy.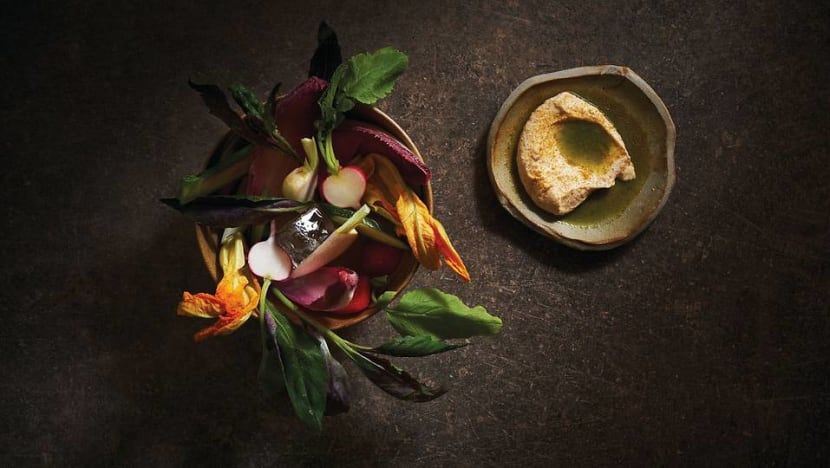 When the opportunity came up to articulate his own culinary vision with The Lo & Behold Group, 'the good funk' became his guiding principle. Natural wines complement his philosophy to a tee, and in a menu that's tweaked almost daily. What you don't see is often what's good for you – tomatoes, peaches and cheeses that spend extra weeks ripening carefully in a special fridge, sourdough starter working its long fermentation magic on bread, and broths that take up to two weeks to concentrate its flavours. In a scene where everyone talks up their dishes, Keirin said it all by only putting what he feels are important on the plate.
Le Bon Funk, 29 Club Street, 6224 1490
MANOGREN THEVAR OF THEVAR
"I'm a newbie all over again," 29-year-old Manogren Thevar tells us of his eponymous foray, which serves contemporary small plates that he would prefer not to call "modern Indian". Between deflecting questions like "Are you like Gaggan?" and requests for rice, the French-trained chef feels that he's finally settled in, dishing out sophisticated versions of the Southeast Asian flavours he grew up with in Penang, Malaysia.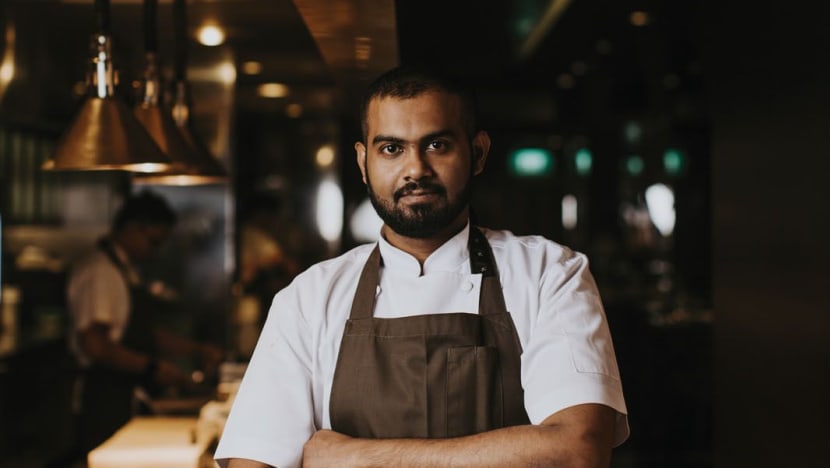 By age 22, chef Mano, as he's known to friends and customers, had landed a chef de partie position at Guy Savoy in Singapore. He absorbed the ways of the French kitchen, which stood him in good stead with his next boss, chef Tetsuya Wakuda at Waku Ghin, where he mastered the art of subtle, keen seasoning. Mano returned to the classic stage-by-stage kitchen set-up in 2015 with a 12-month stint at Pure C in the Netherlands, where he slogged from 7am to 1am on some days, in between travelling and sharpening his taste buds around Europe.
Back in Singapore, a stint at Meatsmith Little India led to talks in earnest with an old friend from Waku Ghin. Chef Sun Kim had gone on to establish Meta and Kimme, and now came knocking with the idea for contemporary Indian flavours in Meta's old space. "It was a real risk for me. There are many authentic Indian restaurants in Singapore ... but nothing really in between where you can have small plates and wines," Mano elaborated.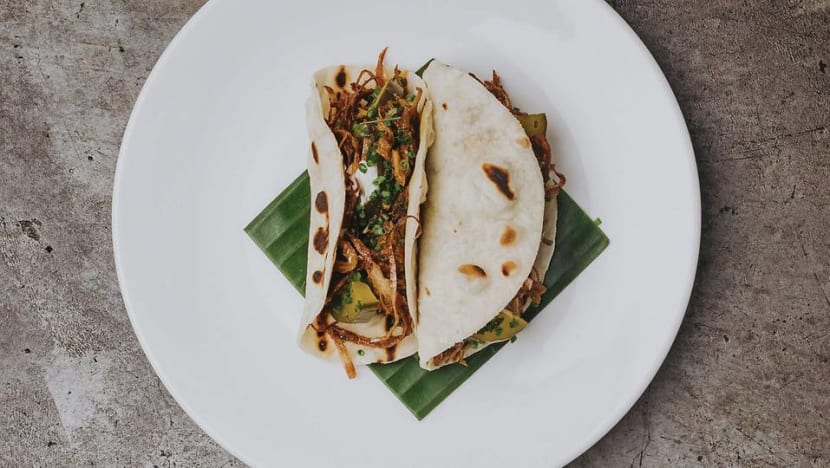 He painstakingly coaxed out memories of flavours in Chettinad curries and called his mother for the secret of the perfect dosai batter. But Mano isn't trying to compete with traditional cuisine. These flavours form the backbone for a more modern palate, using worldly techniques to whip up a new kind of curry sauce –freed from five hours of stirring at the stove and yet with each spice expressing itself correctly. Or in creating a mackerel dosai, an entirely new way of eating both mackerel and dosai. He's grown to include vegetarian dishes, as well as numerous signatures, such as the oysters with rasam granita.
Mano's confident interpretation of his own cultural roots has lent itself to a unique cuisine, where un-Indian flavours like lemongrass, galangal and pandan play alongside rava fry hamachi with potato masala and curry cream. It's a vision so individually crafted and yet universally appealing.
Thevar, 9 Keong Saik Road, 6904 0838