Chingay 2020: A colourful odyssey
The 48th edition of the Chingay Parade highlights diversity in a vibrant and inclusive extravaganza.
Other than the National Day Parade, no other large-scale event quite celebrates Singapore's multicultural landscape with as much life and vigour as the Chingay Parade. This multi-sensory show has evolved to become one of Asia's largest street celebrations, drawing international visitors and local audiences alike.
This year's theme, "Colours in Harmony", uses colours to represent Singapore's cultural diversity and harmony. It showcases a full spectrum of Singaporeans playing out their hopes and dreams at the parade. Highlights include the Bridge of Harmony float co-created by residents from all around Singapore, the world debut of the largest and longest flying dragon as well as 6,000 performers from all walks of life, drumming up the festivities. 
Read on to find out more about the world-class performances brought to you by an inclusive cast that's set to wow the crowd at Chingay 2020.
A FLOAT FOR ALL AGES
More than 1,000 participants from corporates, community partners, associations, social service organisations and the People's Association (PA) will helm the highlight piece – the Bridge of Harmony. Over half of the performing groups are first-time performers and will groove to the beat of popular hits as part of the travelling dance segment.
These groups bring to life the magnificent Bridge of Harmony float, made possible through the Chingay 2020 Community Engagement Programme (CEP). The float brings together the collective design effort of residents from over 150 locations island-wide, using the "Harmony" tiles decorated by the residents that represent values such as diversity, inclusiveness, care, courage, innovation and excellence, as the building blocks of the float that symbolises our harmonious community.
MAKING WAVES IN HIS OWN WAY
Participating in the Bridge of Harmony segment is Mr Choo Jun Wei, 23, from the PAssion WaVe contingent. He is part of DB Hearts, a social group providing dragonboat training to people with disabilities.
The first-time performer is proud to be part of the programme. "A parent-volunteer brought me into the group in mid-2019. Being able to practise and master the dance steps makes me feel more confident!" he said.
Citing care and inclusiveness as traits he identifies with, Mr Choo hopes his participation will raise awareness of how special-needs individuals can contribute to society. In time, he hopes to further his career in a media or administrative role.
HARMONY IN ACTION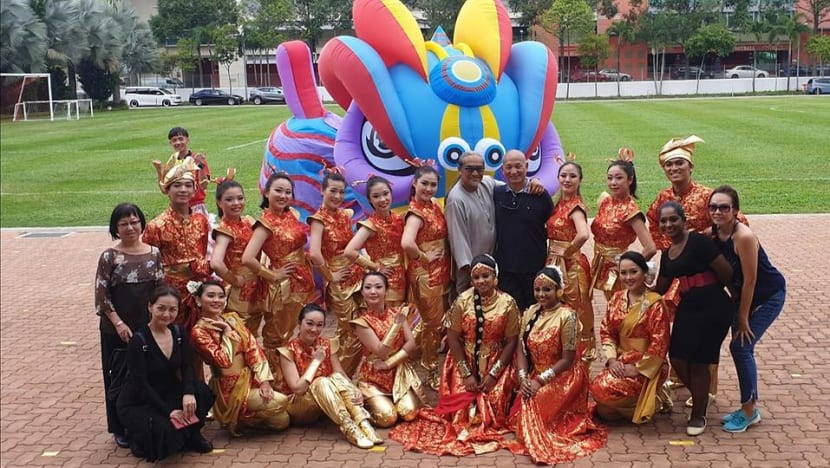 If you'd like to learn more about how Chingay has evolved through the years, the best person to have a conversation with is Ms Noormaya Abdul Rasiad, the dance and training coordinator from the Era Dance Theatre. She has been a part of the Chingay Parade since 1993. As a PA Talents member, she is passionate about sharing more about Malay culture on a global stage.
Explaining how Chingay has taken on a multicultural identity, she said: "Chingay used to be a Chinese-themed festival, but it's now a national event and involves participation from all races. It's a celebration where we all come together as one people, including the spectators!"
And it seems that a jolly cultural exchange happens backstage every year too.
"I love meeting new people of different ages and races every year. Chingay is the only time we get to collaborate alongside old friends and new volunteers. It's like a yearly gathering we don't want to miss out on!" 
Ms Ramlah Mohd Deros is also excited to be leading the Be Hype Be Happy group – an initiative that uses dance therapy as a form of support for cancer patients – to participate in Chingay for the first time. The spirited lady is also not letting the fact that she's visually impaired get in her way.
"I believe I can (lead well) with the 50 per cent vision that I have. I told the group about my condition, and so far, the practices have gone well," she said.
Ms Ramlah added: "Chingay 2020 reflects how Singapore is a multi-cultural society that's always united, colourful and lively!"
A SPECTACULAR CELEBRATION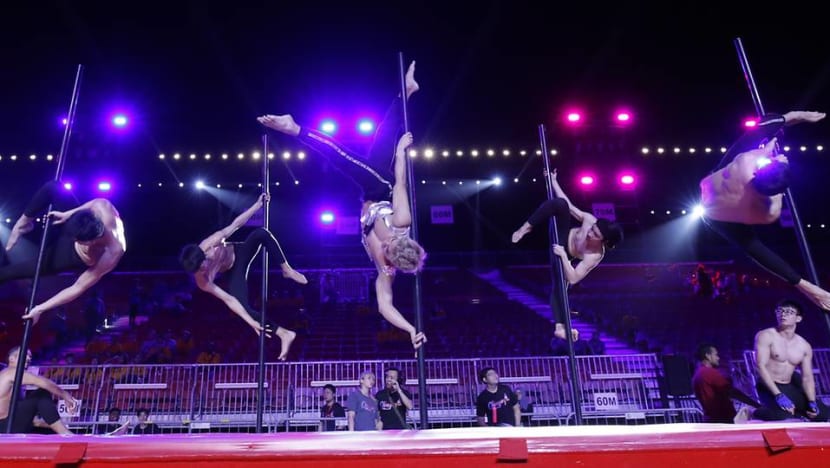 If Mr Louis Sue looks familiar, it might be because you have seen him perform on Asia's Got Talent. He continues to blaze new trails in the pole-dancing arena and shapes the way people regard the sport. His athletic routines clearly show that the activity is quite similar to gymnastics, in the way it highlights the human form and requires strength and stamina.
He feels that many have shied away from the sport due to pre-conceived notions.
"Pole dancing is a diverse form of dance that has many physical and mental benefits. It is a milestone for the pole-dancing community to see the sport being represented at Chingay 2020 and a celebration of diversity as our performers hail from different backgrounds," he said.
Visit the riverside carnival and mingle with performers, create Chingay props of your own, or embark on a gastronomical experience with the extensive lineup of food vendors.
Tickets for Chingay 2020 are available online at apactix.com from S$28.50 or by calling +65 3158 8588. PAssion card holders enjoy a 40-per-cent discount off ticket prices.