Clinician, plus so much more
Dr London Lucien Ooi is a Professor at Duke-NUS, Singapore's only graduate entry medical school. He's also a father, mentor, administrator, researcher and surgeon who's enjoyed a long and award-winning career in medicine.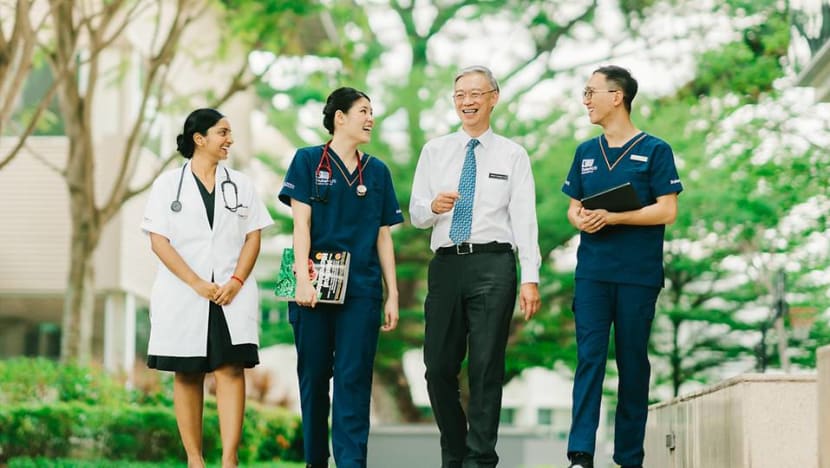 Even as a medical student at the National University of Singapore (NUS) in the 1980s, Dr London Lucien Ooi was always happy to share his knowledge and skills with others.
As he grew professionally in the medical community – winning numerous awards and gaining recognition – Dr Ooi found himself naturally taking on the role of mentor to younger doctors.
In addition to being the Associate Dean and Professor at Duke-NUS Medical School, Dr Ooi is a senior consultant surgeon at the Singapore General Hospital (SGH) a senior consultant surgical oncologist at the National Cancer Centre Singapore (NCCS), a visiting senior clinical advisor at Changi General Hospital's Office of Innovation and a clinical mentor at the Agency for Science, Technology and Research's Singapore Biodesign.
MENTORING EXCELLENCE
Mentoring younger generations comes naturally to Dr Ooi. He firmly believes that besides imparting knowledge, skills and values, a good mentor also cares personally for their mentees.
He recalls a mentee who was grappling with a serious personal situation that was affecting his professional life. Dr Ooi remembers sitting down with him many times for heart-to-heart talks to help him resolve the issue. As he was also the mentee's supervisor, he was able to provide administrative support when needed.
"I wanted him to succeed by overcoming this tough phase of his life and that spurred me to help him see opportunities, and to find a role for himself beyond clinical practice. He has since grown to become an outstanding leader in his own right," Dr Ooi reflects.
A number of Dr Ooi's mentees have become outstanding medical professionals, with several heading departments in different hospitals in Singapore and abroad. These efforts contributed to Dr Ooi receiving the National Outstanding Clinician Mentor Award at the Ministry of Health's National Medical Excellence Awards this year.
"My true rewards in the mentoring journey have been seeing those I have mentored grow to excel in their own careers, especially when they have gone on to greater heights than me."
THE BENEFITS OF BEING A CLINICIAN PLUS
Dr Ooi embodies the "Clinician Plus" concept – in addition to being a good clinician, one should also be one or some of the following: Clinician scientist/researcher, clinician educator, clinician innovator, clinician leader, and clinician administrator. Dr Ooi has been all of these throughout his career of more than 30 years in public service.
On being a pioneer when it came to taking on additional roles besides that of a clinician, Dr Ooi cites his constant drive to make things better for his patients, as well as the continual stimulation of acquiring new knowledge and making discoveries.
In his role as a clinician educator, Dr Ooi truly believes in the multiplier effect of teaching. "The impact of the care I give patients expands when I teach, through the care provided by those I have taught," he said.  
Wanting to better understand the diseases he was battling and motivated by his desire to improve care for his patients, Dr Ooi spent his weekends and free time over four years during his early career, pursuing a doctorate in medicine through research. He was conferred the Doctor of Medicine (MD) by NUS in 2001 after completing his thesis on liver cancer.
"A clinician educator extends his reach to more patients through his students, a clinician scientist or innovator reaches out to even more patients through new discoveries and therapies, and a clinician administrator and leader reaches even wider with policies and practice changes," Dr Ooi explains.
He started volunteering in hospital committees in the early 1990s when he was still a young doctor. He wanted to make relevant changes to how care was delivered in the hospital, embarking on his clinician administrator career which led him to hold senior management appointments in SGH and NCCS subsequently.
In his role as a clinician leader, Dr Ooi was also the moving force behind growing his sub-specialty of hepatopancreatobiliary surgery in Singapore, and this led to the subsequent establishment of SGH's Department of Hepatopancreatobiliary (HPB) and Transplant Surgery.
WHEN AIMING FOR A C+ IS A GOOD THING
Dr Ooi's favourite role, however, remains that of clinician educator. He foresees that as the pace of change in medical advances continues to be "tremendous", students will have to navigate more complex care and evolving patient expectations.
"Technology in medicine is also advancing," he said. "With these changes, medical schools can no longer just teach the science and art of medicine, but need to provide learning in health systems, healthcare financing and economics, bioinformatics and statistics, and an understanding of how to evaluate new technology, as well as skills in design thinking."
Having been Duke-NUS Medical School's Associate Dean for Admissions for the last three years, Dr Ooi's aim is to nurture a new generation of clinician plus students.
"The two main things of importance are the brain and the heart – a brain to be able to handle the rigours of medical school, and a heart to be a caring doctor. These two attributes make for an outstanding clinician."
"What makes someone a clinician plus will be their extra spark, and this can be seen through the things they have done and achieved before coming to medical school and then after, including how they have overcome adversity." 
Find out more about Duke-NUS admissions here.