Getting older, and living life better
Two different generations of ageing Singaporeans reflect on how recent Budget measures have shaped their plans and hopes for the future.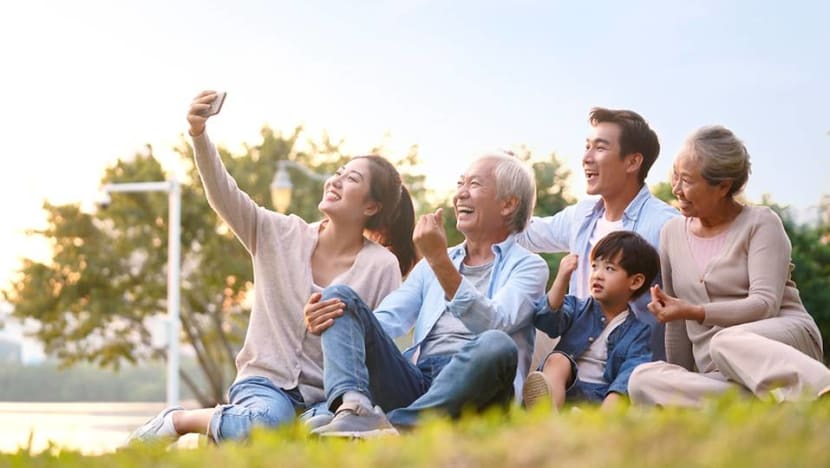 Age is not slowing Mdm S T Ng down.
The 85-year-old great-grandmother still enjoys going on long bus rides, shopping at the wet market near her home in Farrer Park, and walking to a temple at Moulmein to meet friends, even though she has to climb an overhead bridge each time.
Knowing her fondness for going out, Mdm Ng's children regularly take her on car rides around Singapore as well as on overseas trips to countries like Thailand and Australia.
While she is outgoing and leads an active lifestyle, there is one place Mdm Ng has always been reluctant to go to until recently – the clinic. Like many people in her age group, she was concerned about healthcare costs.
However, this changed with the arrival of the Pioneer Generation Package (PGP) in 2014.
"I had to pay the full rate previously," she said. "Now when I see a doctor, I pay a fraction. That makes me happy and grateful to be a Singaporean."
HELP WITH MEDICAL BILLS
Under the PGP, seniors like Mdm Ng are included in the Community Health Assist Scheme, which subsidises their visits to general practitioners and dentists. They also receive an additional 50-per-cent discount on services and medications at polyclinics and specialist outpatient clinics.
Mdm Ng, who lives alone in a four-room flat with a helper, is thankful that the PGP reduced the financial impact of her husband's medical bills before he passed away in 2017.
As her husband used to run his own vegetable retail business as a self-employed individual, he did not have Central Provident Fund (CPF) contributions like most employees. His healthcare costs – such as a knee operation – had to be paid for out-of-pocket prior to the government's introduction of the PGP.
The PGP's lifelong Medisave top-ups and subsidies for MediShield Life premiums gave both Mdm Ng and her late husband greater peace of mind when it came to medical procedures and hospitalisation.
Though her children give her a monthly allowance, Mdm Ng prefers to remain as financially independent as possible, relying on her savings. She also receives Goods and Service Tax (GST) vouchers and pays a concessionary foreign domestic worker (FDW) levy of S$60 a month.
"I have a good life," she said. "This year, I pray that my family will continue to prosper and spend time together. I hope other elderly people in Singapore can enjoy the same. Perhaps the Government can support those who are lonely by providing more funding for activities and day trips, so that our generation can pass their time more meaningfully productively."
LOOKING AHEAD TO THEIR GOLDEN YEARS
Mdm Ng's son, Mr H M Tan and his wife, Mdm P K Tan, have big plans.
The couple, who are both turning 63 this year and employed in the construction and real estate industries respectively, are looking forward to their retirement. They live in a paid-up four-room flat in Bishan with their 29-year-old son, and plan to begin transitioning to a retirement lifestyle in several years. Their dream is to spend several months a year travelling and living in places both familiar and new.
"We have old friends who live in Perth and we enjoy visiting them," said Mr Tan. "I would also like to spend a few weeks exploring the small towns in Japan by rail."
MAKING NEW TIME FOR OLD HOBBIES
Besides travelling, the couple want to resume hobbies that they have had little time for in their younger days. For this, they have the assistance of the Merdeka Generation Package (MGP), which was announced in 2018.
Mr Tan is looking forward to catching the latest blockbusters at selected cinemas on Tuesdays when MGP beneficiaries pay S$4 for tickets. Mdm Tan recently completed a class on fashion styling that was paid for via her SkillsFuture Credit.
Both husband and wife have also received the MGP's S$100 one-off top-up to their PAssion Silver Cards, which can be used for active ageing programmes, entry to ActiveSG pools and gyms, public transport and purchases at merchants accepting EZ-Link payment.
To stretch their dollar, they often buy groceries on Wednesdays, where MGP beneficiaries receive a 3-per-cent discount at NTUC FairPrice.
"The Merdeka package helps to ensure we can continue enjoying the quality of life that we are used to," said Madam Tan. "Now that we are getting older, we have to undergo more regular health screenings. That's where the Medisave top-ups and outpatient care subsidies come in handy."
Mr Tan agreed. "The MGP helps us to prepare better for retirement. The wide range of discounts is also interesting and adds more fun to our lives. I hope the package will continue to be updated with more lifestyle benefits over time."
Visit the Budget 2020 page to find out more about the Singapore Budget.