How artificial intelligence is shaping the future of work in Singapore
AI offers opportunities to create value, for employees and companies alike.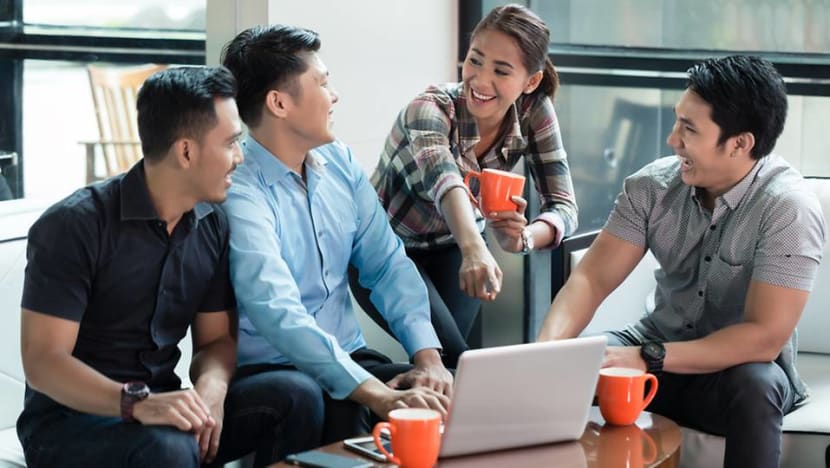 Once viewed as the stuff of science fiction, artificial intelligence (AI) has become a present-day reality that's playing an increasingly bigger role in our lives – sometimes in ways we may not even realise.
It flags possible credit card fraud, powers virtual voice assistants, and outperforms human beings in tasks like image recognition and identifying tumours. If Siri, Bixby or Google Assistant are staple services on your smartphone, then AI is already a part of your daily routine.
As Mr Howie Lau, chief industry development officer of the Infocomm Media Development Authority's (IMDA) Industry Development Group, pointed out: "AI is already here and embedded in our lives, connecting us to faster and more seamless experiences. As consumers, we have all been touched by AI in one way or another."
PUTTING THE FOCUS ON PEOPLE
In the workplace, AI will massively transform job scopes, but one thing remains clear – people will be at the forefront of the push to adopt AI. It will help automate many routine tasks while creating opportunities for greater productivity and higher-level endeavours.
To prepare Singapore's workforce and companies for the coming changes, the Services and Digital Economy (SDE) Tech Roadmap offers resources to help companies maximise the benefits of digitalisation. Services 4.0, a key aspect of the Roadmap, helps workers harness technologies in order to deliver improved customer experiences and achieve greater employee fulfilment.
"Our nation's prized resource has always been our people, and Services 4.0 puts people at the centre," explained Mr Lau. "In Services 4.0, service delivery is automated for repetitive and mundane tasks. Workers are augmented with emerging technologies for creativity, analytical thinking, emotional intelligence and innovation."
AN AI APPRENTICE
An integral part of Singapore's response to the transformations brought on by AI is the TechSkills Accelerator (TeSA) initiative, which supports Singaporean professionals in developing critical tech Skills. The AI Apprenticeship Programme (AIAP) supported by TeSA aims to raise the level of AI expertise across the workforce, and increase the amount of local AI talent to meet global demand.
Mr Lee Cheng Kai, 29, is a research assistant at the Singapore Data Science Consortium. Formerly a software developer, he graduated from the National University of Singapore (NUS) in 2015 with a Bachelor of Engineering in Chemical Engineering. At NUS, he discovered his passion for ICT, which led him to sign up for the AIAP in 2018.
He put his AI knowledge and training to practical use, developing tools that are useful in urban Singapore. During his nine-month apprenticeship, he was attached to the Predictive Lift Maintenance Project with Surbana Jurong and SMU (Singapore Management University). With a teammate, he created a machine learning model that could predict if a lift would break down in the following week.
"The project gave me an opportunity to explore big data tools like Apache Spark and Dask because of the massive volume of sensor data that was being sent," he said.
"I liked the challenges, but picking up deep learning during the coursework was the most difficult aspect of the programme for me. My project was the only one that did not use any neural networks in the initial model."
Neural networks feature interconnected points that work in a similar way to the neurons in the human brain. They help with deep learning as they can use algorithms to recognise and classify patterns in data. Over a period of time, this allows neural networks to continuously learn and improve.
Doing his own research helped Mr Lee keep up with his project teammates, and today he is using his AI skills on a project titled SmartBFA. Run by SMU and non-profit organisation Trampolene, SmartBFA uses data from Internet of Things (IoT) sensors installed on wheelchairs to map out wheelchair-accessible routes across Singapore.
AI FOR ALL
Besides the AIAP, there are other initiatives available to develop interest for AI among Singaporeans. The programmes such as AI for Industry (AI4I) and AI for Everyone (AI4E) are both developed by AI Singapore, in partnership with IMDA under the TeSA initiative. Professionals with an interest to acquire deep AI skills can sign up for the AI for Industry courses, supported through the CITREP+ funding. For people who have little or no ICT background, they can explore foundational AI learning through the free workshops under AI for Everyone.
It's a common misconception that only the most tech-minded people can understand what AI is. One does not need to be a coding guru to understand AI. Courses are accessible and available for everyone to learn about AI – even those with little tech background.
This accessibility is crucial, given the potential economic benefits that AI could bring.
AI is already integrated into a variety of services and apps. For instance, AI company ViSenze's Search by Image technology enables shoppers at Uniqlo to snap a photo of an item of clothing in the store before searching for it online.
According to ViSenze, this AI-powered service eliminates the need to guess the correct keywords to use. This enables Uniqlo to be more customer-friendly by making it easier for customers to find out details about items of clothing and improve their shopping experience.
Another company, Taiger, helps companies in the banking and finance sector reduce operational costs. The firm used its AI-powered solutions to help a client with a global presence reduce the time needed to process and reimburse insurance claims. Where this process used to take an average of seven days, AI-powered solutions enabled customers to get a response and update on the status of their claims in seconds.
According to Taiger, the adoption of their information understanding AI has exponential benefits in the financial sector beyond efficiency.
"Banks can use our AI-powered search and extraction software together for a more connected and pro-active customer service experience," said founder and CEO Sinuhe Arroyo.
"This means bank customer service frontline staff can do risk assessment, loan approvals and identify if the customer might need other loans on the same day via one employee. These functions are traditionally siloed and reactive, but no longer need to be."
VALUE, ADDED
Citing a 2017 report by Accenture, Mr Lau said that by 2035, AI could create up to US$215 billion (S$293 billion) in gross value added across 11 key industries in Singapore. "This is almost double the national economic growth rate, and will also boost labour productivity by more than 40 per cent," said Mr Lau.
He expects a "huge demand" for tech professionals in the near future. IMDA's Annual Survey on Infocomm Media Manpower for 2018, projected a robust demand for over 28,500 ICT (infocomm and tech) professionals from 2018 to 2020.
Said Mr Lau: "The opportunities are immense in the AI field. AI is one of the frontier tech skills in high demand over the next few years, and companies and workers can deepen their skills in AI or data to fully seize the many opportunities tech can bring to optimising businesses. IMDA will continue to work closely with sector agencies, research institutions and the industry to develop the AI ecosystem and our talent."
Visit IMDA's sgdigital.sg/AI  page to find out how AI can benefit you.