Influential Brands celebrates Asia's best in class
Top 10 CEOs of the Year were honoured at the 6th edition of the 2018 CEO Asia Summit
The secret to success is often said to be good leadership. At the 2018 CEO Asia Summit, 600 regional C-suite executives came together in Singapore and Thailand to recognise the top achievers among their peers, including the Top CEO of the Year.
Ten CEOs took the honours: Ms Rosaline Chow Koo, founder and group CEO of CXA Group, Mr Raman Singh, CEO of Mundipharma, Mr Jose Victor Paterno, president and CEO of Philippine Seven Corporation, Mr Joel Neoh Eu-Jin, founder of Fave Asia, Ms Preeyanart Soontornwata, president and CEO of B.Grimm Power Public, Mr Tiwa York, CEO of Kaidee, Ms Suphin Mechuchep, managing director of JLL Thailand, Mr Walter de Oude, CEO of Singapore Life, Mr Peter Koh, Group CEO of Oceanus Group Limited, and Mr Shashank Dixit, founder and CEO of Deskera Singapore.   
The CEOs were chosen based on a mix of factors, including their business leadership as well as the company's financial performance and use of innovation.
Mr Jorge Rodriguez, managing director of host Influential Brands, said: "This year, we are delighted to celebrate C-suite executives from four Asean nations: Singapore, Malaysia, Thailand and the Philippines. I would like to congratulate all the winners for their exceptional and exemplary leadership in their respective companies, industries and communities."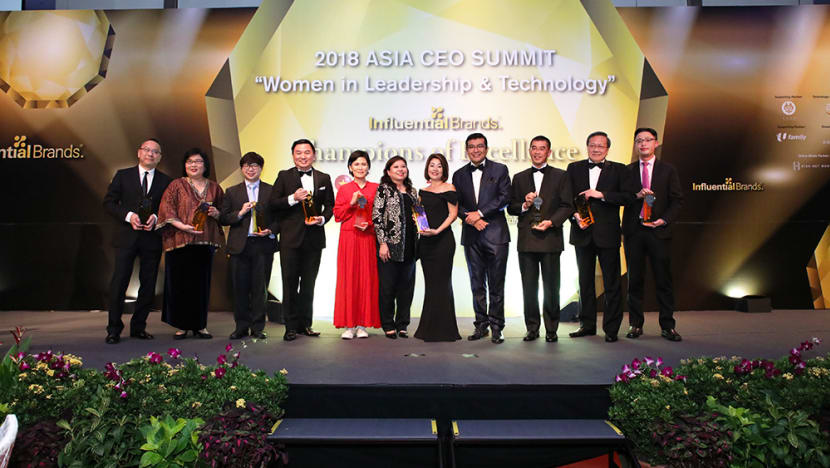 The 6th edition of the CEO Asia Summit took place in November last year at Singapore Marriott Tang Plaza Hotel and in December at Amari Watergate Bangkok. The Singapore event was held in collaboration with AWS, its partner in technology, as well as supporting partners Bank of Singapore, Huawei, United Overseas Bank Thailand, Kenn Foundation and PengWine.
Mr Kenneth Kam, chairman of Kenn Foundation, said: "We hope to inspire corporations in terms of sustainable growth, impact measurement, and long-term partnerships with charities, non-profits and social enterprises."
The Bangkok event was organised in collaboration with communications agency Neo Target.
HONOURING ACHIEVEMENT
The award categories at the CEO Asia Summit included Top CEO of the Year, Top Influential Brands, Top Employer Brands, Influential Woman of the Year, and Top Chief Information Officer.
Malaysian politician Ms Nurul Izzah Anwar (picture; second from right) was recognised as 2018's Influential Woman of the Year. In her acceptance speech, she said: "I can only accept the Influential Woman of the Year award in the hopes that it would lead to further empowerment of women everywhere - especially strong Malaysian women, of various colours, vocation and creed - in pursuit of reforms, for a better and more progressive Malaysia."
The drive to strengthen and contribute to communities was a common theme across award winners' speeches.
Mr Seah Kian Peng, CEO of NTUC Fairprice, said: "The Influential Brands award will motivate us in our pursuit to better serve our customers, set new standards for the supermarket retail industry while upholding our social objective and be a leading retailer with a heart." NTUC Fairprice was recognised as one of 2018's Top Influential Brands.
Building a positive workplace culture is important and that starts with the people, said Mr Alex Hungate, president and CEO of SATS. "We need to engage our people to get them excited about the vision," he added. "We also need to let them understand it is their ideas that we can use to unlock the vision. We invest in our people to enable them to develop competency to use the new technologies that will be a part of the solution."
Mr Ng Whye Hoe, managing director of Pet Lovers Centre, said: "Pet Lovers Centre is honoured to be named one of the top brands based on the efforts and initiatives to engage with consumers. Our approach is built around the dependability and quality of our products and services. Moreover, we are where customers shop with total confidence and peace of mind."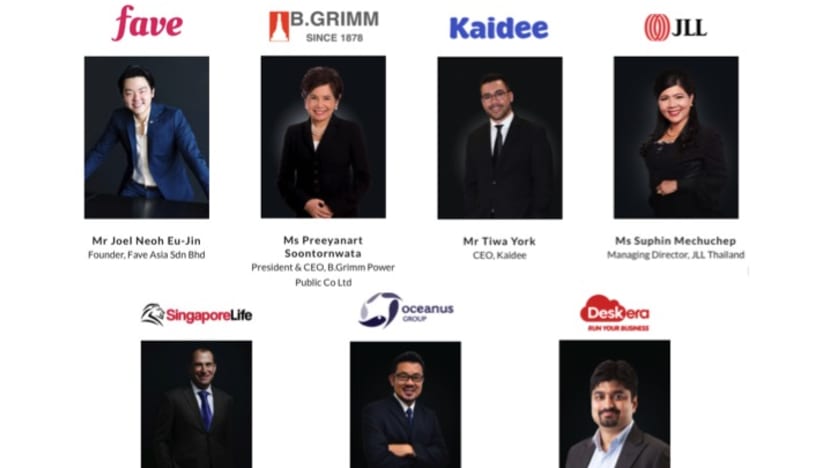 THE MARCH OF INNOVATION
The Summit in Singapore featured a panel discussion on technology and innovation, which was moderated by the head of Innovation at Amazon Web Services Asia Pacific, Mr Dipen Mehta.
Participants included Mr Glen Gary Francis, chief technology officer at Singapore Press Holdings, Mr Joe Chiu, vice-president (Digital and Commercial Systems) at Changi Airport Group, Mr Bidyut Dumra, executive director and head of Innovation at DBS, and Dr Ayesha Khanna, co-founder and CEO of ADDO AI, an artificial intelligence advisory and incubator.
The panellists discussed their approach to innovation and debated how far innovation could go in order to maintain competitiveness while still ensuring that organisations remain focused on their core businesses.
Over in Bangkok, digitalisation was the name of the game. Said Mr Andy Cheah, executive director and head of Wholesale Banking at United Overseas Bank PLC: "Digitisation is a strong enabler as part of an overall sustainable business model. It gives you the ability to disrupt the market, reduce the cost of capital and access new value chains that will allow you to compete with incumbents when expanding your business internationally."
COMING TOGETHER AS ASEAN
The keynote speaker for the Bangkok portion of the CEO Asia Summit was Guest of Honour Minister of Commerce of the Kingdom of Thailand, Mr Sontirat Sontijirawong (picture), who reiterated the importance of Asean's unity. He said: "Influential Brands' Asia CEO Summit provides an opportunity for top executives of Asian-originated brands to have a platform to raise global awareness and to exchange experiences and best practices."
Added Mr Rodriguez: "Attendees were able to exchange ideas with the clear single ambition of propelling the future of business in Asia to its true mark and potential. We are looking forward to a greater engagement with Asean business leaders in 2019."