It's time to frolic in Fiji
It's fun, food and fabulous scenery at this tropical paradise.
The archipelago of Fiji is a lesser-known paradise not often present in one's travel itineraries.
But not for long.
More travellers seeking exotic destinations are recognising the unique offerings of the 333 tropical islands in the South Pacific. With sun-drenched, palm-lined beaches fringed with colourful coral, the natural landscape creates an unbelievable backdrop in photos, and has activities ethnically special to the region.
And before you bundle "exotic" with "expensive", Fiji proves the budget traveller wrong with affordable rustic accommodations and activities. Here are our picks of the top 10 unique activities you can enjoy in Fiji.
1. Partake in a kava ceremony.
Some do a handshake; others a kiss on the cheek. In Fiji, sharing a bilo (cup) of kava is the way to say hello.
Made from ground kava root, a plant in the pepper family, the drink is part of welcome ceremonies for guests at local villages, though it is also often taken at other informal occasions.
In a live preparation, watch how the plant becomes a brownish "tea" that is strained into a bilo and presented to the most important guests. If this is lucky you, clap once (with cupped hands), down the mixture in one shot and then clap again. Admittedly, it's a mix of tingly and bitter, but it leaves one soothed and relaxed.
2. Stay in a bure and enjoy some rourou at the beach.
From the exclusive couples-only retreats to other more popular resorts, you can find Fijian-style bungalows known as bures. These elegant, thatched-roof bungalows keep your stay wonderfully authentic and you can choose from different levels of comfort. The best part? Most of these are eco-friendly constructions.
Couple that by strolling out to the nearest beach and ordering a platter of rourou. The delicious stew made with taro leaves and creamy coconut milk is local comfort food that's high in iron and an excellent picnic option by the beach.
3. Turn on the heat at Flavours of Fiji Cooking School.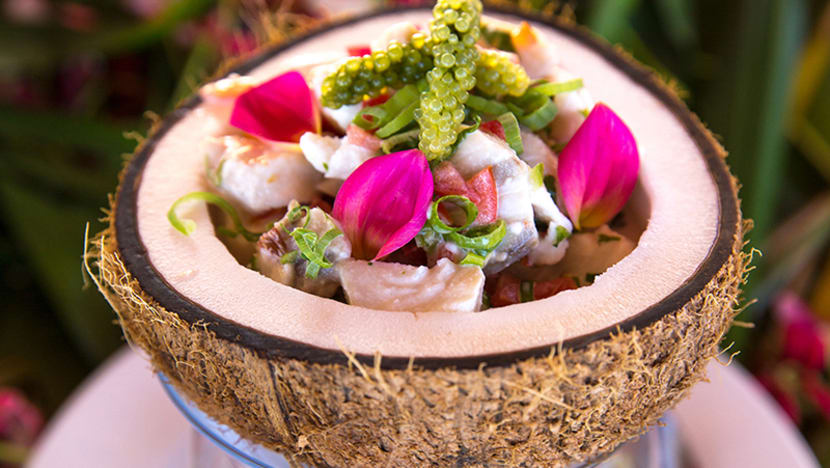 Are you dreaming to be a Masterchef? You can start with a visit to the Flavours of Fiji Cooking School. Fijian cuisine is unique, born from the lush environment. And the island prizes the garden-to-table concept by turning the natural resources of the island into lip-smacking dishes. At the school, you'll find access to plenty of local classics on the menu.
Start your day with a visit to the local market to shop for fresh produce, then haul your buy to the kitchen and learn how to make some good 'ol Kokoda (raw fish salad marinated in lemon and lime juice, seasoned with onion, tomatoes and coriander).
Also attempt some grilled mahi-mahi and bake some crispy cassava chips. Techniques and cultures become part of the learning before you sit down and enjoy your sumptuous creations.
4. Learn how to make a 'lovo'.
If you're lucky and ask nicely, some villages may show you how to cook a traditional Lovo feast. This involves wrapping up varying items of protein and vegetables, with seasoning and (of course) coconut milk in an intricate palm weave. This is lowered into an earth oven filled with hot coals and then covered with soil or banana leaves to cook for hours. The result is tender, moist and robust with flavour. Talk about barbecue done right.
5. Get wrapped up in a banana leaf.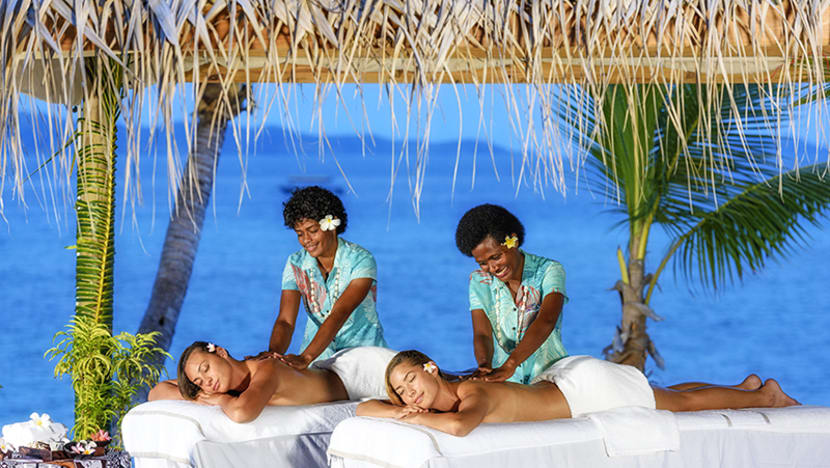 With the abundance of banana leaves and coconuts on the islands, it's small wonder that they have been included in spa rituals on Fiji.
Get a therapeutic body detox with a traditional banana leaf massage while enjoying a sensorial experience with some variation of bird song or water feature nearby. Not only do most Fijian spas have beautiful settings, pick the right one and you might be perched at a lookout looking gloriously over the forests or ocean.
6. Hike through Bouma and refresh yourself at Tavoro Falls.
When it comes to National Heritage Parks, Bouma is a real knockout. Located on the "Garden Island" of Taveuni, the area is teeming with rare orchids, colourful bird life and lush giant ferns. But the highlight and most popular trail takes one through three tumbling waterfalls that cascade dramatically into natural swimming pools.
7. Get up close with local birds and reptiles at Kula Wild Adventure Park.
If you prefer to see Fiji's exotic wildlife at one spot, the Kula Wild Adventure Park is the place to go. Perfect for families, you can not only see (and sometimes touch) the rainbow platter of birds and reptiles, you'll also learn more extensively about how Fiji is protecting her endangered species like the crested iguanas.
Take a self-guided walk to see flying foxes or the rare collared lory (a species of parrot). Kids can join a Junior Ranger programme that will make them budding assistants for the day – helping to feed the unique creatures!
8. Marvel at the Sigatoka Sand Dunes.
Formed over millions of years, the Sigatoka Sand Dunes were created by sediment carried down by the Sigatoka River. Varying from 20m to 60m, the rippling mounds are not only a natural landmark to behold but hold important archaeological items all the way back to 2,600 years ago. You can take a guided hike through the park or hop on a river safari that will cruise past the dunes via the main waterway.
9. Zipline through verdant forests.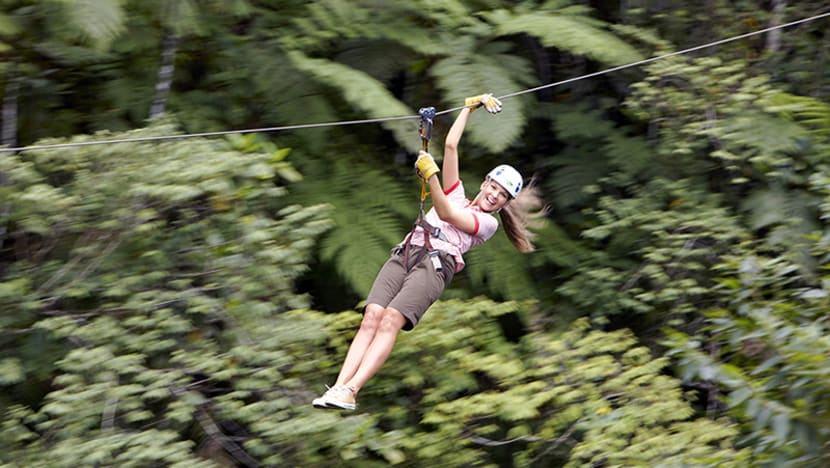 There's more than one way to see the amazing landscape of Fiji. Why not try it on a cable? Zip through multiple sections of the Garden of the Sleeping Giant park through towering canopies for over 1.3km at speeds of up to 60 km/h. It's fast enough for the adventurous and yet slow enough to ensure you get a good and different perspective of the island.
10. Skydive against the bluest canvas.
See Fiji from above with her coral reefs, pristine beaches and turquoise waters, then dive right into the scene – literally! Your adrenaline will go on overdrive before you take that leap, but embrace the thrill and shout "seqa na leqa" ("no worries") to your buddy and jump into a canvas of a million blues.
Are you feeling Fiji-ty already? Contact your local travel agents today or check out fiji.travel/sg/happy for more holiday ideas to add to your South Pacific itinerary.