Keeping her career in motion
Media veteran Jasmine Ng Kin Kia is always eager to take up new learning opportunities – and help her industry peers to do so as well.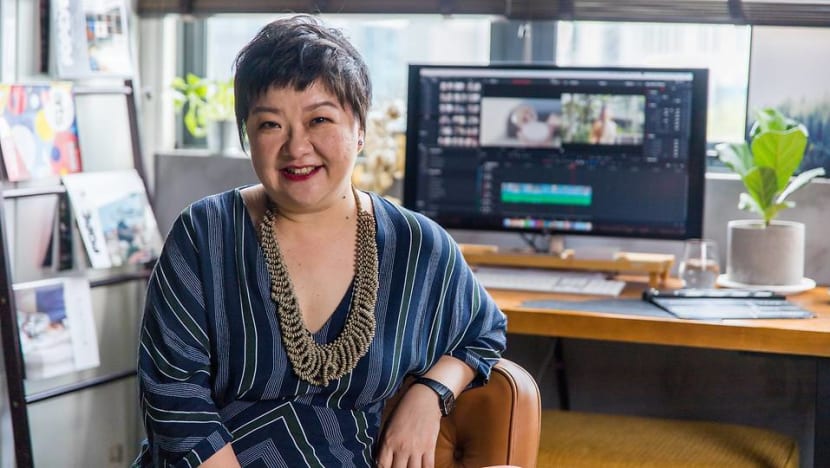 Working in the media sector for more than 20 years has left Ms Jasmine Ng Kin Kia convinced of one thing. Upgrading one's skills is absolutely essential, especially in the dynamic media landscape which has seen considerable change.
When she started work in the sector, most practitioners were concerned mainly about competing against established players in clearly defined segments.
Today, their competition is segmented and it comes in all sizes, from multinational corporations to influencers recording videos from the comfort of home.
Ms Ng, a self-employed film and television director and executive producer, said: "Media practitioners are vying for the attention of viewers not just at home, but elsewhere – there's a rush of opportunities that new platforms have opened up for content creators to reach new audiences. We compete with content creators from all over the world. We've always faced that challenge but now it is much more intense."
This is thanks to a confluence of factors. Technological advances have made prosumer-level gear more affordable. Learning new techniques is also easier thanks to enthusiast sites and online tutorials, while social media platforms offer new ways to reach out to audiences.
NO ROOM FOR THIN SKINS
Ms Ng initially benefited from colleagues who appreciated healthy competition.
"You'd look at someone else's work, review it and break it down to understand how they achieved a certain tone or effect, regardless of whether this person was more junior than you. You would complement them, then learn new techniques to raise your own game."
According to Ms Ng, one of the keys to continuous learning is leaving one's pride at the door. People may be reluctant to take up new skills due to the perceived need to show that they are experts in their respective fields. This, however, means passing up the chance to learn new techniques or skills.
"Our egos must not be so fragile. We must have the confidence to say that I don't know everything, but am worth it and hence I want to learn more. It's that spirit of enjoying new ideas, appreciating how you can further and stretch yourself by applying time and effort to humbly learn new things."
A LEARNER FOR LIFE
Ms Ng enthusiastically follows her own advice, having started her learning journey as the first recipient of an Economic Development Board scholarship to the New York University Tisch School of the Arts. She enrolled in a Film and Television Studies degree in 1992. When she was in her 40s, she completed a Masters in Tri-Sector Collaboration from Singapore Management University (SMU), supported by the SkillsFuture Study Award.
She also advocates for media freelancers in her role as the co-founder and president of the Singapore Association of Motion Picture Professionals (SAMPP). She has been a key player in shaping government policies, schemes and grants to drive the media industry's growth since 2009. These include the IMDA (Infocomm Media Development Authority) Media Education Scholarship (Film) grant, the Films Act and the Tripartite Standards on Procurement of Services from Media Freelancers. In 2018, SAMPP was given the NTUC May Day Partner of Labour Movement Award.
Today, she is a SkillsFuture Fellowships recipient, having been nominated by the IMDA after being a part of the agency's efforts to provide better support for media freelancers and organising mentorship programmes for the industry.
One of SAMPP's initiatives is their recently concluded community dialogue sessions for media practitioner freelancers and company representatives who work with freelancers. One of the key issues that surfaced during the sessions was the need for better understanding of legal protections.
"When people are not given fair terms and protections, they are more vulnerable to late payment or being shortchanged on work scope. This takes away a lot of unnecessary energy from your professional creative focus.
"So for continued development, it's important that people upskill themselves in legal training too. Hence, SAMPP's focus on running legal primers for practitioners over the coming months."
BROADENING MINDS AND CAREER OPPORTUNITIES
Ms Ng acknowledges that for many media professionals, making time for and securing funding to upgrade their skills is not always a straightforward task. She recommends planning ahead and putting aside money specifically for training.
"As a freelancer, when I was doing my Masters programme, I was able to plan ahead and take on projects that did not require me to be on set, so I could attend classes in the day and then dash to the edit suite to approve cuts at night."
Learning, she feels, doesn't have to be specifically related to one's day-to-day work, as many skills can be utilised across job scopes.
"If you learn the basic underlying principles, you can apply them," she explained. "It's value you add to each new project. That in turn adds to the potential for new types of work that you may not have been previously considered for."
Presented by the President of the Republic of Singapore, the SkillsFuture Fellowships honour individuals as masters of skills and mentors of future talent. It is open to Singapore citizens with at least 10 years of working experience in the same (or related) industry or job function. Each recipient will get a monetary award of S$10,000 to continue their pursuit of skills mastery.
Visit skillsfuture.sg/fellowships to find out more about the Skillsfuture Fellowships.