Kimly Construction: Building a culture of lifelong learning
The SkillsFuture Employer Awards winner went the distance in training and upskilling its employees during the COVID-19 pandemic. The result? A sturdy foundation that sees it through challenging times.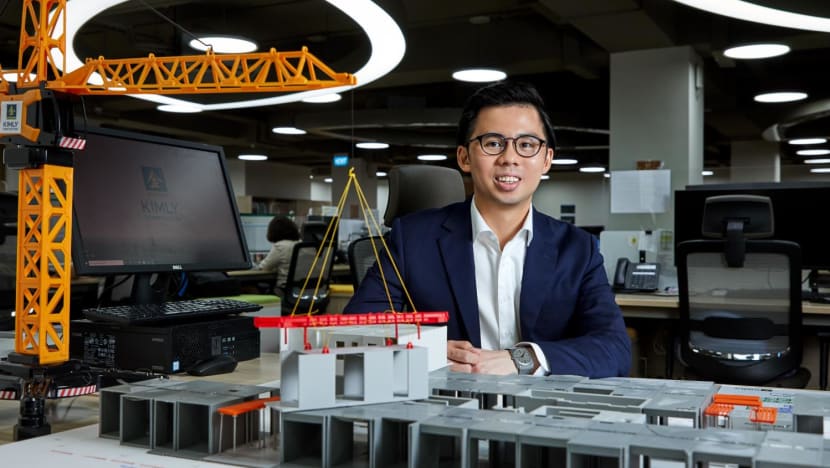 As businesses navigate a rapidly changing landscape, there is a need to nurture a workforce of lifelong learners who can remain relevant and flourish. 
Kimly Construction – a local company that provides construction management, and design and build services – recognises the urgency to strengthen its learning-for-all culture, especially during the COVID-19 pandemic.  
An advocate of continual learning, the veteran contracting firm was a recipient of the prestigious SkillsFuture Employer Awards in 2021. 
Presented by the President of the Republic of Singapore, the SkillsFuture Employer Awards recognises exemplary employers that make significant efforts in the skills development of their employees and develop skills-based career pathways for employees. It is open to all Singapore registered entities, including corporations, small and medium enterprises (SMEs) and voluntary welfare organisations.
Mr Louis Khoo, director of Kimly Construction, said receiving the award has strengthened the company's efforts towards establishing consistent upskilling at the workplace – a journey that has taken years as the organisation developed, implemented and adapted practices and systems over time. 
"Building a culture of upgrading is driven by our core values, which are to embrace and empower positive change, and to pursue and deliver excellence," he shared. "We have experienced both successes and failures on this journey, and are happy to see visible results. We have managed to better attract and retain talent, improve job satisfaction and most importantly, grow our organisational culture positively." 
GROWING SKILLS AND CAREERS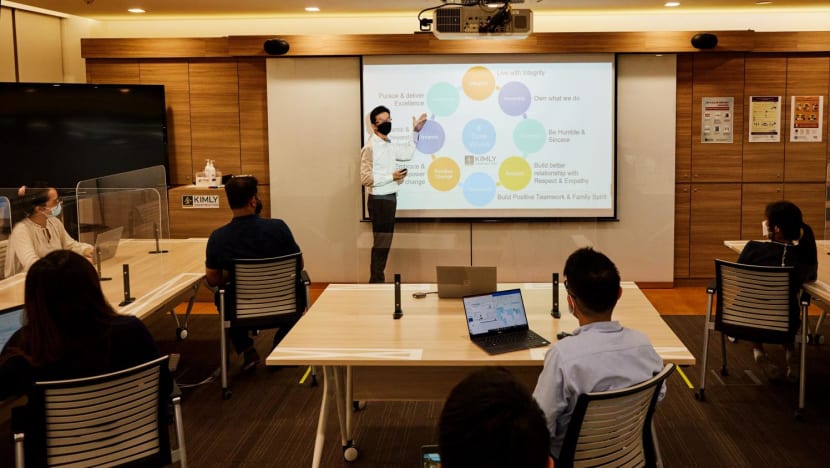 Research suggests that growth and learning take place when people step outside their comfort zone. 
Kimly Construction provides opportunities for staff to stretch their potential through a structured competency framework that plans, tracks and supports their growth. 
The framework allows staff to view possible career pathways across different job positions and levels. It also acts as a guideline to ensure employees are adequately skilled in various capabilities and have the relevant knowledge and skillsets as they progress in their careers, Mr Khoo explained. 
HANDS-ON LEARNING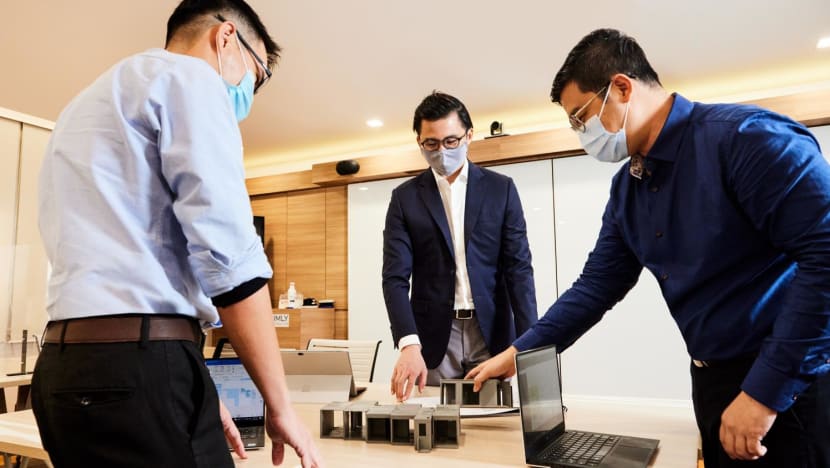 With hands-on experience being an essential part of the construction sector, Kimly Construction has in place a systematic on-the-job framework for new hires, including interns, as part of their training. 
The training, conducted by a line manager or senior colleague, helps to establish clear lines of communication and ensure that new staff can better understand the company's processes and ease into the work culture, Mr Khoo said.
For employees who are not professionals, managers, executives and technicians, the company organises monthly certifiable courses that ensure they are up to date with industry practices. These courses also help employees grow their skills to take on expanded roles in their careers. 
ADAPTING AND THRIVING DURING COVID-19
During the pandemic in 2021, the company launched Kimly Academy to develop more in-house training programmes with a focus on specialised capabilities. It also created more cross-training opportunities for employees to learn from other departments and industry experts.  
"The objective is to accelerate and better manage employees' career and skills development, as well as empower them to take ownership of honing their expertise," said Mr Khoo. 
He pointed out that the construction industry was one of the most affected industries during the pandemic, especially during the circuit breaker. "The pandemic forced us to be more agile. While improvements to our infrastructure and processes were made, our mindsets also had to be more adaptable," he said.
In addition to establishing Kimly Academy, the company upgraded IT infrastructure, and developed hybrid learning programmes for its staff. For example, it launched its first online training programme in April 2020 and conducted online quality assurance training sessions for staff who were working from home during the circuit breaker.  
The move towards online training gave staff greater flexibility and improved productivity. Many virtual training sessions continued even as safe management measures were relaxed over the course of the pandemic. 
INVESTING IN TALENT DEVELOPMENT THE WAY FORWARD
Changes in business environments are not uncommon – the pandemic has exacerbated challenges such as supply chain disruptions and manpower shortages in certain sectors. 
While being adaptable is important in tackling challenges, so are implementing real-world practices and building a learning culture at work. "Being adaptable starts with a mindset, but it also needs systems and practices to gain real results, and foster a real culture of continual improvement," said Mr Khoo. 
At the same time, companies need to know how to attract and retain good talent, he added. This can be done by providing the right resources and opportunities for staff to improve on existing skills and develop new ones. 
One way the organisation acquires local talent is through industry scholarships and sponsorship programmes with local institutions. 
As a way of contributing to the industry, Kimly Construction also supports the growth of local talent by participating in the Professional Conversion Programme for Building Information Modelling professionals to help mid-career switchers, and the SGUnited Traineeships Programme to help new entrants. 
Mr Khoo believes that receiving the SkillsFuture Employer Award can help cement Kimly Construction's position as an employer of choice in the industry.
"Employees and job seekers value organisations that proactively develop the careers of their people and have the right resources and practices to do so," he said. 
"The award affirms that we are on the right track in fostering lifelong learning in our organisation. This is also part of showing our clients and partners that we are building a progressive and sustainable organisation by continually improving the way we develop our human capital and capabilities," Mr Khoo said.
The SkillsFuture Employer Awards is open to all Singapore-registered entities, including SMEs, corporations and voluntary welfare organisations. Organisations can receive a Silver, Gold or Platinum Award. Past recipients of this award are encouraged to reapply as an affirmation of your continuous commitment towards creating a culture of learning at your workplace. Apply for the SkillsFuture Employer Awards at skillsfuture.gov.sg/sfea. Applications are open till Mar 21, 2022.