Late payments of over S$4 billion owed to Singaporean SMEs in 2018
Learn how small businesses can avoid them and the pitfalls of a stagnant cashflow.
The issue of late payments to any business may not seem major but in the long run, it can prove to be a disruptive factor industry-wide. For small to medium enterprises (SMEs), the trend of late payments has become a rampant problem, denting their ability to grow and take their business to the next level. 
According to cloud accounting software company Xero's Late Payment Findings (2018), the data shows that late payments to SMEs in Singapore amounted to S$4.15 billion in 2018. Most payments were late by one to three days (10.32 per cent) and some even came in more than 31 days late (11.32 per cent).
In total, only 39.45 per cent of payments to SMEs in Singapore were made on time and 18.84 per cent of invoices – in itself worth S$2.67 billion – were left unpaid.
DIFFERENT INDUSTRIES, DIFFERENT STANDARDS
The extent of late and unfulfilled payments to Singapore SMEs is rather dispersed among sectors. For instance, while the Professional, Scientific & Technical Services sector tended to have the highest monetary value for late and unpaid invoices, it ranked low in terms of the percentage of late and unpaid invoices. 
The same sector, however, also had the highest amount of on-time payments in terms of monetary value (above S$562 million), although it did not rank particularly high in terms of percentages. This indicates that overall transactions for this sector were either larger or better represented in Xero's data.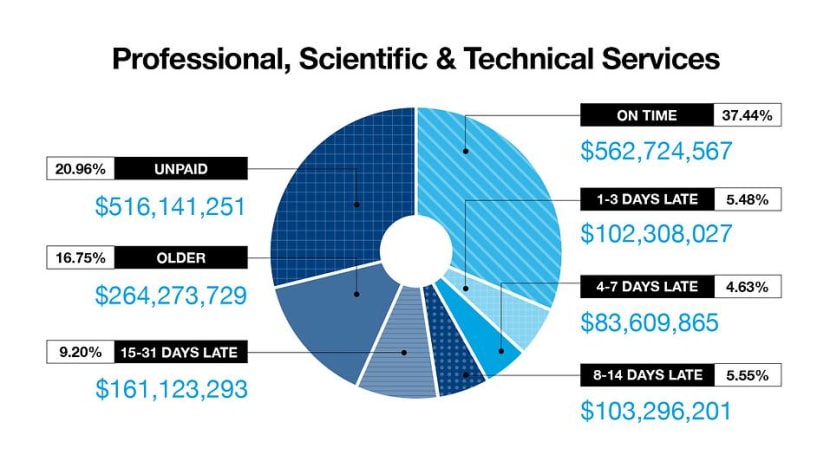 The sectors with the highest rate of on-time payments were Agriculture, Forestry & Fishing, Health Care & Social Assistance, and Public Administration & Safety.
Agriculture, Forestry & Fishing and Health Care & Social Assistance also had one of the lowest rates of late payments.
SECTORS MOST AFFECTED BY LATE PAYMENTS
The Mining sector, which has some of the lowest dollar values for late payments because of its relative small industry size, was found to have some of the highest rates of late payments by four to seven days, 15 to 31 days, and more than 31 days. It also had one of the lowest rates for on-time payments across the sectors.
The Accommodation & Food Services sector fared worst for payments that are one to three days late (32.69 per cent), but also had some of the lowest rates for unpaid invoices (12.39 per cent) and tardiness beyond 31 days (4.19 per cent).
Transport, Postal & Warehousing had among the highest rates of late payments for 15 days up to more than 31 days (34.6 per cent), as well as unpaid invoices (23.04 per cent). 
However, the Electricity, Gas, Water & Waste Services had the highest instances of unpaid invoices, at 53.81 per cent – more than half of the sectors' entire collectables.
THE OPPORTUNITY COST OF LATE PAYMENTS
Late payments and unpaid invoices not only derail cashflow but also cause companies to lose out on revenue-generating activities, such as growing the business, starting new projects, and even simply gaining interest from bank deposits.
To present the data, Xero used the total amount owed to Singapore SMEs and multiplied that with interest rates for bank deposits as an example of how much interest is lost: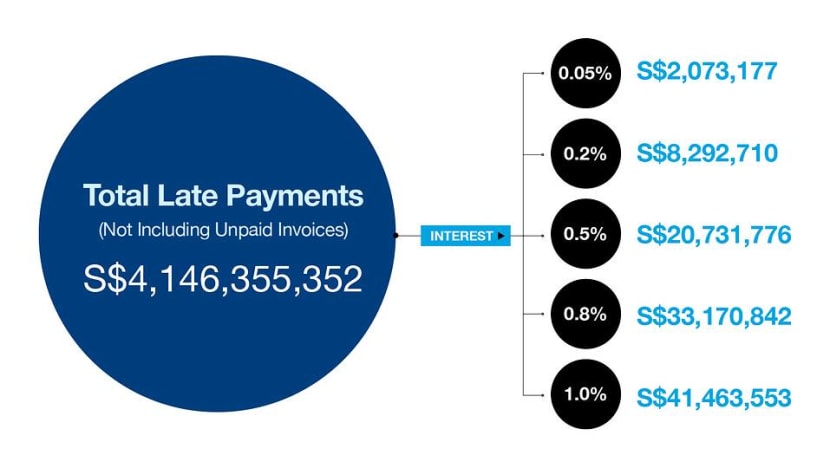 This shows that no matter the scenario – be it a one-week or one-year deposit – businesses have much to lose when payments are delayed or, worse, never fulfilled at all.
FINDING A SOLUTION TO LATE PAYMENTS
There are ways that SMEs can get around late payments.
Last year, the Infocomm Media Development Authority (IMDA) of Singapore rolled out the Peppol e-Invoicing network to streamline the e-invoicing process. It facilitates the direct transmission of invoices in a structured digital format, from one finance system to another. 
This allows for faster payment, thereby helping SMEs improve efficiency, reduce cost and access new financing options. The network is an extension of the International Peppol e-Delivery Network, which means that SMEs trading internationally can transact quickly on a global scale, too. 
The e-invoicing function of accounting apps and software like Xero empowers SMEs to create and issue invoices digitally and accept payments via various channels such as PayPal and Stripe. Companies can also eliminate certain tasks, delays and errors associated with manual data entry, processing and payment reminders – leading to more accuracy in the accounting process. 
Xero's internal data shows that Singaporean SMEs that have gone digital were able to accelerate their payment cycles from 43 to 30 days.
DIGITAL IS THE NOT THE FUTURE, IT'S THE PRESENT
To digitise, SMEs can take advantage of the Accountancy Industry Digital Plan, which offers programmes and grants that facilitate the adoption of digital solutions. There are consultancy services, funding and project management offerings that SMEs can use to make their transition smoother. Platforms like Xero are on the pre-approved digital solutions list. 
With SMEs comprising the majority of businesses in Singapore and employing more than half of the population, one cannot understate the impact of late payments to SMEs on the economy. It is thus fitting that different segments of the population – the government, finance and accounting sector, large enterprises, and SMEs themselves – take part in the movement to reduce the amount of late payments.
Get a free 30-day trial of Xero's accounting software at xero.com.