The master who is also a learner
SkillsFuture Fellow Joanne Goh is a veteran medical social worker, a trainer and a practising Parent-Child Interaction Therapist. She is also a lifelong learner who's keen on learning more to help those around her.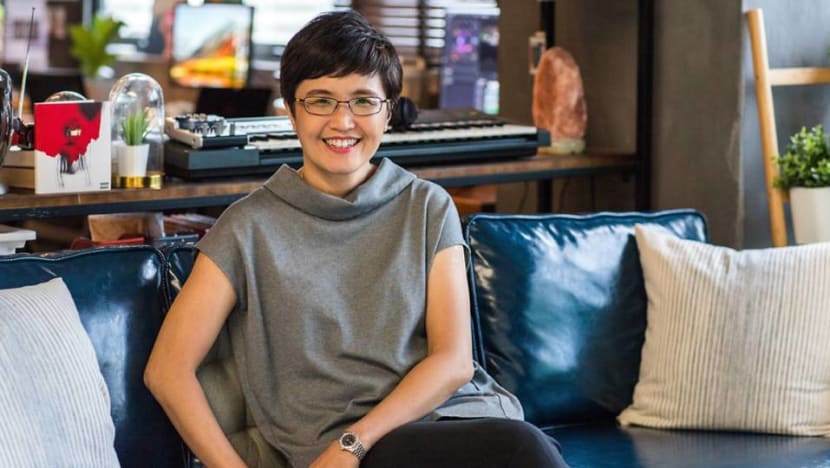 Ms Joanne Goh remembers a time when opportunities to broaden her knowledge were limited by factors like geography and technology. When the master medical social worker for KK Women's and Children's Hospital (KKH) first started work, options like webinars were not always feasible training options – and travelling abroad to learn meant incurring extra costs.
Today, the prevalence of broadband and high-resolution cameras means that such barriers to learning have been greatly reduced – and she is only too keen to take advantage of these learning opportunities.
Ms Goh, a recipient of the SkillsFuture Fellowships, recently completed a train-the-trainer webinar with a US-based master trainer.
"This mode of training not only saves time and money, it also eliminates the need to travel. Such a low-cost training option was not so readily available when I first entered the workforce," she said.
"I love the fact that I was not limited to only local training opportunities when I could not afford to travel or when it was not available in Singapore."
CONSTANT, CONSISTENT UPSKILLING
This passion for improvement has seen Ms Goh develop several new skills over the years. Her most recent achievements however, have seen her recognised as a certified trainer and educator. She signed up for courses under the Workforce Skills Qualifications (WSQ) system run by SkillsFuture Singapore , and was certified with the WSQ Advanced Certificate in Training and Assessment.
It has enabled Ms Goh to affect change – she is now the educator lead of the medical social work department, supervising junior medical social workers.
Not one to rest on her laurels, Ms Goh's next step was to study for her Master's in Training and Development, on top of her Master's in Social Work. She received her second Master's in February last year, and five months later, supplemented that with the WSQ Diploma in Continuing Education, which allows for her to design and develop curriculums to fulfill her role as an educator.
Her passion for learning and her belief that you don't need to be in a classroom to learn, make her especially suited to guiding younger people.
"Even after 20 years in the healthcare field, I am still learning every day and constantly gaining knowledge and skills to meet the fast-changing demands at the workplace to ensure that I stay relevant in my field," she said.
"I learn when I talk to other colleagues from other disciplines during meetings. I learn when I discuss case management with colleagues. I learn from my medical colleagues when discussing patients' well-being. I believe we are constantly learning at our workplace and we need to give such learning more attention and credit."
AVOIDING THE FROG-IN-THE-WELL MENTALITY
In addition to supervising junior medical social workers at KKH, Ms Goh is also a trainer in the Ministry of Health's Abortion Counselling Course and a practising Parent-Child Interaction Therapist. She keeps up with new developments in the field via reading and online group clinical supervision sessions with her supervisor, who is based in the United States.
"Supervision sessions are necessary in our practice as they ensure we are accountable, and it is assuring to know that there is someone – an expert – I can seek help or advice from."
She also sat on the Ngee Ann Polytechnic social work curriculum review committee last year, and currently trains community social workers in crisis intervention in the event of terrorist attacks.
She said: "It is important to work with other professionals in other settings, as such working relationships broaden my mind. I do not want to be a 'frog in the well' who can only envision things within my view."
In fact, Ms Goh feels that these informal ways of learning, especially at the workplace, should be given more recognition. "My hope is that one day, workplace 'informal' learning can be recognised and considered a form of learning that can lead to a formal certification."
ADOPTING TECHNOLOGY AS A TEACHER
Already looking ahead, Ms Goh plans to pursue a WSQ Specialist Diploma in Advanced Facilitation, which will allow her to effectively design and facilitate blended learning sessions for trainees and adult learners.
Blended learning incorporates e-learning and traditional face-to-face teaching. Classes become more interesting for her when preparation work can be done beforehand.
"I spent less time going through factual or procedural knowledge during in-class learning as many readings – deemed as dry – were recommended as pre-training readings. I was able to effectively optimise the trainers' time to discuss the application of the topic, which made me more motivated to attend such workshops."
Her lifelong dedication to improving her skillset has been recognised by KKH, which supported Ms Goh's nomination for the SkillsFuture Fellowships.
Reflecting on the last two-and-a-half years – which saw her attaining her second Master's degree and two WSQ certificates – Ms Goh says she feels proud, as well as grateful to her supportive classmates who helped her with her studies, and her head of department at KKH. 
Presented by the President of the Republic of Singapore, the SkillsFuture Fellowships honour individuals as masters of skills and mentors of future talent. It is open to Singapore citizens with at least 10 years of working experience in the same (or related) industry or job function. Each recipient will get a monetary award of S$10,000 to continue their pursuit of skills mastery.
Visit skillsfuture.sg/fellowships to find out more about the Skillsfuture Fellowships.​​​​