Mesmerising audio the whole family will fall in love with
With sound that envelops and moves around you, and which is automatically optimised based on the content, the Samsung Harman Kardon HW-Q90R soundbar delivers an audio experience like no other.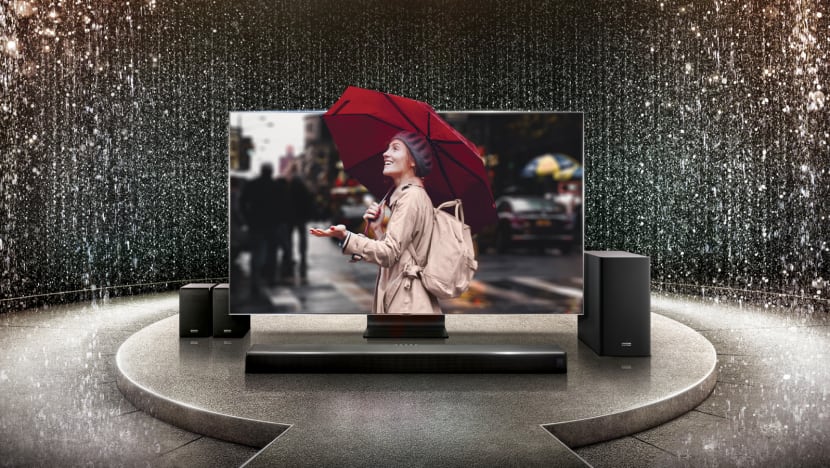 Quantum dot technology, 100% real colour*, Quantum high dynamic range (HDR) – Samsung QLED TVs have improved so much over the last few years that recreating the cinema experience in the living room is no longer an endeavour reserved for the rich.
But there's one problem: Many people forget that sound completes the picture. When you upgrade to a premium TV like a Samsung QLED 4K or 8K TV to better enjoy your movies and TV shows, did it cross your mind that your entertainment experience can be further enhanced with the right soundbar?
Thankfully, home audio technology has also improved by leaps and bounds in the last few years. And the latest Samsung Harman Kardon HW-Q90R soundbar may just be what you need to complete that immersive cinematic experience you're seeking. In fact, with no fewer than 17 speaker drivers packed into the soundbar, the HW-Q90R is likely to offer a sonic performance that will put many traditional home theatre sound systems to shame.
TRUE SURROUND SOUND THAT MOVES WITH YOU
If you're an avid Netflix viewer or 4K movie buff, you'd have noticed that more and more titles are now supporting Dolby Atmos or DTS:X, two surround sound formats designed to envelop you with sound. As audio engineers are now able to place "sound objects" in specific locations and move them around freely, you get a whole new level of immersive audio.
The best thing about these object-based surround sound formats is that you don't need a roomful of speakers. The Samsung Harman Kardon HW-Q90R soundbar is capable of delivering true 7.1.4-channel Dolby Atmos or DTS:X sound without you going through the hassle of installing any ceiling speakers.
In addition to using 13 speakers to recreate sound that comes from the front, side and rear, and a powerful subwoofer for clean, deep bass, the HW-Q90R has four dedicated up-firing speakers (two on the soundbar, two on the included wireless rear speakers) to reproduce sound above you. By intelligently bouncing sounds off the ceiling and walls, you can hear that fighter jet coming towards you, flying over your head and disappearing behind you as if you were truly there.
ADAPTIVE SOUND MAKES EACH CONTENT SOUND ITS BEST
HW-Q90R's sonic prowess isn't limited to movie soundtracks. To bring out the best sound from different types of content, the soundbar has an Adaptive Sound mode that is able to analyse the signals and optimise the sound on a scene-by-scene basis.
For instance, it's able to recognise dialogue-driven content and direct the sound to the centre speaker to produce clear voice. Even when you're catching up on Toggle shows in the middle of the night and have to lower the volume to avoid disturbing the rest of the family, the soundbar will make sure that the actor's voice still stands out. Decide to watch a football match next? The soundbar will adjust the sound to replicate the stadium atmosphere without missing a beat. Be it dialogue, sound effects or music, this advanced processing is done on the fly.
FOR MUSIC AND GAMES, TOO
With 17 speaker drivers, 512W of total power, Bluetooth connectivity and built-in 4K pass-through, the Samsung Harman Kardon HW-Q90R has all the attributes of a high-performing music and gaming speaker.
For music, on top of supporting the most popular formats out there, including lossless formats like FLAC and ALAC, the HW-Q90R has a UHQ (Ultra High Quality) upscaler that can take any music source (such as MP3s on phones or low-resolution tracks from streaming services) and upscale it to 32-bit for richer sound. Coupled with wide-range tweeters that spray the sound to expand the sound image, you get consistently great sound no matter where you sit in the room.
The console gamer in your family will also love the HW-Q90R, thanks to its Game Mode that brings one right to the centre of the action. Like Adaptive Sound, Game Mode optimises the game sound effects in real time. Even better, if you have a Samsung TV, the soundbar will engage Game Mode automatically.
SIMPLE BUT ADVANCED GEAR
With so many advanced features, you may think that the Samsung Harman Kardon HW-Q90R is a complicated piece of kit to operate. But this couldn't be further from the truth as the soundbar is carefully designed to be accessible to everyone in the family.
The primary way to control the HW-Q90R is through the bundled remote. But you don't need to use it if you've a Samsung TV that uses the One Master Remote Control*. That's because you can control the soundbar's key functions – from switching it on and off and adjusting volume to selecting sound modes from the TV menu – with a single remote. What's more, you can control the soundbar's volume using Bixby Voice Assistant*.
The WiFi-enabled HW-Q90R can also be added to your SmartThings* network so that you can control it anywhere at home through Samsung's SmartThings app. You can even set up automations to run at certain times – such as turning on your Samsung Smart TV and HW-Q90R soundbar automatically when you return home at 7pm every evening.
A GREAT SOUNDBAR FOR A GREAT ENTERTAINMENT EXPERIENCE
If you want to truly enjoy 4K Netflix and the latest 4K Blu-ray movie titles, it makes sense to pair your TV with a capable speaker.
With true cinematic surround sound courtesy of the 7.1.4 channels, Dolby Atmos and DTS:X formats support, Adaptive Sound that brings out the best in every piece of content, and accessibility features such as One Master Remote Control* and Bixby Voice Assistant*, the Samsung Harman Kardon HW-Q90R is one gadget worth investing in.
The Samsung Harman Kardon HW-Q90R is available at authorised retailers for S$2,899. Pair your soundbar with selected Samsung Smart TVs from now till Dec 31, 2019, and receive up to 30 per cent off your soundbar purchase. While stocks last; terms and conditions apply.
*Detailed disclaimers apply.