Navigate the business world with ease with the ASUS ExpertBook B9 laptop
With its sleek design, powerful hardware and enterprise-grade security, it may change how you view business laptops.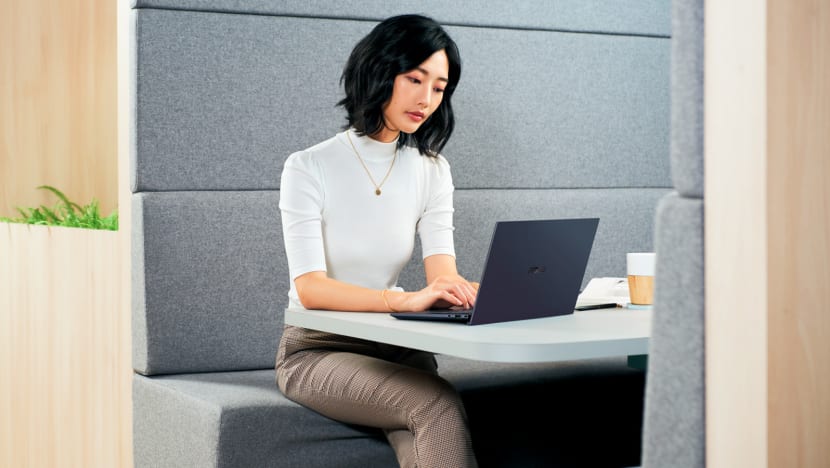 Most people think of business laptops as chunky, underpowered machines that struggle even with moderately complicated Excel worksheets. Along with boring designs best suited for the 1990s, these laptops convey neither sophistication nor professionalism for those seen carrying them.

Some folks have turned to consumer laptops for business use. While these laptops usually look spiffier, their consumer-focused feature sets also mean that they make imperfect business laptop replacements. For instance, a true-blue business laptop's strengths in security, durability and battery life are often found wanting on consumer laptops.

If you're on the hunt for a business laptop today, good news: ASUS has launched the ExpertBook B9 (B9450), and this may just change how you view business laptops.

AN 870G LAPTOP WITH UP TO 24 HOURS OF BATTERY LIFE​​​​​​​

Ms Emma Ou, country manager of ASUS Singapore & ANZ, shares why the ExpertBook B9 is a godsend for road warriors. Video: ASUS
Nobody likes heavy laptops, especially business professionals constantly on the move. While you can buy one of the many thin and light laptops out there, there will always be this niggling fear of it running low on battery when you're outside without a power outlet in sight or in the middle of an important client presentation.

Featuring a minimalist chassis, the sleek ASUS ExpertBook B9 (B9450) tips the scale at just 870g, making it what ASUS says is the world's lightest business laptop.

The laptop sports a spacious 14-inch Full HD screen, but its footprint is no bigger than a regular 13-inch laptop. This is thanks to ASUS' frameless four-sided NanoEdge design, which trims away most of the space-wasting bezels surrounding the display. Combined with a 14.9mm-thin profile, this is one laptop you can carry from place to place and not worry about sore arms at the end of the day.

More importantly, the ASUS ExpertBook B9 (B9450) doesn't sacrifice battery performance to achieve its light weight and compact size. The standard two-cell, 33Wh battery provides up to 12 hours of productivity, but there's also a four-cell, 66Wh option to increase it further to 24 hours. And if you've forgotten to charge the laptop the previous night, don't fret. It only takes the supplied 65W fast-charging adapter 39 minutes to top up either battery's charge from 0 to 60 per cent.

THOUGHTFUL FEATURES TO HELP YOU WORK ON THE GO

The ASUS ExpertBook B9 (B9450) is akin to a mobile office, decked with features to help business professionals get their work done.

For instance, if you often engage in long typing sessions, you'll appreciate the ErgoLift hinge that automatically tilts the keyboard to a comfortable typing position. The keyboard is also backlit so you can continue to work in dark environments.

If you do a lot of video or audio conferencing, the laptop has four omnidirectional far-field microphones positioned along the top bezel to better capture your voice. Even if your surroundings aren't totally quiet, the other party will still be able to hear you clearly, thanks to noise cancellation technology.

Additionally, the laptop is equipped with Harman Kardon-certified speakers, which means audio sounds good on your end, too.

The exclusive ASUS NumberPad also makes its appearance on the ASUS ExpertBook B9 (B9450). An LED-illuminated numeric keypad on the trackpad, this comes in handy when you need to do some heavy-duty number crunching and don't want to use the keys on the top row of the keyboard. The cursor continues to work when NumberPad is activated, so you go from selecting a worksheet to entering a number into a cell without missing a beat.

PC and phone integration is another strong suit of the ASUS ExpertBook B9 (B9450). Using the Link to MyASUS function in the MyASUS software, you can quickly send a file from your phone to the laptop and vice versa. You can also take phone calls directly on the laptop and use screen mirroring to reply to text messages and check notifications. Out to buy lunch and a colleague is asking you for a file that's on the laptop? There's no need to rush back because you can remotely access the file from your phone and email it straight away.

ALL THE POWER AND CONNECTIVITY YOU NEED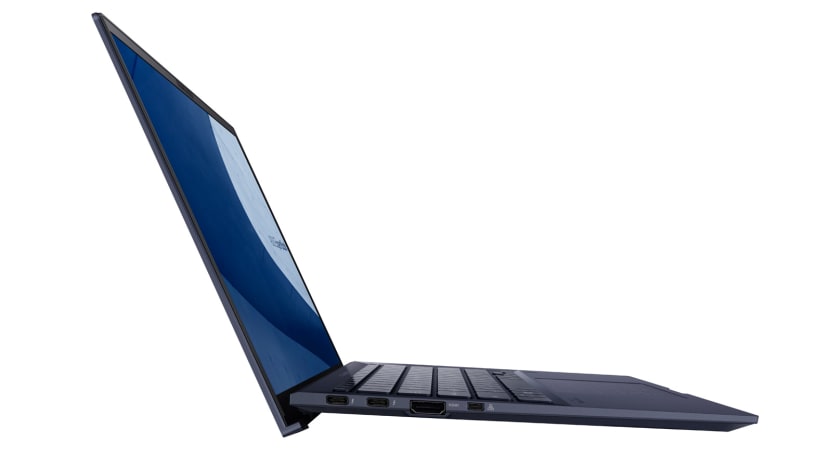 Under the hood, the ASUS ExpertBook B9 (B9450) packs some serious horsepower. The base model comes with a fast Intel Core i5 processor, but you can also opt for one that packs an Intel Core i7-10510, which is a 1.8GHz quad-core processor that can ratchet up to 4.9GHz with Turbo Boost to handle even more demanding workloads.

For memory and storage, the ASUS ExpertBook B9 (B9450) comes standard with 16GB of LPDDR3 RAM and up to 1TB of PCIe 3.0 x4 SSD respectively (512GB for the Core i5 model). When the need calls for it, you can increase the storage capacity (4TB maximum) as the laptop has an expansion slot to accommodate another M.2 2280 SSD.

It also supports Wi-Fi 6 (a.k.a. 802.11ax) for faster downloads and uploads with supported routers and devices. Working hand in hand with ASUS' WiFi Master technology, wireless connections now perform more reliably over longer distances.

Unlike most thin laptops, the ASUS ExpertBook B9 (B9450) offers a host of connectivity choices. It supports Thunderbolt 3 USB-C, a universal port that consolidates data transfer (up to 40Gbps speeds), video output and fast-charging into one interface. And the ASUS ExpertBook B9 (B9450) comes with two Thunderbolt 3 USB-C ports, giving you the flexibility to connect to multiple Thunderbolt 3 devices such as monitors and external drives while keeping the laptop charged at the same time.

For devices that use the standard USB port, the laptop has another USB 3.1 Gen 2 Type-A port, located just beside the 3.5mm audio jack. ASUS even manages to find space for a full-sized HDMI port, making it easy for you to connect the laptop to a TV or projector in the meeting room.

For workplaces that mandate the use of wired LAN connections, there's an Ethernet interface that you can access through the laptop's micro-HDMI port when you plug in a micro-HDMI to RJ45 dongle.

ENTERPRISE-GRADE DURABILITY AND SECURITY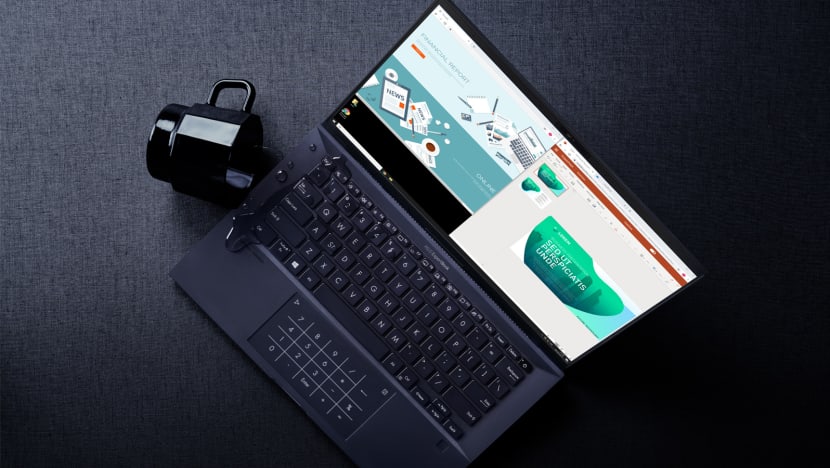 The ASUS ExpertBook B9 (B9450) may be light, but that doesn't mean its durability is compromised.

With a strong chassis made of magnesium-lithium alloy, the ASUS ExpertBook B9 (B9450) meets the MIL-STD-810G standard, which is a set of tests the US military uses to evaluate equipment limits in various challenging conditions. The tests include subjecting the laptop to drops and shocks, high and low temperatures and hours of sand and dust exposure. Here's one stat: The ASUS ExpertBook B9 (B9450) is able to endure a 30kg force on its lid and bottom without any damage to the LCD panel.

ASUS also puts the laptop through several stringent in-house tests to ensure that every component is able to withstand day-to-day use. In one of them, the hinge of the ASUS ExpertBook B9 (B9450) has to survive up to 50,000 open-and-close cycles.

Regarding security, the laptop has an embedded TPM (Trusted Platform Module) 2.0 chip, a security microprocessor specifically tasked to ensure platform integrity and protect disk encryption keys and passwords.

It also comes with an IR camera so that you can quickly and securely log on or unlock Windows 10 using your face. Because the camera uses infrared imaging, this works well even in the dark. Alternatively, you can use the onboard fingerprint sensor that's also compatible with Windows Hello.

Additionally, the ASUS ExpertBook B9 (B9450) has a 720p HD camera for high-quality video conferencing. If you want to make sure that no one is snooping on you without your knowledge, you can slide over the integrated privacy shield to cover the lens.

Management solutions are another thing that you seldom get with consumer computers. With ASUS Business Manager – a set of maintenance and task optimisation utilities – you can control whether the ASUS ExpertBook B9 (B9450) can read or write data to USB storage devices.

A NEW BREED OF BUSINESS NOTEBOOKS

Offering a sleek design, powerful hardware, all-day battery life, plenty of connectivity options, military-grade durability and enterprise-level security, the ASUS ExpertBook B9 (B9450) is available at a starting price of S$2,298 for the Core i5 version.

Alternatively, instead of paying full price at a go, which can be a considerable sum for IT departments procuring a fleet of business laptops, ASUS also provides a Device as a Service (DAAS) option to help commercial organisations better optimise their IT assets and resources. This is a complete solution that combines hardware, analytics, proactive management and device lifecycle services.
In other words, this is like a subscription or leasing model that businesses can benefit from. For example, a company can get the ASUS ExpertBook B9 (B9450) for as low as S$59.90 per month over a three-year contract. Interested parties can contact ASUS to tailor a DAAS programme for their company.

Find out more about the ASUS ExpertBook B9 (B9450).