Props to Victoria School, winner of National Science Challenge 2018
The team's confident presentation and innovative use of materials impressed the judges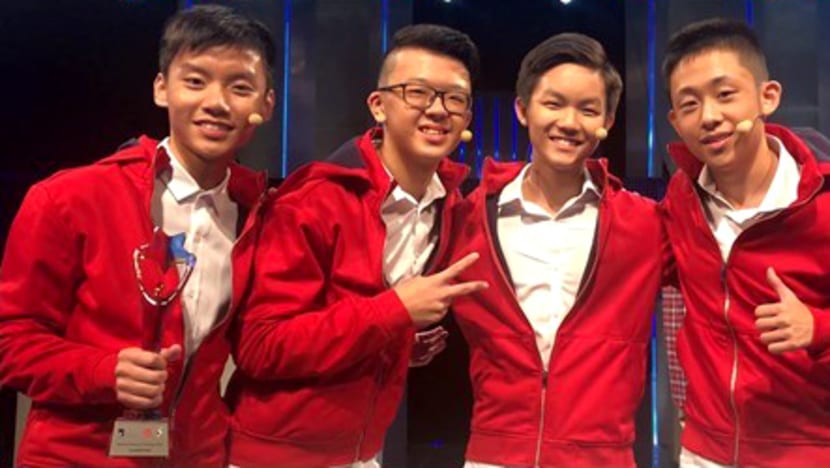 Victoria School (VS) has won the National Science Challenge (NSC) 2018, finishing ahead of Catholic High School (first runner-up) and DPS International (second runner-up).
Held annually since 2002, the NSC is a competition organised by the Agency for Science, Technology and Research (A*STAR) and Science Centre Singapore for Secondary Three students islandwide. Teams compete in quizzes, engineering challenges and other tasks at locations hosted by A*STAR research institutes and other organisations.
 The teams competed in four rounds during the finals:
What's your hunch? This required teams to explain the scientific basis behind a phenomenon.
On-site Challenge required teams to conduct an experiment related to the expertise of the hosting agency (the Housing and Development Board in the finals).
Imagineering Challenge required teams to buy materials, build a prototype and test the device to see if the challenge objective were met.
Rapid Response in which teams answered 15 questions, with 10 seconds to answer each question.
Emerging tops in the 15th season of the competition was a surprise for the VS team, which comprised Leong Zee Hay, Raymand Tey Jia Cheng, Nicholas Tan Tee Khoon and Liu Tianchi.
Said Zee Hay: "I did not expect to be in the finals at all. In fact, I was already surprised when we made it past the qualifying round! The test was extremely hard."
One of the judges at the finals was Associate Professor Andre Choo, institute scientist and director of A*STAR's Bioprocessing Technology Institute.
Speaking to the team about their performance in the first round of the competition, he said: "I liked the way you used your props. You presented your whole logic around the props. That was very well done. You guys were spot on for the challenge."
Of their performance in the Imagineering Challenge, he told them: "You used props to illustrate all the different concepts as well as graphs to explain the variables and what happens when you have too much of one ingredient."
One of three expert judges during the On-site Challenge, Mr Matthew Lee, from the Institute of High Performance Computing, A*STAR, said: "Victoria School did a good job using different types of reinforcement materials and methods for different parts of the building (for the On-Site Challenge).
"They used a criss-cross method for the ceiling, vertical skewers for the walls and even tried to reinforce the joints with metal pins. That was good."
BROADENING PERSPECTIVES
The NSC aims to take Singapore students' interest and aptitude for mathematics and science beyond the classroom. It encourages students to apply their learning independently and develop their creative and critical abilities through real scientific scenarios.
Associate Professor Lim Tit Meng, chief executive of Science Centre, said: "My advice to the young contestants is to go beyond the textbooks. Internalise the knowledge that you have and apply them into something that will really touch people's lives and build a better world for us."
Indeed, the aim of this year's challenge is to get participants to uncover the scientific secrets of everyday objects, and to realise that science is an intrinsic part of our lives.
Said Zee Hay: "The world around us exists and continues to exist because of science. We can observe science everywhere, from the food we eat to the cars on the road. I think the NSC will help the audience to be more aware of this, too."
Brandon Auyong of CHS appreciated learning about science's deep roots in human development. He said: "Who would have known that our ancestors had put so much thought and application of science into developing their ancient weapons years ago? The Imagineering Challenge allowed me to realise how applicable science is in our lives."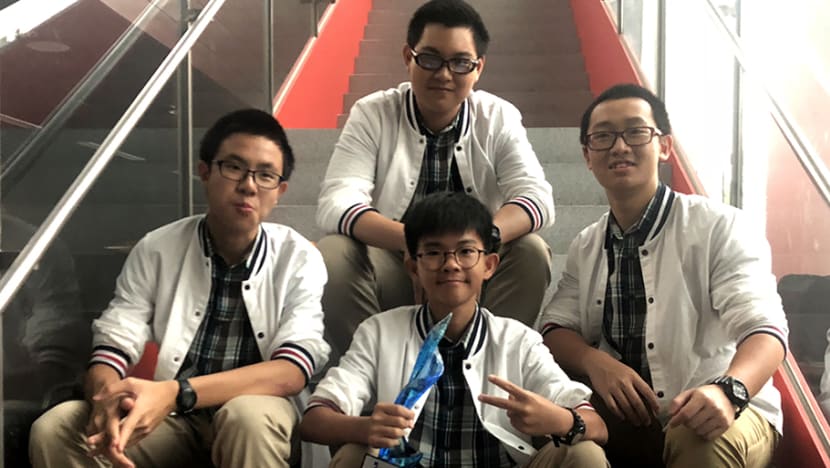 LEARNING WHILE COMPETING
While all three teams studied, rehearsed and prepared for weeks leading up to the finals, they knew that the competition would offer new and challenging experiences. Besides attempting experiments and constructing prototypes, the students were also given opportunities to develop their soft skills.
Honing his communication ability was one benefit for CHS' Tan Yi Xuan: "I learnt a lot about presenting complicated scientific concepts in layman terms. This is very important as science concepts must be presented in a way everyone can understand."
Raymand Tey of VS learnt the importance of perseverance. "Sometimes, the tasks given seemed perplexing, but you simply need to put in a little bit of effort and eventually you will work your way out."
Kaushik Telidevara from DPS said: "The NSC has taught me that science is a part of so many aspects of life. With the right materials and mindset, we can solve numerous problems to make the world a better place."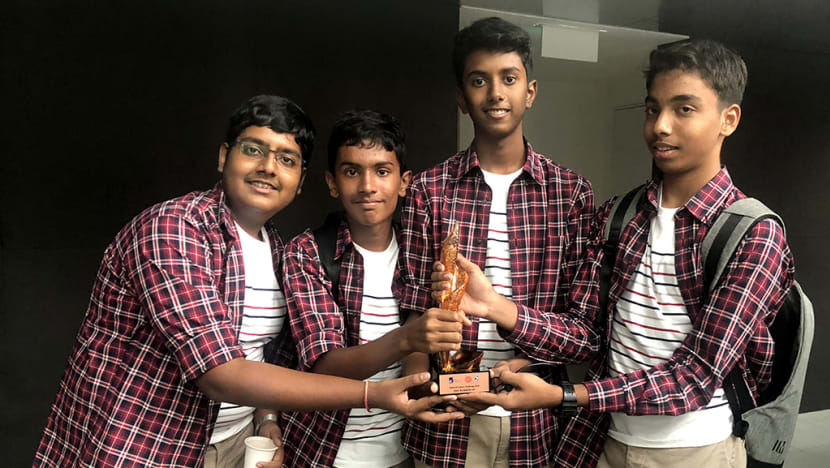 BECOMING 'IMAGINEERS'
As Singapore seeks to become a Smart Nation, and demand for STEM (Science, Technology, Engineering, Mathematics) jobs continues to grow, the NSC plays an important role in developing young Singaporeans' interest in a STEM career.
Aided by their experiences during the competition, the NSC finalists have already considered their future occupations.
Said Kaushik from DPS: "I would love to be an astrophysicist and uncover the amazing secrets of our universe." 
Zee Hay from VS is leaning towards the creative side of things and hopes to be a graphic designer or a visual effects artist. His teammate Raymand hopes to embark on a career in theoretical physics or chemistry. "We get to know how the world works," he said. "There are so many amazing things happening out there."
Yi Xuan from CHS wants to pursue research in mathematics, which he sees as having practical uses: "Research in other fields can be carried out when our understanding of mathematics is improved."
His teammate Brandon hopes to enter the field of defence science. "An effective and technologically advanced defence system will be essential to our homeland security in the future," he said.
Catch the finals of NSC 2018 as well as past episodes on Toggle.