The rise of Bidadari
All eyes are on this centrally-located new town touted as a green haven for urbanites to come home to.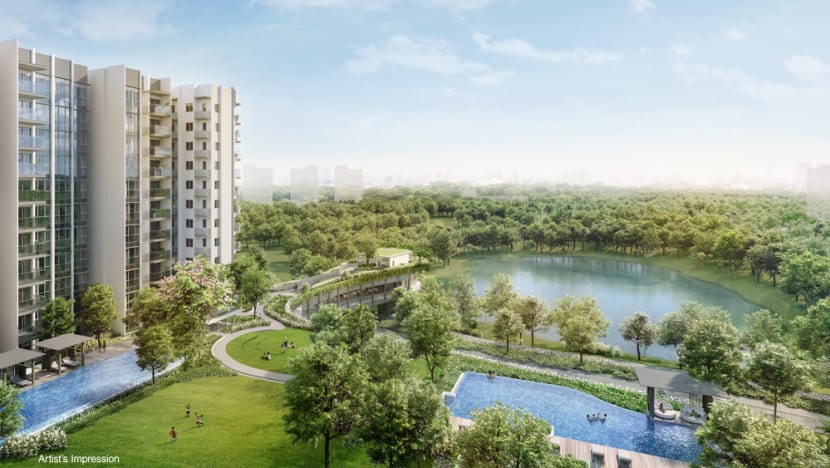 The Bidadari Estate Master Plan was first unveiled to Singaporeans in 2014 to much fanfare and anticipation. Envisaged to be the next Bishan, the major plus points of the city-fringe town are its central location, excellent infrastructure and easy accessibility by road and public transport.
According to Mr Alan Cheong, head of research of Savills, the Bidadari Estate Master Plan "reflects the Government's commitment to growth in the area". "It creates a positive impact to buyers as they know what they are purchasing, and do not have to speculate about what will happen next," he said.
EXCELLENT CONNECTIVITY IN A CENTRAL LOCATION
As a prelude to further development in the area, three new roads – Bidadari Park Drive, Alkaff Crescent and Woodleigh Link – were opened earlier this year to provide enhanced road accessibility for residents in the area.
Indeed, residents here are well-served by both the road and rail network. Major expressways such as the Central Expressway and Pan Island Expressway are just minutes away from Bidadari. This makes travelling by car to other parts of Singapore a cinch – the Central Business District can be reached within 15 minutes while the Orchard Road shopping belt is 10 minutes away.
If MRT is the preferred mode of transport, Woodleigh MRT Station along the North East Line will serve the main catchment of residents at Bidadari. One stop away from Woodleigh is Serangoon MRT – an interchange station with links to the Circle Line. The Dhoby Ghaut interchange is another five stops down with connections to both the North South Line and Circle Line.
What's more, an extensive network of buses is available at Singapore's first underground air-conditioned bus interchange next to Woodleigh MRT Station.
A COMMUNITY IN A GARDEN
Going beyond an accessible location, plans are afoot to transform Bidadari into a veritable green haven for urbanites to come home to. Located at the centre of the new town, the 10-ha Bidadari Park is the estate's green lung – home to a sprawling variety of flora and fauna as well as migratory birds. 
The park will feature vast lawns, 6km of wooded experiential trails, a playground with a 5m-tall treehouse, as well as Singapore's first underground service reservoir. And nestled at the southern part of the park will be the picturesque Alkaff Lake.
Bidadari Greenway – a 1.6km-long "green spine" that traverses the neighbourhood – provides residents with rest stops in addition to commercial and communal facilities. The greenway sets the stage for Bidadari to be a car-lite district with a comprehensive network of cycling paths and pedestrian lanes. The cycling paths will join the Kallang park connector in the south, and Sungei Serangoon and Punggol Park in the north.
THE JEWEL OF BIDADARI
At the nexus of the greenery-rich Bidadari is The Woodleigh Residences. A joint effort between Japan's real estate developer Kajima Development and Singapore Press Holdings, The Woodleigh Residences is the township's only integrated development that combines the superior quality of Japanese craftsmanship, and the advantage of being built above The Woodleigh Mall and Woodleigh MRT Station, with direct access to Singapore's first air-conditioned underground bus interchange.
With 667 tastefully designed homes spread out across 11 residential towers, a good mix of two- to four-bedroom homes caters to a diverse demographic of residents. The premium homes are decked out with quality fittings and appliances from premium brands such as TOTO, Grohe and De Dietrich.
What sets The Woodleigh Residences apart from other developments are layouts that can be configured to suit the needs of the evolving family structure. Homes feature socket-free, non-load bearing walls that can be easily removed to create a larger living space according to the needs of its residents.
Home owners can also enjoy a suite of Japanese-themed facilities, such as a relaxing indoor onsen as well as Japanese-styled pavilions and a sunken courtyard perfect for barbecue gatherings with loved ones.  
Education is an important consideration for families with school-going children. The Woodleigh Residences is located in close proximity to good schools such as Maris Stella High School, Cedar Primary School, Canossa Catholic Primary School, Paya Lebar Methodist Girls' School, and St Andrew's Village that offers primary, secondary and pre-university education. Stamford American International School provides an international schooling option for expats who may call The Woodleigh Residences home.
AMENITIES FOR ONE AND ALL
Residents of Bidadari can avail themselves to the convenience of The Woodleigh Mall with close to 300,000 sq ft of retail shops, dining options, enrichment centres, medical clinics and a supermarket.
With a childcare centre located at the mall, families with young children can drop off and pick up the young ones easily. And located within the integrated development is the 6,000 sq m Community Club where one can take part in various activities and make meaningful connections with like-minded individuals.
Get up close and personal with all that The Woodleigh Residences has to offer by visiting the sales gallery beside NEX Shopping Mall, open daily between 10am and 7pm.