Starting out in life, and at home
Fresh beginnings have been made easier for this pair of Singaporeans – a millennial moving into her new home, and a Generation Z toddler going to school for the first time.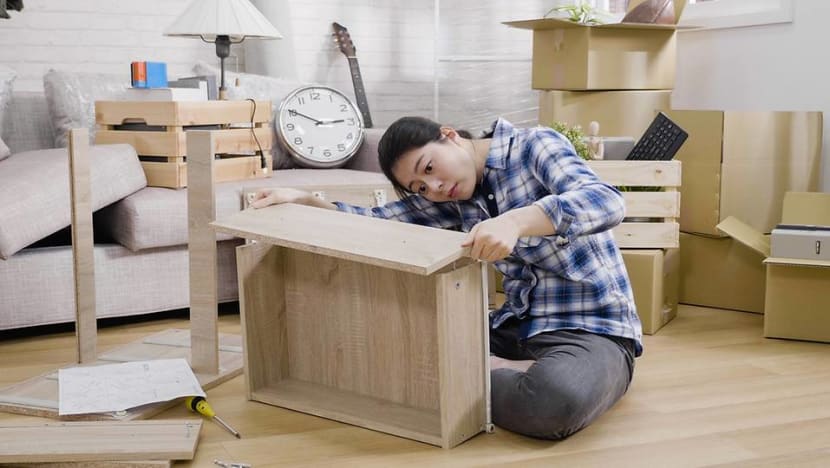 Ms S H Tay's plans to create her dream home received an unexpected boost when the Enhanced Housing Grant (EHG) was launched last year.
Employed in the entertainment media industry, she was looking for a resale Housing & Development Board (HDB) flat when she turned 35 last year. She wanted her home to be near her workplace in the east and have easy access to public transport, as she does not drive.
After a thorough search, Ms Tay eventually decided on a S$350,000 three-room flat in Tampines West.
The EHG is intended to make it easier for first-time home buyers like Ms Tay to qualify for HDB housing grants. For instance, it places no restrictions on a flat buyer's type of flat or its location. It can also be used for new or resale flats.
The EHG was announced just a few days before she signed the option-to-purchase for her flat. As a first-time single homebuyer, Ms Tay received a total grant of S$30,000 in her Central Provident Fund (CPF).
"The grants were definitely a substantial help," she said. "I received S$25,000 from the Singles Grant and an additional S$5,000 from the EHG." 
FURTHER FINANCIAL HELP
With a larger portion of the flat's cost paid by the money in her CPF account, Ms Tay's monthly mortgage instalments became more affordable. She also had more cash available for a full-scale renovation, having always wanted to create a home where she could display her collection of movie posters and entertain loved ones.
More help arrived in January this year. She enjoyed a reduced service and conservancy charge – from one month's fee to half a month – as well as a S$90 GST Voucher (Utilities-Save) to offset part of her utilities bill.
"All this has helped me to adjust more easily to being a homeowner and in my monthly budgeting," she said.
When asked for suggestions on additional financial measures to assist new homeowners like herself, Ms Tay said that while the EHG fulfilled her needs, first-time resale flat owners who cannot afford extensive renovations could do with a little help for essential repairs. "Perhaps a maintenance grant could be useful when you need to replace broken fixtures or repaint the house," she said.
A BOOST FOR THIS BUNDLE OF JOY
Pavithra R entered the world in May 2016 to much fanfare. She was her parents' firstborn, and the first grandchild in the extended family.
As a Singaporean child, Pavithra's delivery by caesarean section could be claimed under the MediSave Maternity Package. She also received a MediSave grant of S$4,000 to defray MediShield Life premiums and other healthcare expenses, which proved useful when she was warded at KK Women's and Children's Hospital for several days with a high fever in 2019.
A portion of the grant and the Child Development Account (CDA) dollar-matching component of her Baby Bonus was used to cover S$1,500 from Pavithra's hospital bill. This provided some financial relief for her parents. Recounted her mother, Mdm Valli: "It was very useful as it served as an additional resource for payments."
Her Baby Bonus cash gift of S$8,000, disbursed in five instalments from birth until she turned 18 months old, was used to offset the cost of necessities like milk powder and diapers. By the end of this year, Pavithra will benefit from further subsidies on vaccinations and childhood developmental screenings at polyclinics, as announced last August by the Ministry of Health. 
GROWING IN CONFIDENCE
Like many children her age, Pavithra is cared for by her grandparents during the day. However, Mdm Valli, who is in her 30s and employed in office administration, wanted her to come out of her shell and enrolled her in the PCF Sparkletots preschool near her home in Serangoon.
"She used to be a very shy toddler who would only interact with children of the same age and would hide if she met an adult," said Mdm Valli. "After joining the playgroup, she is more confident interacting with people of any age."
Mdm Valli and her husband plan to send their daughter – who loves to imitate singing and dancing characters on YouTube – to dance classes, and when she is older, to martial arts classes. With enhanced preschool subsidies being launched this year, the parents are confident that Pavithra will continue to expand her interests and grow to her full potential without financial constraint.
She said: "As parents, we hope our daughter gets the opportunity to develop her talents and strive to excel in her studies while still enjoying her childhood."
Visit the Budget 2020 page to find out more about the Singapore Budget.