Treasure at Tampines: Bringing you the Tampines advantage
The development of Tampines Regional Centre has boosted property prices in the vicinity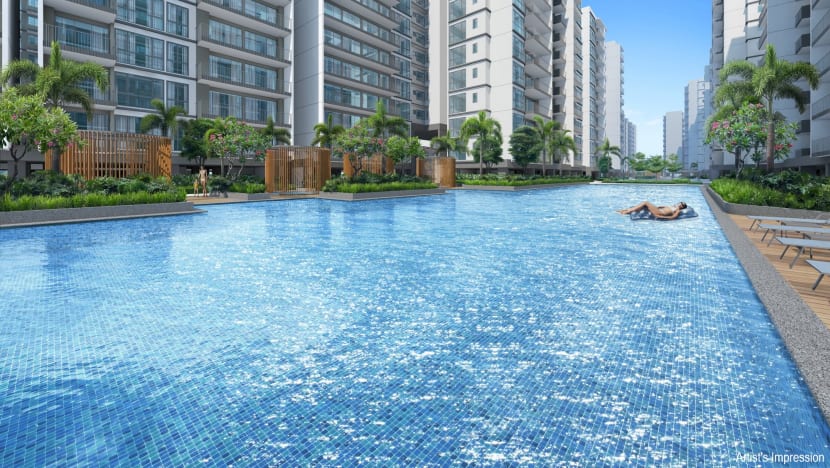 The idea of developing regional centres was first conceived in the early 1990s as a strategic plan to ease the Central Business District (CBD) from anticipated economic growth in Singapore. The redistribution of economic activity would not only mitigate over-congestion in the CBD, but also draw demand to properties in suburban areas.
The first of these regional centres was Tampines. Its success as a regional centre spurred growth in the neighbouring Changi, transforming the eastern end of Singapore to what is now a bustling, self-sufficient locale that sustains thousands of jobs and homes.
OVERVIEW OF PROPERTY PRICES AROUND REGIONAL CENTRES
In the last few years, the newer regional centres Jurong and Woodlands have taken the spotlight for their many up-and-coming plans: Jurong Lake District and Star Destination of the North respectively.
In terms of per square foot (PSF) price, properties in Tampines have seen a whopping 52.28 per cent increase in value since 2008, more than double the increase for properties in Jurong East or Woodlands, which have risen by 21.65 per cent and 18.71 per cent respectively.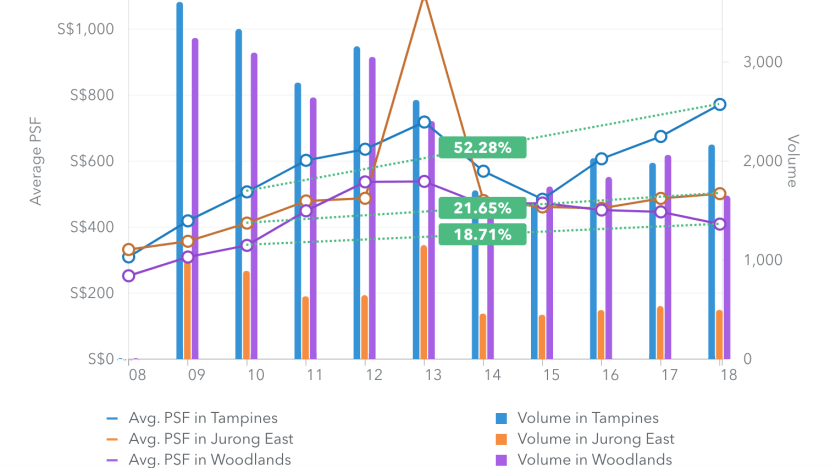 While Tampines seemingly flies under the news radar, its enduring popularity is evident in the sales transactions, which are supported by the continued rise of the east as a major commercial hub over the years. Apart from Tampines Regional Centre, major commercial centres that have grown in strength in the east include Changi Business Park, Pasir Ris Wafer Fab and Loyang Industrial Estate.
According to the Urban Redevelopment Authority, the east has more than 1 million sq m of existing commercial space, and an estimated 500,000 sq m to be added in future. Beyond the CBD, the east has cemented its status as a vital employment hub, and for those who work there, an ideal place to live.
THE ALLURE OF TAMPINES
As the first regional centre in Singapore, Tampines has the advantage of decades' worth of development. It also has a strong following, thanks to the initial influx of home buyers and business owners who settled in Tampines when the regional centre first started.
Many of these initial buyers look for homes and investment properties near home, in Tampines. At the same time, a generation who grew up in the area now look to buy homes near their parents.
The strong following in Tampines can be seen when you look at the average PSF of leasehold condos in D18 compared to other districts in Singapore. The average PSF of 99-year leasehold condos in D18 has risen by 50.95 per cent since 2010, surpassing the nationwide average of 38.09 per cent.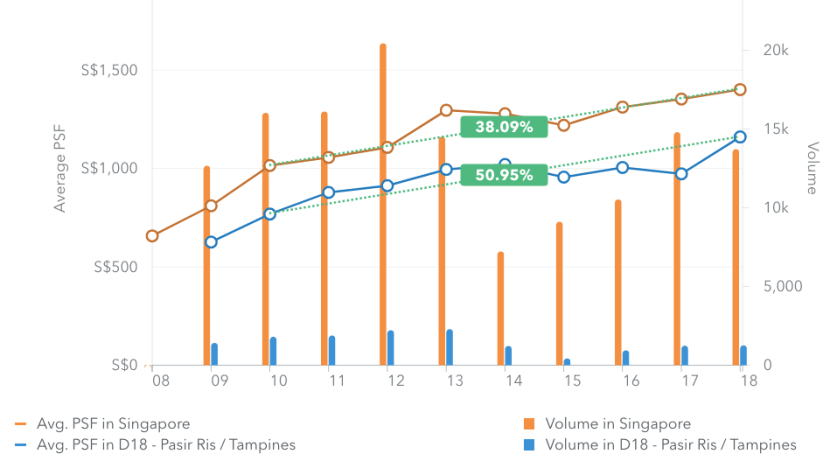 Looking ahead, D18 is well-positioned to benefit from the growth of the aviation industry. Changi Airport currently employs some 77,000 persons and accounts for 3 per cent of the gross domestic product. With Terminal 4 in operation and Terminal 5 and Jewel Changi Airport in the pipeline, productivity in the aviation sector is projected to increase by 40 per cent with the creation of 8,000 new jobs, according to Second Minister for Transport Ng Chee Meng.
D18 will also benefit from the upcoming Cross Island Line (CRL), a major MRT line with close to half of the stations interchanging with existing lines. When completed, the CRL will significantly shorten travelling time by enabling commuters better access to all parts of the rail network. The first phase of the CRL will connect Tampines North and Pasir Ris directly to stations such as Ang Mo Kio on the North-South Line, Hougang on the North-East Line, and Bright Hill on the Thomson-East Coast Line. Once operational, the new Aviation Park, Loyang, and Defu stations will be a huge boon for those who work in the areas.
A GEM OF A FIND: TREASURE AT TAMPINES
Sim Lian's Treasure at Tampines sits at the site of the former Tampines Court, about 10 minutes on foot from Simei MRT station along the East-West Line. It is also in the vicinity of five MRT stations on the East-West and Downtown Lines and one stop away from Pasir Ris station, an interchange station with access to the future CRL.
Treasure at Tampines is designed with the needs of the whole family in mind. Units range from one- to five-bedroom sizes (from 463 sq ft – 1,722 sq ft) to accommodate multi-generational families.
With a sprawling land area of close to 650,000 sq ft, this project offers twice the number of facilities found in a typical condominium development: 13 pools, two themed playgrounds, and a large gym that is open 24 hours a day. From rock climbing to a hammock alcove, and urban farming to throwing your own bake-off gathering, there is something for everyone.
Within the homes, layouts are planned efficiently for practicality and comfort, while contemporary fittings from quality brands like Electrolux and Hansgrohe are chosen to finish the look.
An integrated Smart Community System makes life simpler: Residents can avail themselves to the convenience of the parcel collection station, as well as a facilities updater that provides instant updates on the current usage of the gym and the availability of washing bays.
COST-BENEFIT ANALYSIS FOR TREASURE AT TAMPINES
Those considering Treasure at Tampines purely for rental potential would be pleased to note that the rental yield of relatively new condos within the 1km vicinity of Simei MRT have performed respectably. According to rental transactions lodged with URA, Double Bay Residences (temporary occupation permit, TOP, in 2012) has an average rental yield of 4.34 per cent, while My Manhattan (TOP in 2014)'s stands at 3.24 per cent.
Rental opportunities will come from the large pool who work in the Tampines Regional Centre and surrounding areas such as the Changi Business Park. Multinational corporations such as Eva Air and Hitachi, as well as established financial institutions such as OCBC, DBS, Citibank and AIA have set up offices here. Changi Airport, a world-class airport with numerous accolades, is a mere 10-minute drive away, making Treasure at Tampines an ideal home base for those who work at the airport and in the aviation industry.
To further enhance convenience for its residents, Treasure at Tampines provides a complimentary first-year shuttle bus service to and from Changi Airport. The shuttle bus service also provides residents direct access to and from Tampines MRT (terms and conditions apply).
Based on the 2015 General Household Survey by the Department of Statistics, 67 per cent of resident working persons in Singapore commute to their workplaces via public transport or walk to work. The proximity to five MRT stations and two bus interchanges makes Treasure at Tampines highly advantageous for rental potential, be it to locals or expatriates.
Treasure at Tampines presents an excellent opportunity for those who are on the lookout for a property in D18. Visit the Treasure at Tampines sales gallery, located along Tampines Ave 7 (beside Tampines Concourse Bus Interchange). For more information, visit simlian.com.sg or call +65 6665 0330.
This advertorial was produced in partnership with 99.co.