What's the link between diabetes and flu?
Most of us are familiar with health risks related to diabetes, like kidney disease and vision problems. Yet, many are not aware that living with diabetes puts you at a high risk of more serious complications related to flu infections.
Cough, sore throat and fever are all common effects of flu. After a few days of bed rest, most of us will be back on our feet. For some adults, regardless of how healthy they are, flu can lead to serious complications such as pneumonia, heart attack and stroke.
These complications are further aggravated in people living with diabetes.
WHY ARE PEOPLE WITH DIABETES AT A HIGHER RISK OF COMPLICATIONS FROM THE FLU?
People living with diabetes are more likely to experience health complications related to the flu because of how the virus and its symptoms affect blood sugar levels and disrupt the action of insulin. A study done by Diabetes Care found that people with diabetes are three to six times more likely to be hospitalised due to the flu, because the flu can make it harder to control blood sugar.
People living with diabetes may already have an increased risk of cardiovascular disease. Coupled with the cardiovascular risk that the flu poses, this makes awareness of any flu-related complications important.
CAN FLU-RELATED COMPLICATIONS BE PREVENTED?
Preventive actions can be taken daily to reduce the risk of contracting the flu virus.
The most effective way to reduce the risk for people living with diabetes is through annual flu vaccination.
You should also:
·    Wash your hands regularly and thoroughly with soap and water
·    Avoid touching your eyes, nose and mouth where germs can enter
·    Avoid being around people who are not feeling well
To reduce the risk of developing serious complications that can arise from influenza, vaccination is recommended by many international health organisations – such as the World Health Organization (WHO), US Centers for Disease Control and Prevention (CDC) and National Health Service (NHS) in England – for people living with diabetes. In Singapore, the Ministry of Health also recommends those with diabetes to take the flu vaccine every year.
Despite these guidelines, the uptake of flu vaccination among people living with diabetes in Singapore is low.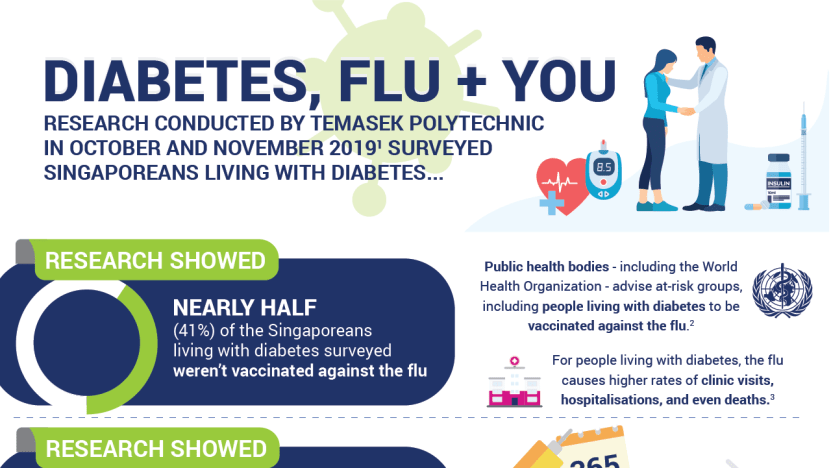 IS THE FLU VACCINE REALLY EFFECTIVE?
Research shows that flu vaccination for at-risk groups reduces the risk of requiring hospital treatment by 79 per cent. Taking the flu vaccine is associated with a significant reduction in the risk of death from diabetes and heart disease. Safe and effective vaccines are available and have been used for more than 70 years to help prevent the flu and reduce the risks of its severe consequences. As the flu virus strain changes every year, annual vaccination is recommended to ensure that your protection against the flu is up to date.
Apart from those living with diabetes, healthy individuals are also encouraged to get the flu vaccine to provide indirect or "herd" immunity for those who are more susceptible to the virus. Those who are protected with the flu vaccine can help to break the transmission path of the flu virus, so that it stops with them and doesn't get transmitted to others.
A responsible approach is required to reduce the flu danger among at-risk groups in Singapore, including understanding the benefits of adult vaccination for your own protection and that of at-risk family members.
"With the incidence of diabetes fast rising, it is critical that we reduce the preventable and high burden of flu for people with diabetes, as part of Singapore's war on diabetes," said Dr Kalpana Bhaskaran, vice-president, Diabetes Singapore, and head, Centre for Applied Nutrition Services & Glycemic Index Research Unit, Temasek Polytechnic.
Speak to your doctor today to find out how flu can affect you and visit  vaccinationisprotection.com.sg  to find out how you can protect yourself or a loved one with diabetes from severe flu complications.
SPAJPAC.FLZQ.19.11.0037 (11/19)