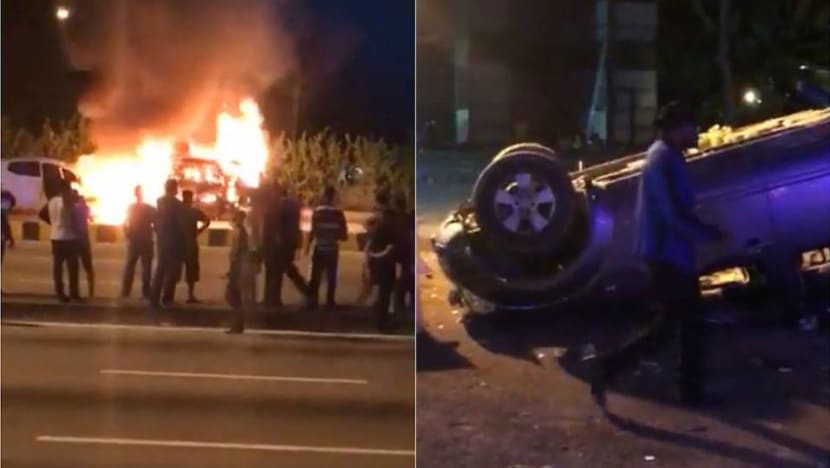 SHAH ALAM: Seventeen men, all Malaysian, have been arrested in connection with the violence that broke out at a Hindu temple in Selangor's Subang Jaya township on Monday (Nov 26). 
At a press conference at the Selangor police headquarters, Inspector-General of Police Mohamad Fuzi Harun said that of the 17, six suffered injuries.
A lance corporal from the Subang Jaya police headquarters was also injured while trying to restore order, he added. 
All the individuals involved, including the mastermind, have been identified, although investigations are still ongoing, said Mohamad Fuzi. 
"Police also seized weapons that were used in the incident, including two machetes, two wooden sticks and two rubber hoses. We have received 29 reports so far in connection with the incident," he said.
"All aspects are being investigated transparently and we will take stern action against the culprits," he added. 
The incident at Sri Maha Mariamman temple was said to have been sparked by a disagreement over the temple's relocation. 
Devotees were reportedly protesting the move of the 100-year-old house of worship when they were attacked by another group of people, news portal Malaysiakini said.
The clash led to 18 cars and two motorcycles being set on fire, while stones were thrown at a police patrol car, damaging it, said Selangor police chief Mazlan Mansor. 
"About 50 men were in the compound of the temple and a group of men was outside. They traded insults that led to the riot," he added.
Around 700 policemen from several units were deployed, including the Federal Reserve Unit, a riot control force and special response team.