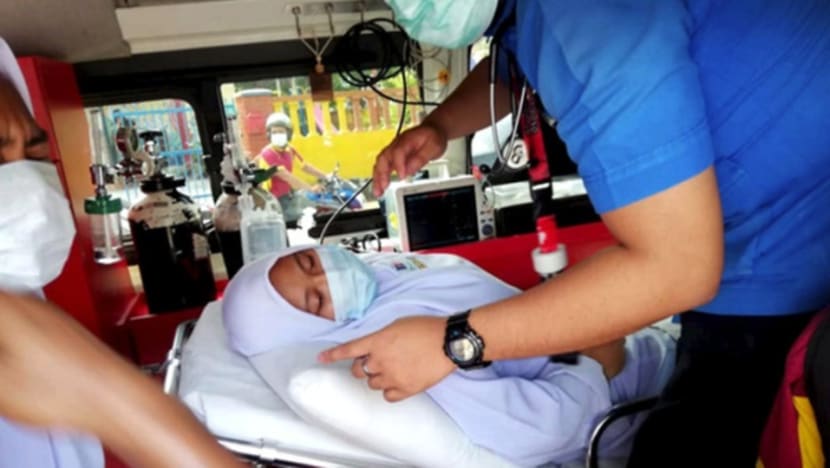 JOHOR BAHRU: Thirty-five people, mostly students, have been hospitalised after breathing in toxic fumes from chemical waste that had been illegally dumped into a river in Pasir Gudang.
Those who fell ill were students and canteen workers from two schools, which were ordered shut on Thursday (Mar 7) while investigations take place.
"Twenty-one people are warded at the Sultan Ismail Hospital here including three in the Intensive Care Unit (ICU), five are being treated at the emergency unit of the hospital while the rest were given outpatient treatment and allowed to go home," said Johor Health, Environment and Agriculture Committee chairman Sahruddin Jamal.
"All of them, aged from seven to 40 years, are reported to be stable."
Dr Sahruddin had said earlier on Thursday that eight people were in critical condition. A student had fainted and five more started vomiting after breathing in toxic fumes on Thursday morning.

A tanker lorry is believed to have dumped chemical waste into the Kim Kim River in Johor on Wednesday morning. 

The Fire and Rescue Department has identified an area with a radius of about 500m which was polluted by the illegal dumping, and has installed oil booms to prevent the chemical from spreading.
While Dr Sahruddin said the situation is now under control, residents who show symptoms of gas poisoning, like nausea and throat irritation, have been advised to seek treatment. 
"The chemical is always moving in the water, so there is a possibility they are also exposed. If they experience symptoms like breathing difficulties, cough and red eyes, quickly go for treatment at the nearby clinics," he said. 

Samples of the river pollution have been taken to be analysed. 
Those found guilty of illegally dumping waste can be jailed for up to five years and fined up to RM500,000 (US$122,000).
The incident has incurred the wrath of residents in Taman Pasir Putih, a town near the polluted site.
Several reported having headaches although their symptoms were not severe as the hospitalised victims.
Mohamad Hazrin Mohamad Razali, 39, said he was worried about his children because both of them have asthma.
Another resident, Asrul Abeli, 32, said the action was "thoughtless".
"What more it is near schools resulting in children becoming ill ... I hope an investigation can be conducted to catch the culprits,'' said Asrul.