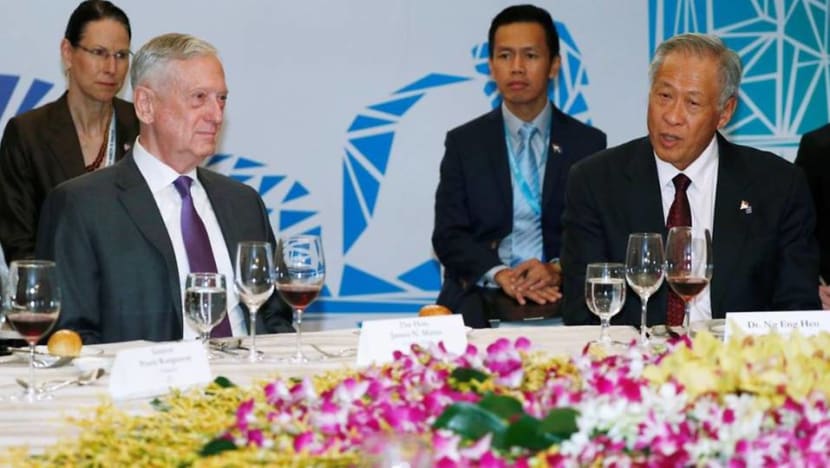 SINGAPORE: Eight nations have expressed in-principle support for a set of guidelines on military aircraft encounters, a day after the Association of Southeast Asian Nations (ASEAN) declared its member countries would adopt the guidelines.

In a joint statement on Saturday (Oct 20), the ASEAN Defence Ministers' Meeting-Plus (ADMM-Plus) countries said they would explore the application of these guidelines "to ensure a safe, secure and peaceful operating environment in the aviation domain".

The eight countries are Australia, China, India, Japan, New Zealand, South Korea, Russia and the US.

"The ADMM-Plus expresses support in-principle for the initiative," the statement said. "We recognise that the guidelines are not intended to prejudice the positions of the relevant states in disputes."

The non-binding Guidelines on Air Military Encounters, aimed at de-escalating tensions during unplanned encounters between military aircraft over high seas, come amid simmering tensions between the US and China over a heavily contested South China Sea.

The air code has been hailed as the first multilateral deal of its kind, although such arrangements exist at bilateral levels.

Singapore's Defence Minister Ng Eng Hen, who is chairing this year's ADMM-Plus, said during a press conference afterwards that the eight nations' in-principle agreement to the guidelines represented a "significant achievement".

"It wasn't a given that we could have consensus," he added. "We had to assure everyone and explain that (the guidelines) in no way encourage foreign countries to intrude sovereign airspace.

"But if for any reason that happens, would you rather live with or without these guidelines?"

The fact that ASEAN nations had already agreed to the guidelines, Dr Ng said, was also a form of "moral encouragement for the larger countries to say 'ASEAN countries can agree on it, why can't we?'".
Dr Ng said he is confident that Thailand, who will take over as ADMM-Plus chair next year, will make progress on getting the ADMM-Plus members to sign up.

"I am confident that we can get the last eight countries to adopt this," he stated.
COUNTER-TERRORISM COOPERATION
The ADMM-Plus also agreed to boost counter-terrorism cooperation by stepping up "practical military-to-military cooperation" through the ADMM-Plus Experts' Working Group on Counter-Terrorism.

"We intend to ... forge new partnerships to counter the threat of terrorism, including by developing effective counter-narrative strategies and initiatives," the joint statement said.

The ADMM-Plus has made "significant progress" since it started in 2010, Dr Ng said.

Also on Friday, ASEAN Defence Ministers agreed to conduct the ASEAN-US Maritime Exercise in 2019, in conjunction with the US' Exercise Southeast Asia Cooperation and Training.

ASEAN and Chinese navies will also participate in the ASEAN-China Maritime Field Training Exercise in October, as China seeks to deepen defence engagement in the region by setting up a direct communications hotline, think-tank exchanges and a young leaders' exchange programme.

"Among ourselves, we account for 90 per cent of all military in the world," Dr Ng said. "That's a sobering thought as to what can go right, but also what can go wrong."