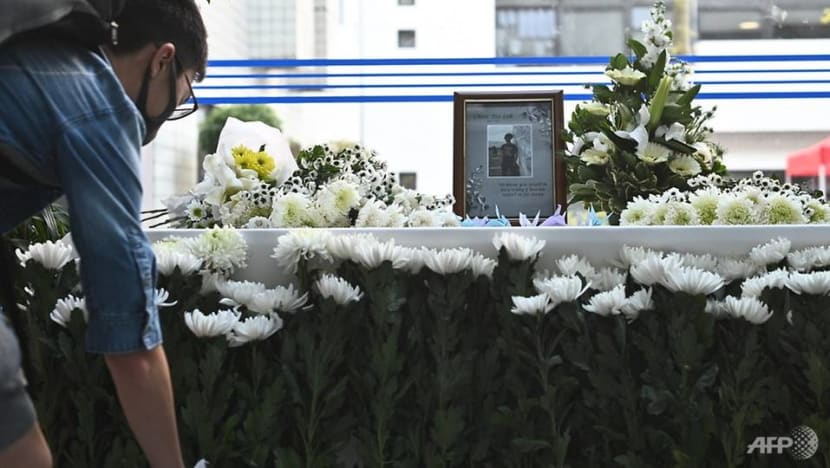 HONG KONG: A student of a Hong Kong university who fell during protests at the weekend died early on Friday morning (Nov 8), marking the first student death during the anti-government demonstrations that have roiled the city and setting the stage for fresh unrest.
Alex Chow Tsz-lok, 22, a computer science undergraduate of the Hong Kong University of Science (HKUST) and Technology, was certified dead at 8.09am on Friday, Queen Elizabeth Hospital confirmed.  
The college was holding its graduation ceremony Friday morning, and university head Wei Shyy paused the proceedings to announce Chow's death and observe a moment of silence.
Chow was taken to hospital in an unconscious state in the early hours of Monday morning following late-night clashes between police and protesters in Tseung Kwan O district. Sources told AFP doctors had performed two surgeries in a bid to reduce swelling in his brain.

He was found lying unconscious in a pool of blood inside a car park that police had fired tear gas into after protesters hurled objects from the building.

The exact circumstances of how Chow received his injuries were unclear but police said he was believed to have fallen from one floor to another in the multistorey car park.
"Today we mourn the loss of a freedom fighter in Hong Kong," Joshua Wong, a prominent pro-democracy campaigner, said on Twitter.
"We will not leave anyone behind - what we start together, we finish together. Given the losses suffered by Hong Kong society in the past month, the government must pay the price."
Students and young people have been at the forefront of the hundreds of thousands who have taken to the streets since June to press for greater democracy, among other demands, and rally against perceived Chinese meddling in the Asian financial hub.

Many demonstrators had thronged the hospital over this week to pray for Chow, leaving flowers and hundreds of get well messages on walls and notice boards inside the building. Students also staged rallies at universities across the former British colony.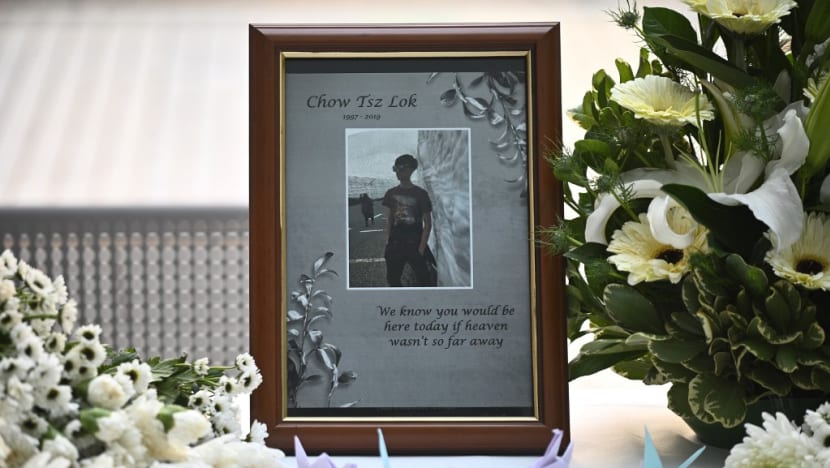 HKUST students trashed a campus branch of Starbucks, part of a franchise perceived to be pro-Beijing.
"Condemn police brutality," they wrote on the restaurant's glass wall.
Hundreds of students, most in masks and carrying candles, lined up in silence on campus to lay white flowers in tribute. 
"Wake up soon. Remember we need to meet under the LegCo," said one message, referring to the territory's Legislative Council, one of the targets of the protest rallies. "There are still lots of things for you to experience in your life."
Another read: "Please add oil and stay well," a slogan meaning "keep your strength up" that has become a rallying cry of the protest movement.
Chow had been pursuing a two-year degree in computer science. Hundreds of students, some in their black graduation gowns and many wearing now-banned face masks, chanted "Stand with Hong Kong" and spray-painted Chow's name and pinned photos and signs of him on walls.

Some people also left flowers at the spot where he fell at the car park in Tseung Kwan O, to the east of the Kowloon peninsula.
"He was a nice person. He was sporty. He liked playing netball and basketball," friend and fellow HKUST student Ben, 25, told Reuters in tears. "We played netball together for a year. I hope he can rest in peace. I really miss him."

The university called for an independent investigation, saying an ambulance was blocked by police cars and ambulance officers had to walk to the scene, causing a delay of 20 minutes in the rescue operation.
"We demand clarifications from all parties - especially from the police, regarding the cause of the delay in those most critical moments that might have saved a young life," university president Wei Shyy said in a statement.
The government expressed "great sorrow and regret". A police spokeswoman, tears in her eyes, said officers would find out the truth as soon as possible and urged the public to be "calm and rational".
Police have denied blocking an ambulance. The car park said it would release CCTV footage as soon as possible.
Speaking at a media briefing on Friday, Hong Kong police officials also denied accusations that they chased Chow, and vowed to pursue a full investigation into the matter.
"We're not to blame for student's death," said a spokesman who was quoted by APTN.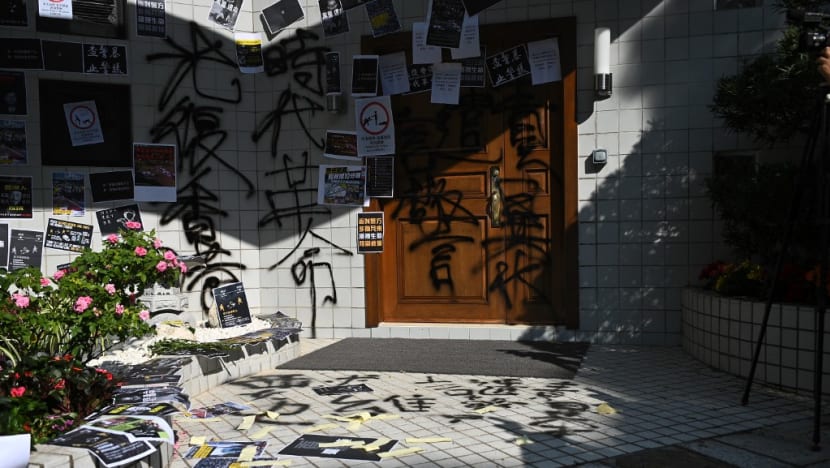 Chow's death is expected to spark fresh protests and fuel anger and resentment against the police, who are already under immense pressure amid accusations of excessive force as the city grapples with its worst political crisis in decades.

The demonstrations in Hong Kong began over a since-scrapped extradition Bill and escalated in mid-June.

Protesters have kept up their calls for universal suffrage and an independent inquiry into police behaviour, among other demands.

The number of people who take part in the mostly weekend rallies has dwindled from the millions who participated in June, but the violence and vandalism have escalated. 
The unrest has helped push Hong Kong's economy into recession for the first time in a decade. Retail and tourism sectors have been hit particularly hard as tourists stay away.

There have been many injuries in the protests. Last weekend anti-government protesters crowded a shopping mall in running clashes with police that saw a man slash people with a knife and bite off part of the ear of a local politician.

In June, Marco Leung, 35, fell to his death from construction scaffolding after unfurling banners against the extradition Bill. Several young people who have taken their own lives in recent months have been linked to the protests.

Protests scheduled over the weekend include "Shopping Sunday" centred on prominent shopping malls, some of which have previously descended into chaos as riot police stormed areas crowded with families and children.

Protesters have also called for a general strike on Monday morning and for people to block public transport. Such calls have come to nothing in the past.

Follow us on Telegram for the latest on Hong Kong: https://cna.asia/telegram