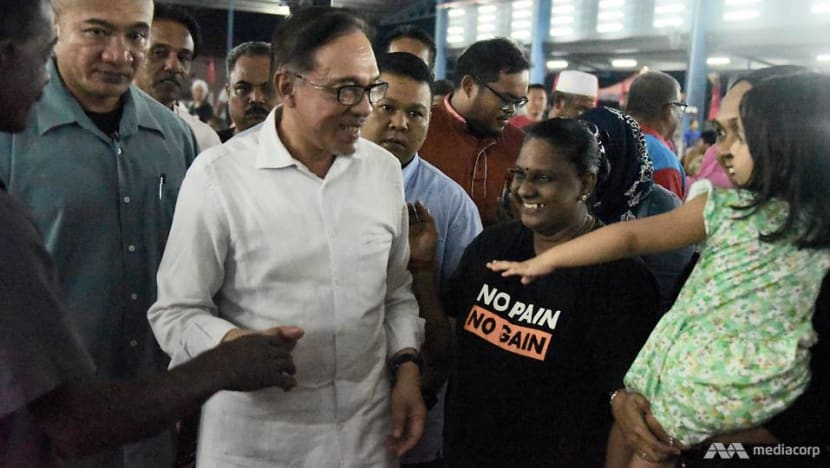 PORT DICKSON: Parti Keadilan Rakyat's (PKR) Anwar Ibrahim did not look out of place at a Sikh temple last Saturday (Sep 29).

Wearing a yellow turban on his head and an orange sash over his neck, the Malay-Muslim candidate for the Port Dickson by-election was greeted warmly by worshippers at the Gurdwara Sahib Sikh temple as he had high tea with them.

Just a day earlier, Mr Anwar attended a lantern festival with the Chinese community at a school in Port Dickson, and there as well, he was well received. 

"He's not a Port Dickson resident, but he's truly one of us now," said Ms Shamala Rajen, a voter from Pasir Panjang who managed to snag a wefie with Malaysia's prime minister-in-waiting.

"He has a way of connecting with people from different races and religion. He even knows our mother tongue, and is a good representative for Port Dickson," added the mother of two.

ANWAR DOESN'T BELIEVE IN MALAYS: HADI 
But Mr Anwar's campaigning at the different places of worship in the town has drawn criticism from Parti Islam Se-Malaysia's (PAS) president Abdul Hadi Awang.

Mr Hadi, who gave a ceramah in Teluk Kemang, Port Dickson on Monday night to garner support for PAS candidate Lieutenant-Colonel Mohd Nazari Mokhtar, called Mr Anwar "inconsistent".

"We live in a multi-religious community, we believe in freedom to practise religion. But we believe there must be consistency in how we practice religion.
"For example, at the mosque, he (Anwar) leads Islamic prayer, at a Hindu kuil (temple), he dances like a Hindu, at the Buddhist temple, he dances like a Buddhist.
"We must have our own stance and we must be consistent in the way we do things," added Mr Hadi.

Mr Hadi highlighted that Mr Anwar wanted to contest in Port Dickson as he does not believe "in people of his own race".
"He picked a constituency which is not dominated by his own people, but by other races. He doesn't believe in his own people, how will people of other races believe him?" Mr Hadi asked.

The voters in Port Dickson are made up of 42.7 per cent Malays, 33.1 per cent Chinese and 22 per cent Indians. 
At the Singapore Summit in September, Mr Anwar vowed to attain a majority of the Malay votes, the majority of Indian votes and the majority of Chinese votes on his way to winning the seat, calling Port Dickson a "microcosm of Malaysian society".

In response to Mr Hadi's accusation that he was being inconsistent, Mr Anwar pointed out that he had always campaigned in this manner, even when PKR teamed up with PAS as part of the opposition coalition for the 2013 Malaysian general election.

"Previously when we were working together in Pakatan Rakyat, this was never brought up. In fact, when I visited kuils, a lot of PAS members were following me ... What's important is that in Islamic tradition, we are not prohibited to respect the religious views of people," Mr Anwar told reporters at a press conference.
"So I wasn't praying in the kuil. I wasn't following the worshippers while they pray. I was there for a cultural event within the areas near the kuil's praying hall. I will continue (this method of campaigning)," he added.

CRUCIAL TO WIN VOTES FROM ALL RACES
Professor James Chin, director of the Asian Institute at the University of Tasmania, said it is crucial for Anwar to win the votes from the different races.
"If (he doesn't win over the minority races), he cannot be MP (for Port Dickson), much less the PM (for Malaysia),
"So he is carrying the burden of needing the support from all races. Don't forget that this is not a Malay-majority seat," said Prof Chin.
However, he added that Port Dickson voters want a "heavyweight to represent them seriously", and Mr Anwar suits this profile.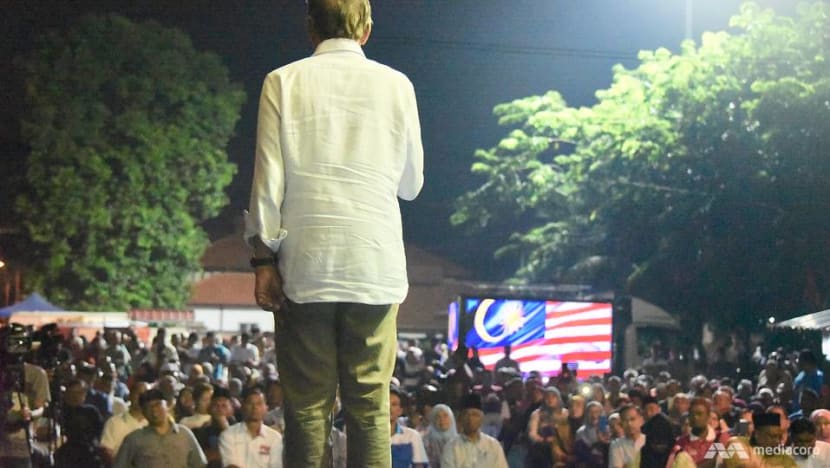 Mr Quah Chek Khai, one of the hundreds of voters who attended Anwar's night rally at Bagan Pinang, told Channel NewsAsia: "We want a future prime minister to represent us, it will be historic for Port Dickson.

"But it's not just any PM. This one can identify with all races, and lead the way for the new multi-racial Malaysia," he added.