Anwar wins by-election, moves closer to becoming Malaysia PM
The former deputy premier re-enters parliament with a landslide victory of more than 23,560 votes over his nearest rival for the Port Dickson federal seat.
PORT DICKSON, Malaysia: Mr Anwar Ibrahim on Saturday (Oct 13) comfortably won a local election for the federal seat of Port Dickson, signalling his return to Malaysian parliament after three years and clearing the path for his promised rise to the prime minister post.

The de facto leader of the Pakatan Harapan coalition took more than 31,000 votes to best his closest challenger Nazari Mokhtar of the Parti Islam Se-Malaysia by more than 23,500 votes - outperforming the previous winner who achieved a majority difference of 17,710.
Independent candidate Isa Samad, who was once chief minister of the wider Negeri Sembilan state, came in third with more than 4,200 votes. The other four candidates only registered votes in the hundreds.

Voter turnout was 58 per cent, according to the election commission.

With nearly 43,500 votes cast in total, Mr Anwar also achieved a popular vote percentage of 71.3 per cent - a point he emphasised in his victory press conference.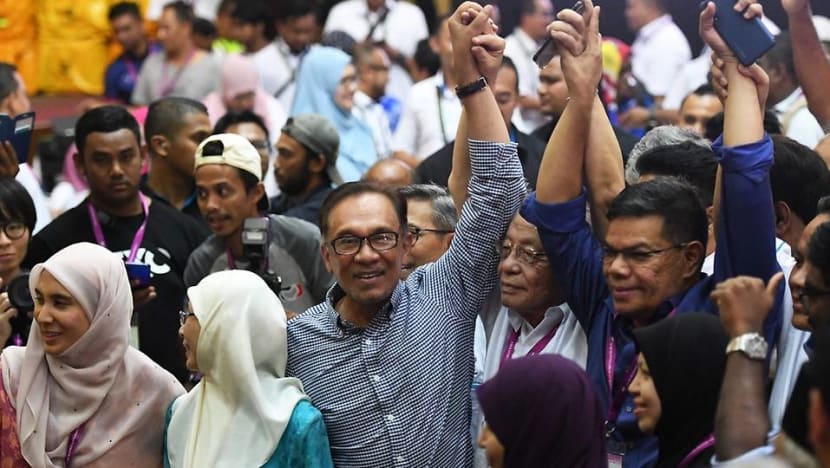 "I'm of course extremely pleased and humbled by the result," he said. "It's more convincing than the GE (general election) result, when we achieved 48 per cent of the popular vote."

Mr Anwar attributed the "astounding" win to "total support across the board, across races".

"The Malays here have given endorsement to Pakatan Harapan, as well as the Chinese, Indians and even the small communities of orang asli," he said.

MAHATHIR "GLAD"
While on the campaign trail Mr Anwar had been widely tipped for victory as he enjoyed greater visibility along with the backing of the country's political bigwigs - in particular, current premier and former nemesis Mahathir Mohamad.

Earlier this week the latter made an unprecedented show of support by turning up at a rally in Port Dickson - the first time the pair have shared a stage since Dr Mahathir, in his first tenure as prime minister, sacked Mr Anwar as his deputy in 1998.
He was convicted of sodomy thereafter and freed in 2004 after Dr Mahathir stepped down, only to be thrown back in jail in 2015 for sodomy again – both charges, Mr Anwar has said, were politically trumped up.

Then, impelled by concerns over the leadership of former prime minister Najib Razak - another former protege - and his management of the 1MDB state fund, Dr Mahathir engineered a political return by teaming up with Mr Anwar in an unlikely opposition alliance.

What happened at the May polls was history and once Dr Mahathir was sworn in as prime minister - again - he obtained a royal pardon for the incarcerated Mr Anwar, and later pledged to hand the premiership reins over in about two years.

"I just called and spoke to Tun Mahathir and he is glad," said Mr Anwar after his Port Dickson win. He said he expects to attend parliament as soon as Monday.
"I'll focus on assisting our leaders in parliament, to ensure that we embark on effective parliamentary reforms, and I'm sure I'll get the full support of my colleagues," he added.

As Port Dickson's new lawmaker, he also spoke of plans to improve the hospital and clean up the beaches. But the very first order of business after weeks of relentless campaigning: Rest.

"I'm sorry," Mr Anwar smiled, as he stood up to cut his press conference short after a brief 15 minutes. "I'm just very, very exhausted."