ASEAN, China kick off first maritime exercise
The naval drills involve more than 1,000 personnel and eight ships.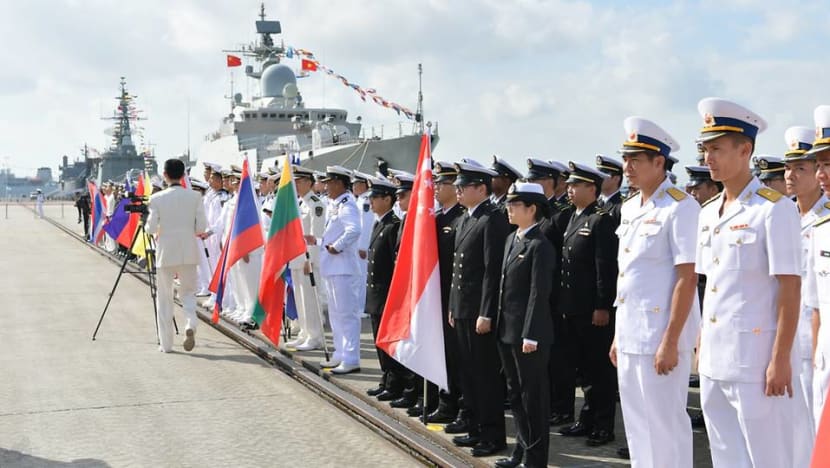 ZHANJIANG: The first-ever maritime exercise held by the Association of Southeast Asian Nations (ASEAN) and China started on Monday (Oct 22) in the southern Chinese city of Zhanjiang.

Over the next six days, the navies of ASEAN and China will plan and conduct field training off the coast of Guangdong province, marking efforts by the regional bloc and Beijing to avoid military confrontations in Asia amid tensions in the region between the US and China.

The maritime exercise – first mooted in 2015 – is unprecedented. While this is not the first time ASEAN navies are taking part in multilateral naval drills, it is the first time ASEAN is engaging another country in such an exercise.

A second such exercise will take place soon. It was announced at the ASEAN Defence Ministers' Meeting (ADMM) in Singapore last week that ASEAN and the United States will hold a joint maritime exercise next year.

At Monday's opening ceremony of the ASEAN-China exercise, Singapore's Chief of Navy, Rear-Admiral Lew Chuen Hong, said that the region's prosperity is underpinned by a stable and secure sea.

"We also need to promote practical norms that support international laws, and enhance practical cooperation. The Code for Unplanned Encounters at Sea, or CUES, is one such example – it enhances operational-level communication and reduces risk of miscalculations. Overall, it aims to improve trust," he said.

There was a recent near-miss between US and Chinese warships in the South China Sea, as both countries continue to be engaged in an escalating trade war.

Against such a backdrop, these drills are seen as increasingly important in building mutual trust.

"I believe this exercise will achieve the expected results. It will be an important platform for the various navies to exchange knowledge, increase mutual understanding, and become an important platform to deepen defence cooperation between China and ASEAN. 
"It is key to China and ASEAN's shared destiny and to preserving peace in the region," said Vice-Admiral Yuan Yubai, commander of the Southern Theatre Command in the People's Liberation Army Navy.

Singapore, as ASEAN and ADMM chair this year and as the coordinator for ASEAN-China relations from August 2015 to August 2018, is the co-directing the exercise with China.

The field exercise is the implementation phase of a table-top exercise that took place in Singapore in August.

It includes search-and-rescue drills, and also provides an opportunity for naval codes, like the Code for Unplanned Encounters at Sea, to be tested out.

There are more than 1,000 military personnel and eight ships – three from China, and one each from Singapore, Brunei, Thailand, Vietnam and the Philippines – taking part in the exercise in Zhanjiang.