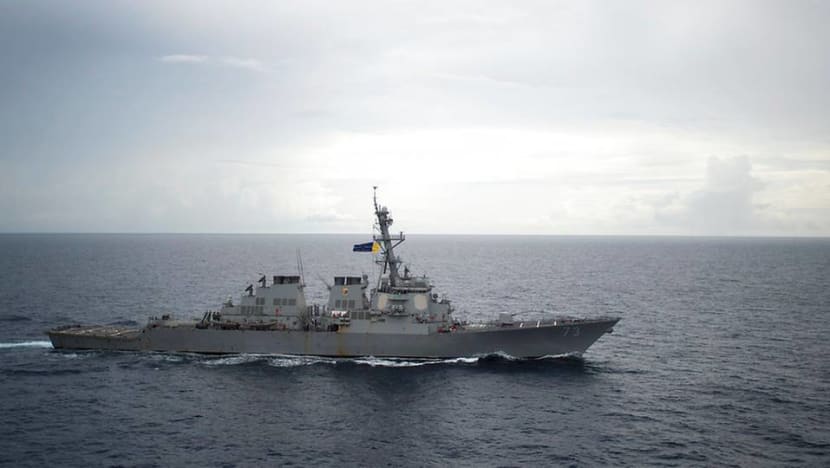 SINGAPORE: Countries in the Association of Southeast Asian Nations (ASEAN) have told the US and China they are concerned about mounting tensions in the South China Sea, pointing to a recent near-miss incident involving the two countries' warships.

After the ASEAN Defence Ministers-Plus (ADMM-Plus) meeting on Saturday (Oct 20), Singapore's Defence Minister Ng Eng Hen said the other member states "didn't hold back" during the dialogue.

"We asked pointedly: 'What happened between the two ships, should we be worried? How are your relations?'" said Dr Ng, who is chairing this year's meeting between the 10 ASEAN states and Australia, India, Japan, New Zealand, South Korea, Russia, China and the US.

The near-miss happened on Sep 30, when a US Navy ship and Chinese destroyer came within 41m of each other in the South China Sea, CNN had reported, citing a spokesman for the US Pacific Fleet.

The USS Decatur was conducting a freedom of navigation operation near the disputed Spratly Islands when it was approached by a Luyang destroyer, the CNN report said, causing the US ship to manoeuvre "to prevent a collision".

The two ships were "too close for comfort", Dr Ng said, adding that no country wants a physical incident in the South China Sea.

"Some of the incidents are from assertion of principles, but we recognise that the price of any physical incident is one that is too high and unnecessary to either assert or prove your position," he added.

Dr Ng said that the "very act of ASEAN asking" about the incident helped the US and China "collect their thoughts, formulate strategies and place emphases".

He was happy to hear Chinese Defence Minister Wei Fenghe say that "stability and security are topmost" priorities for the country's leadership, a statement that Dr Ng said US Secretary of Defense James Mattis concurred with.

Dr Ng said he also felt "reassured" after General Wei said the "situation in the South China Sea was improving".

"By that, I assume he meant that the code of conduct (in the South China Sea) – they made progress," he added. "From their point of view, there were no interruptions for either commercial or military shipping."

Another solution to avoid such incidents, Dr Ng said, involves having a military framework of "consistency and clarity".

"That's why I think guidelines help," he added, referring to a set of codes to manage unexpected military encounters over the air and at sea.

"When you're not sure, when you need a last resort mechanism that both sides can fall back on – that (code) will prevent mishaps."

Dr Ng also said ASEAN has shown it has a role to play in easing tensions between the US and China, citing the progress that ADMM-Plus has made in initiatives like intelligence sharing and counter-terrorism.

"Big powers recognise ... and trust us to be in the driver's seat. I think the alternatives are worse for any big power," he added.

"At the same time, we have to take that position and move it forward."