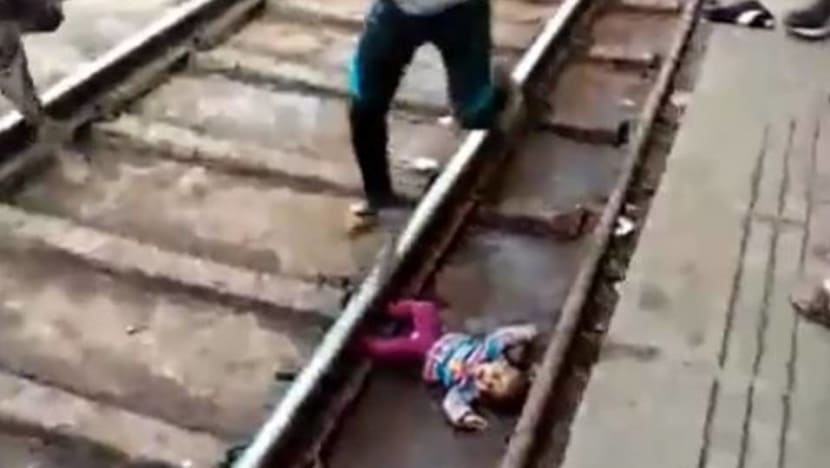 AGRA: A baby in the Indian state of Uttar Pradesh survived after she fell onto a railway track where she narrowly escaped being hit by a train. 
In a video posted online on Tuesday (Nov 20), one-year-old Sahiba is seen lying unharmed on a railway track in Mathura after a train rolls over her. 
Two men then rushed down to the track to rescue the crying child and hand her back to her panic-stricken mother.

According to Sahiba's father, Sonu, his wife was pushed as she was alighting from the train, causing the infant to slip out of her arms, the Times of India reported. 
The child then fell through the narrow gap between the platform and the carriages.

The little girl who was lying between the two tracks did not sustain any injuries and was later brought home by her parents.
"No one expected her to survive," said a bystander, according to the Times of India.

Indian railway officials said the lucky escape was a reminder to be cautious at all times on crowded trains.
"We are actively running campaigns to sensitise people against travelling on rooftops or standing on foot boards of the train doors," said G K Bansal, a railways spokesman.
India's huge railway network is notorious for overcrowding and accidents, including scores who die while crossing the tracks illegally or falling off over-capacity trains.
A 2012 government report described the loss of 15,000 passengers to rail accidents every year in India as a "massacre".
The government has pledged US$137 billion over five years to modernise the crumbling network.