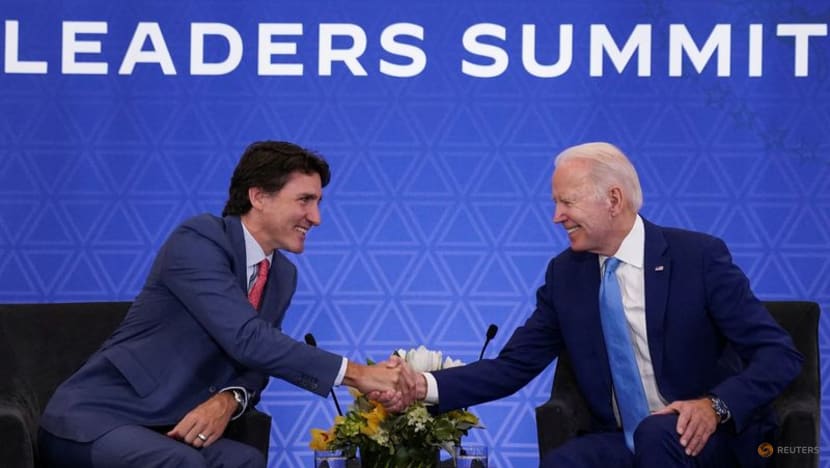 OTTAWA/WASHINGTON: US President Joe Biden will make a long-delayed visit to close ally Canada this week to express unity on Ukraine and the environment, but is unlikely to make much progress on tougher trade disputes, sources said on Tuesday (Mar 21).
Biden will be in the capital Ottawa on Thursday and Friday to address Parliament and meet with Prime Minister Justin Trudeau.
US presidents traditionally make their first international trip to Canada but delays - in part caused by COVID-19 - mean Biden has already visited almost 20 other nations first. He held his first bilateral meeting as president with Trudeau, albeit virtually.
US and Canadian sources said no significant announcements were likely, with both leaders expected to agree to continue working on areas where they differ - such as defense spending, the crisis in Haiti and a dairy trade dispute.
Top of mind in Ottawa is Biden's push to boost manufacturing in the US, an economy 10 times the size of Canada's.
Biden's Inflation Reduction Act (IRA) passed last year includes massive incentives to invest in green industries in the US, forcing Canada to try to make up the difference with investments of its own.
Goldy Hyder, chief executive of the Business Council of Canada, said he wanted more of a recognition from the US that the two nations' economies were highly integrated and that Canadian firms could benefit from the IRA.
"It is not in America's interest to consolidate the capital to consolidate the innovation, to consolidate the talent, because you weaken your allies," he told reporters.
Despite the unity over Ukraine, the US is less happy with Canada over its defense spending, which has long failed to meet the 2 per cent target of GDP set by NATO members.
The recent incursion of a Chinese balloon put the focus on NORAD, the joint US-Canadian North American defense organisation that experts say is in dire need of upgrades.
Last June, Canada promised to invest C$4.9 billion (US$3.6 billion) over six years to modernize NORAD. But Canada's defence spending is around 1.3 per cent of GDP, well below the NATO target of 2 per cent.
David Cohen, the US ambassador to Canada, told CTV that defence spending would be "a topic of ongoing conversation ... because we do need more dollars for defence".
The US also wants Canada to address the chaos in Haiti, possibly by leading a security mission there, but Canada's top general this month said he does not have the capacity.
"The Americans, I think, are reaching a point where they are getting fed up," said Colin Robertson, vice president of the Canadian Global Affairs Institute and a former Canadian diplomat with several US postings.
Trudeau is likely to make a commitment of sorts on Haiti but less than Washington is pressing for, said a source briefed on the summit.