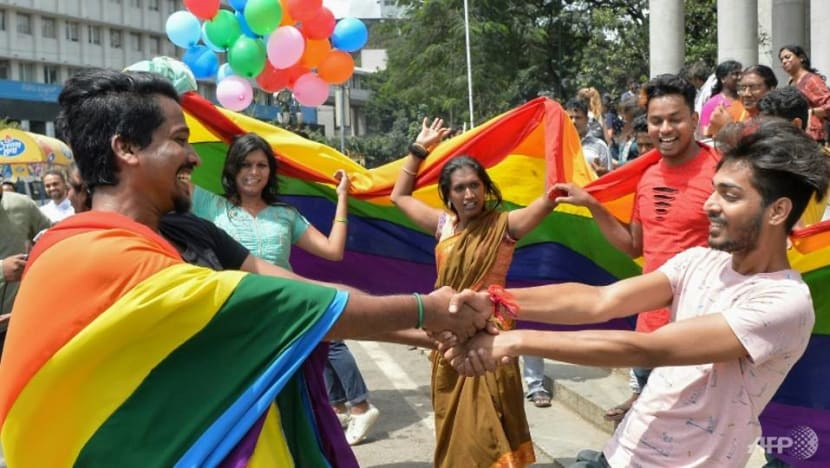 BHUBANESWAR, India: Lipstick in hand and phone at the ready, Meghna Sahoo darkens her eyes with kohl, combs her long, black hair and adjusts a dupatta scarf so she is primed for her first client of the day.
Heralded as India's first transgender cab driver, Sahoo drives in the eastern coastal state of Odisha, breaking into a male-dominated industry and paving the way for others to access the sort of regular jobs they are so routinely denied.
Male-to-female transgender people, also known as "hijras" or "kinners", often beg, sell their bodies for sex or extract money from families celebrating a birth or marriage by threatening to curse them with infertility or bad luck.
"I do not oppose such work but I wanted to do something different with my life. I thought: 'why can't I do the same jobs that the rest of the men and women in the world do?,'" Sahoo, 33 told the Thomson Reuters Foundation.
"My objective of entering this predominantly male sector was to prove that there is no job we cannot do. We just need the opportunity," said Sahoo as she navigated Odisha's capital of Bhubaneswar.
Despite impressive economic progress, India remains deeply conservative and trans people are largely unaccepted in a country that is wedded to social norms.
Yet hijras have long been considered auspicious in India. They are featured in Hindu mythology, revered as demigods who bring people fertility and fortune. And hijra – which means "to leave the tribe" in Urdu – is legally recognised as a third gender, with the option listed in most identity documents.
A FIRST
While there are no official records to verify whether Sahoo is India's first transgender cab driver, her employer Ola Cabs - Uber's Indian rival - and transgender rights charities such as Sahodari Foundation lay claim to the title on her behalf.
"I do not believe that there was anybody who took cab driving as a profession before her who is a transgender (person)," said Viraj Chouhan, Ola Cabs' spokesman.
"One can deduce that she is India's first and Ola's first."
Two other Indian cab firms - one in Mumbai, the other in the southern state of Kerala - announced plans for a new trans taxi service in 2016 but neither got off the ground.
Despite a landmark 2014 judgment recognising trans people and making them eligible for quotas in jobs and schools, activists say they are often kicked out of home and face hurdles entering the workforce.
Sahoo had a rough ride to the top, too.
A Master of Business Administration (MBA) graduate, Sahoo was forced to beg on trains and work as a prostitute after her family shunned her and a string of employers fired her.
"My family told me 'if you are going to be like this and not try to be more like a man, then get out of the house'," said Sahoo. "I decided I could no longer hide my identity."
She began growing her hair out and wearing women's clothes, but that upset her bosses at a medical diagnostics company.
"They said 'if you dress like a woman, then we will have problems, our clients will get upset and we will have to let you go' and they actually did," said Sahoo, whose attempts at integration in other companies also failed.
"For about two years, I struggled to feed myself."
FIVE-STAR DRIVER
Odisha is one of India's more transgender-friendly states, becoming the first in 2016 to give the community social welfare benefits - such as a pension, housing and food grains.
Yet Sahoo fell on hard times and battled routine harassment by men who she says "automatically expected sex" from her.
"I thought to myself what was the point of an MBA? What happened to all those dreams of helping the community? I have not been able to do any of that and have ended up in the same place as others. I have to do something," said Sahoo.
With the little money she had, Sahoo bought a car in her father's name - no bank was willing to give her a loan - and knocked on the doors of Ola Cabs last year after chatting with one of their drivers on her way home one day.
"They included my car in their fleet," said Sahoo.
"On my first day, I was very scared and tense about what would happen, what would customers think, what would other drivers think of me ... would customers sit in my car or not, would they get upset and storm out of my car?," she said.
"But all those fears were unfounded."
Customers have been encouraging, especially women, who prefer to travel with her over her male colleagues, she said.
Nearly 40,000 rapes were reported in 2016 despite a greater focus on women's safety after the fatal gang rape of a student in New Delhi in 2012 that sparked nationwide protests.
A Thomson Reuters Foundation poll ranked India the world's most dangerous country for women, in part due to prevailing sexual violence. Papers are awash with daily sex crime stories, including the rape of professional women by taxi drivers, so it is little wonder that Sahoo is popular with female passengers.
"She is punctual, professional and great to talk to. Plus, you feel much safer, especially at night, riding with her," said Vijaya Lakshmi, one of Sahoo's regular customers.
The first time Sahoo came to pick her up, Lakshmi said she was surprised to find a woman behind the wheel in a country where sex crime is rife and women are under-represented at work.
"But then I heard her deep voice and realised that she may be a transgender woman ... I was happy to see her doing this kind of job," said Lakshmi.
Sahoo said this is a common reaction.
"Every client becomes happier knowing that I drive and earn doing hard work. So much so that they give me big tips."
"Everyone gives me a five-star rating."
ROAD AHEAD
After 10 hours of daily ferrying, Sahoo drives home to her husband and stepson, and gets ready to help with homework and whip up dinner - like most other wives and unlike most other transgender people in India.
Experts say Sahoo's is a rare story in India, where most of its estimated 2 million transgender people face discrimination from a young age with transgender women particularly abused.
That is why Sahoo is working with a local charity to help more transgender people join the taxi industry, where she says no education or high qualifications are needed.
"I want to be a role model and inspire at least 10 others to start driving cabs," said Sahoo, who recently stood as a guarantor for another transgender woman to secure a car loan.
"I do not want a single kinner (trans woman) to resort to begging. Every kinner should stand on their own two feet and forge ahead and earn a living through respectable means."