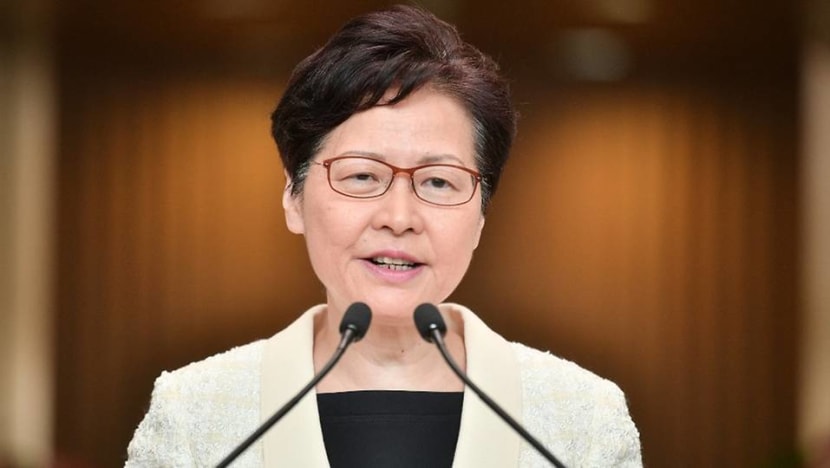 HONG KONG: Hong Kong Chief Executive Carrie Lam on Tuesday (Sep 3) clarified comments she made in a leaked audio recording in which she said she would quit if given the choice.  

Replying to questions from reporters during her weekly press briefing, Ms Lam said she has "never tendered her resignation to the central people's government". 
"I have not even contemplated to discuss a resignation with the central people's government," she said, adding that the choice of not resigning was "my own choice".
"I'd rather stay on and walk this path, together with my team and the people of Hong Kong," Mrs Lam added.

China for its part expressed confidence in Lam and her government but said it would not sit idly by if the unrest threatened Chinese security and sovereignty.

"The central government will not allow chaos in Hong Kong to continue indefinitely," spokeswoman Xu Luying said.

"If the situation in Hong Kong continues to worsen and it becomes turmoil that cannot be controlled by the SAR government and endangers the country's sovereignty and security, the central government will not sit idly by."

In the audio recording, which Lam said was made during a closed-door meeting with business people last week, the embattled leader was heard saying she has caused "unforgivable havoc" by igniting the political crisis engulfing the city and would quit if she had a choice.
Addressing the leaked audio, Mrs Lam said: "I was very disappointed that my remarks in a totally private and exclusive session which is a lunch actually, which is clearly subject to Chatham House rules had been recorded and then passed to the media.
"I think this is quite unacceptable. To further suggest or allege that myself or the government have any role to play in this thing is absolutely and unfounded."

THE LEAKED AUDIO RECORDING:

The law has been shelved, but Lam has been unable to end the upheaval. 
Protesters have expanded their demands to include complete withdrawal of the proposal, a concession her administration has so far refused. Large demonstrations wracked the city again over the weekend.
Mrs Lam suggested that Beijing had not yet reached a turning point. She said Beijing had not imposed any deadline for ending the crisis ahead of National Day celebrations scheduled for Oct 1. 

And she said China had "absolutely no plan" to deploy People's Liberation Army troops on Hong Kong streets. 

World leaders have been closely watching whether China will send in the military to quell the protests, as it did a generation ago in the bloody Tiananmen crackdown in Beijing.
"CARRIE LAM LIED"
Protesters online have accused the Hong Kong leader of trying to drum up sympathy for her position.
"I think she wanted this recording to come out, she wants to give the impression she's innocent and apologetic about what's happening," said Bonnie Leung from the Civil Human Rights Front, which this summer has organised some of the largest rallies the city has ever seen.
"Either Carrie Lam lied to the business leaders last week or to the public of Hong Kong this morning," added pro-democracy lawmaker Lam Cheuk-ting.
Hong Kong school and university students on Tuesday are due to boycott classes and hold pro-democracy rallies for the second straight day.
This followed a weekend marred by some of the worst violence since the unrest escalated more than three months ago, with protesters burning barricades and throwing petrol bombs, and police retaliating with water cannon, tear gas and batons.
Follow us on Telegram for the latest on Hong Kong: https://t.me/cnalatest