BEIJING: China's central government on Monday (Jul 29) condemned the "horrendous incidents" in Hong Kong following another weekend of clashes, saying the violence has caused serious damage to the city's international image, rule of law, public order, economy and lives of residents.
It reiterated its support for Hong Kong leader Carrie Lam and the city's police, and called on Hong Kong people to oppose violence.
Hong Kong has been rocked by several weeks of protests against a proposed Bill that would have allowed people to be extradited from the city to stand trial in mainland China. 
The protests evolved into a call for wider democratic reforms, and demonstrations have on several occasions resulted in clashes between demonstrators and police.

While China has issued increasingly shrill condemnations of the protests in the last two weeks, it has largely left the city's pro-Beijing administration to deal with the situation.

It blamed the violence on a "few radicals". 
"No civilised society or rule of law society will tolerate rampant violence," said Yang Guang, spokesman of the Hong Kong and Macao Affairs Office of China's State Council.

"We hope that the general public will clearly understand the seriousness of the current state of affairs and jointly denounce the bad actions and crimes committed by radicals, and prevent them from harming Hong Kong," he added.
Yang said the central government "strongly" supports Hong Kong's beleaguered chief executive Carrie Lam and the city's police force, which has been accused of using excessive force against protesters.
"We also believe that Hong Kong's top priority task right now is to punish violent and unlawful acts in accordance with the law, to restore social order as soon as possible, and to maintain a good business environment," said another Hong Kong affairs spokeswoman, Xu Luying, at the rare press conference in Beijing.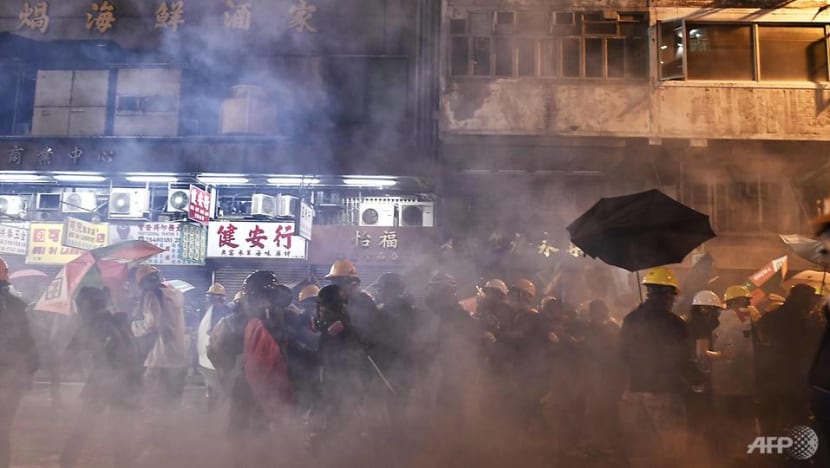 Yang also hit out against attempts by what he called irresponsible figures in the West to stoke turbulence in Hong Kong and contain China's development.
"As quite a few Hong Kong residents know little about the situation on the mainland and its legal and judicial systems, they may have doubts about the proposed amendments so some individuals and media organisations with ulterior motives have been scaremongering based on these doubts to stoke public panic and obstruct the adoption of the Bill," he said. 
China also said that Hong Kong's government and society needed to come up with more effective ways to help young people address concerns over housing, employment and other issues.

The protests are the most serious political crisis in Hong Kong since it returned to China 22 years ago. They also pose the greatest popular challenge to Chinese leader Xi Jinping since he came to power in 2012.
In an editorial on Monday, the state-run China Daily newspaper signalled Beijing's growing concern.
"What is happening in Hong Kong is no longer the airing of real or imagined grievances," the editorial said.
"It is of the same hue as the colour revolutions that were instigated in the Middle East and North Africa - local anti-government elements colluding with external forces to topple governments utilising modern communication technology to spread rumours, distrust and fear."
Additional reporting by Olivia Siong.