'No ibuprofen, no aspirin, absolutely nothing': China's COVID-19 patients feel pain of drugs shortage
Many Chinese are struggling as the latest COVID-19 surge triggers widespread medicine shortages.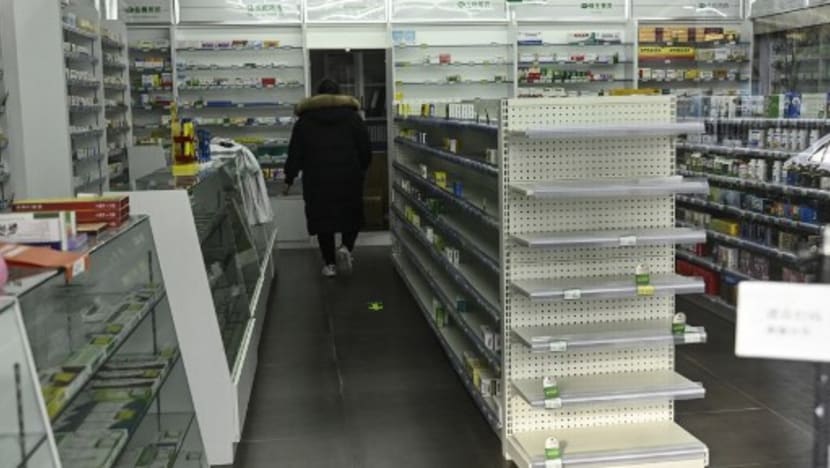 The fever started on Thursday (Dec 15) for Zong Xiaoyan.

"Every bit of my body was hurting like hell," the 67-year-old retired factory worker in eastern China said.

"I was so worried because I've had serious asthma all my life," said Fan, aware that chronic conditions could worsen the impact of COVID-19.

Her husband Fan Weiguo, who did not have a fever but was coughing non-stop, rushed to get medication from drug stores nearby. He came back empty-handed.
"No ibuprofen, no aspirin, no vitamin C, absolutely nothing," said Fan, 72. "They didn't even have watermelon frost lozenges (to soothe the throat). Everything was sold out."
The couple, residents of Changzhou in eastern Jiangsu province, said they had yet to receive medication distributed by city authorities even though they registered more than a week ago.

The elderly, children, and those in special need would get free healthcare packages containing fever and cold medicines, vitamin C tablets and rapid antigen test kits, the Changzhou municipal government said in a notice posted on its official WeChat account 10 days ago.

But Zong and Fan are still waiting. They are among a great number of Chinese struggling to treat themselves as the country's latest COVID-19 surge triggers widespread medicine shortages.
Infections have hit pharmaceutical production lines and delivery services, worsening the shortages as an anxious population hurries to stock up on medicines with coronavirus cases on the rise – and only the seriously ill are advised to seek hospital care under recently eased zero-COVID guidelines.
 
"OPERATING AT FULL CAPACITY"
Authorities and big pharmaceutical houses have sought to reassure the public in recent days.
All pharmaceutical factories were "operating at full capacity", though a lot of workers on the production line had caught COVID-19, according to The Paper, a Shanghai-based digital daily owned by a state media group.

"Our factory has deployed all possible manpower to start 24-hour production," a pharmaceutical factory employee told The Paper. "As the workers recover and return to work, things are expected to improve soon."
Shandong Xinhua Pharmaceutical, the world's largest active raw material supplier for ibuprofen, was working around the clock, according to a report by Yicai.com, one of China's major financial media outlets.

The company was doing its best to step up the production of ibuprofen, vitamin C and other medicines urgently needed by the market, Shandong Xinhua said last Friday in response to inquiries from the Shenzhen Stock Exchange following a rally in the pharmaceutical sector.
Production lines at Shenyang Northeast Pharmaceuticals were also running round the clock to produce drugs for COVID-19 patients, including analgesics and antipyretics, as well as vitamin C pills and chewable tablets, the company said on its official WeChat account.

Jiangsu Hengrui, another pharmaceutical giant, had also expanded production to meet the demand for drugs to manage symptoms like fever and cough, the Yicai.com report said.

China is a major producer and exporter of the active pharmaceutical ingredient for ibuprofen, and accounts for one-third of the global production capacity.
 
"Generally speaking, China's drug production capacity can meet the needs of COVID-19 patients," Zhou Jian, an official with the Ministry of Industry and Information Technology, said last week.
The country is making all-out efforts to ramp up the production of key medicines, Zhou said.

The supply of medicines for medical institutions and nursing homes would be prioritised, he said, with large pharmacies urged to develop online platforms to facilitate the delivery of medicines to patients.

Hospitals have been feeling the strain as infections rise, even though mild cases have been advised to isolate at home under new relaxed anti-pandemic rules that took effect on Dec 7.

"China's pharmaceutical industry has a solid foundation. It is believed that with the joint efforts of all parties, the production capacity of related drugs will be released soon to keep up with the needs of people," Zhou said.
This article was first published on SCMP.
Source: South China Morning Post/gr