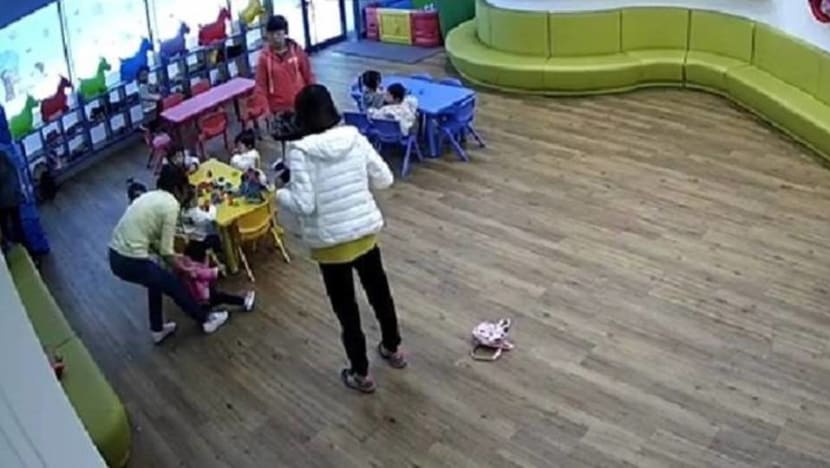 SHANGHAI: Eight employees of a children's daycare centre in China were sentenced to jail Tuesday (Nov 27) for abuse that included rubbing spicy mustard into youngsters' mouths.
The case emerged last November when disturbing video footage of workers abusing toddlers at the centre went viral, sparking nationwide outrage.
Shanghai's Changning District Court said in a statement that the defendants received sentences ranging from 12 to 18 months, but with "reprieve" periods.
That typically means the accused may not be required to go directly to jail and may have their eventual sentences reduced or waived with good behaviour in the interim.
Clips had shown young children of daycare employees being roughly handled and punished by having the spicy mustard shoved into their mouths or being forced to smell the pungent condiment.
The court's statement accused the employees of "mustard intimidation" of the children.
After video of the abuse went viral, subsequent clips emerged showing furious parents trying to take revenge by forcing what appeared to be spicy mustard into the mouth of one of the accused female staff members as police sought to hold them back.
The daycare centre was operated by the Shanghai Women's Federation to serve the employees of travel agency Ctrip at its headquarters. 

Ctrip is China's biggest online booking site for air, rail and other travel. It bought British flight search app Skyscanner for US$1.7 billion in 2016.

Two top executives, group vice-president Shi Qi and vice-president Feng Weihua, were fired last year over the incident, according to Chinese media reports that cited an internal company memo.
The daycare centre has since been shut.