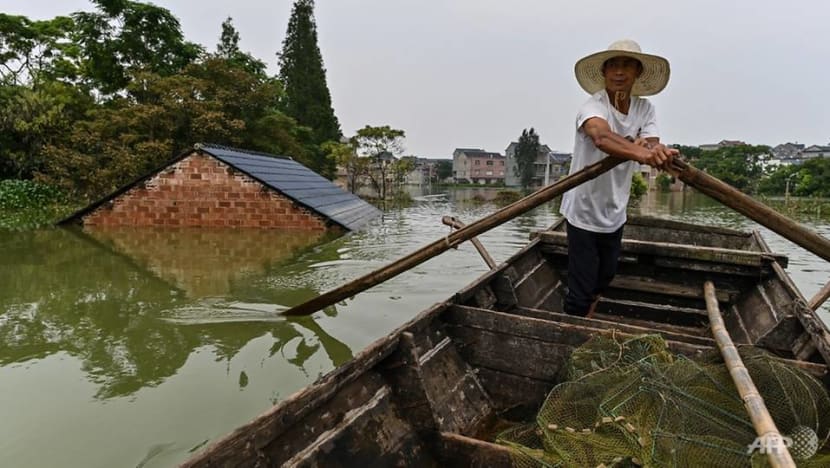 SINGAPORE: Chinese authorities issued more flood warnings for China's Yangtze River on Friday (Jul 17), as heavy rains were forecast in provinces in the country's south.
Heavy rains since June have left at least 141 people dead and missing, forced nearly 15 million people to be evacuated from their homes in July alone, and caused billions of dollars in economic losses, according to the government.

Waters in more than 400 rivers have exceeded warning levels, while some have reached historic highs over a period that officials say has caused the highest average rainfall levels across the Yangtze River basin since 1961.

Summer rains and seasonal glacial melt in the river's Tibetan plateau headwaters cause routine annual flooding.​​​​​​​

Water levels in the middle and lower portions of the Yangtze River have continued to rise, the official Xinhua news agency reported the Minister for Water Resources E Jingping saying on Thursday.
This followed 12 days of the water in parts of the river and its tributaries exceeding alert levels, said the minister.
The Changjiang River Water Resources Commission, which uses the local name for the Yangtze River, on Thursday issued a "blue" flood warning – the lowest level – for the Three Gorges reservoir, Xinhua reported.
The reservoir is more than 10m higher than its warning level. Water inflow to the reservoir on Friday is expected to exceed 50,000 cubic metres a second.
The government has so far said that the dam – condemned by environmentalists for upsetting the river's ecology and for the forced relocation of millions of residents – can handle the increased load.

Higher "orange" flood warnings remain in place for two major freshwater lakes in the Yangtze River plain – Dongting Lake in Hunan province and Poyang Lake in Jiangxi province.
Poyang lake, which is formed from the overspill of the Yangtze, is 2.5m higher than its warning level. It has expanded by more than 2,000 sq km during this flood season, and parts of the surrounding town have been inundated.

Xinhua said water levels at a key hydrological station on the lake broke a record set in 1998, when more than 4,000 people were killed in floods.
The historic highs have prompted an effort by more than 100,000 soldiers and other personnel to rescue residents and shore up dykes and levees to prevent worse flooding.
Dramatic improvement is not expected anytime soon.
"Yellow" flood warnings were also in place for Jinsha River, which flows through Qinghai, Yunnan and Sichuan provinces in southwestern China, and Chu River in Anhui and Jiangsu provinces in the southeast.
GOVERNMENT RESPONSE
Critics say the summer flooding threat has worsened over the decades due in part to rampant overdevelopment and poor water conservancy policies such as overbuilding of ill-advised dams and levees.

The government's flood response is focused on three areas, said the minister for water resources at his Friday briefing.
They comprise: Coordinating flood management along the Yangtze River and the Three Gorges reservoir; inspecting flood defences at the large freshwater Tai Lake in Jiangsu province; and preparing for a worst-case scenario of flooding in the Huai River basin.
Local media reported efforts by the government, military and volunteers to provide flood relief.
Video footage aired on state broadcaster CCTV showed soldiers carrying sandbags to reinforce river banks in Jiangsu and Hubei.
The footage also showed fast-moving waters flowing on collapsed roads, and a fishing village inundated by floodwaters from the Hong River in Yunnan.
The summer rainy season brings floods to China almost every year but the impact of the disruption they cause is being felt further afield, as Chinese goods become more important in supply chains of items such as personal protective equipment (PPE).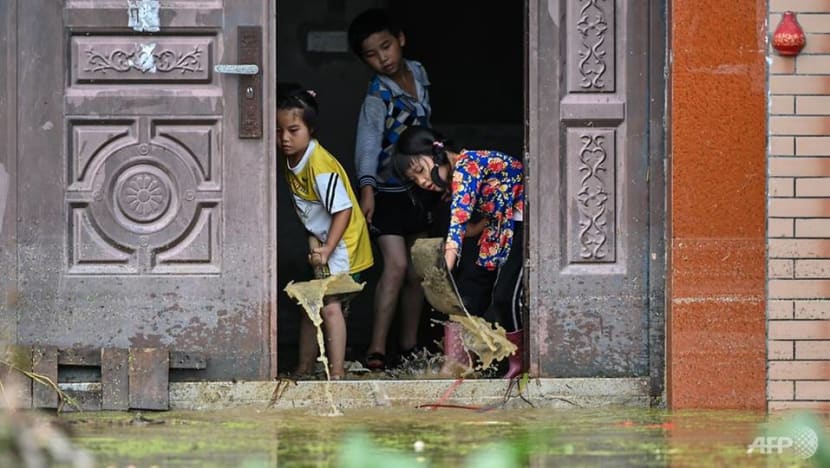 "It's just creating another major roadblock here in terms of PPE getting into the United States – it is the worst of times for it to happen but that's what we're dealing with right now," said Michael Einhorn, president of Dealmed, a US medical supply distributor, which sources disposable lab coats and other products from Wuhan and nearby regions.
"We cannot get product out for over a week, which is a very long time in our business," he said, adding that the delays could last another two or three weeks.
Wuhan, on the banks of the Yangtze River, on Friday issued an alert and warned residents to take precautions as water levels fast approached their maximum guaranteed safety level.

Economic activity in parts of China, especially construction and steel and cement demand, continues to be hurt by the flooding, analysts say, suggesting some loss of momentum after a stronger than expected bounce in the second quarter from the coronavirus crisis.
"We estimate recent floods in Yangtze River regions could lead to a gross drag of 0.4 to 0.8 percentage points on third-quarter GDP growth," analysts at Morgan Stanley said in a note to clients on Friday.