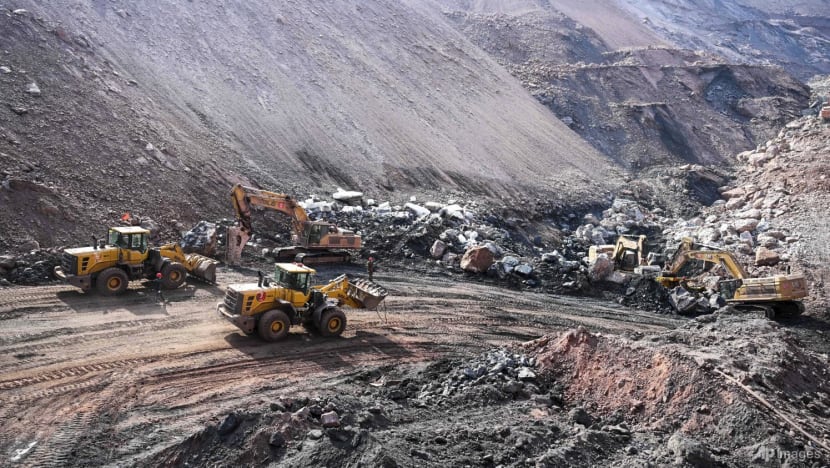 BEIJING: China's Inner Mongolia region ordered inspections at all of its open-pit mines on Friday (Feb 24), after at least six people were killed in a landslide at a coal mine, with 47 others still missing.
The mine, operated by small local firm Xinjing Coal Mining, collapsed in an avalanche of rock on Wednesday, leaving workers buried under a pile of debris.
Six people had been pulled alive from the mine in Inner Mongolia by 10.30pm on Thursday, state media reported.
The mine was buried under a pile of debris half a kilometre and an estimated 80m high, said state broadcaster CCTV.
A second landslide halted rescue efforts, state media reported, with the risk of more collapses very high due to the large collapsed area.
A second landslide halted rescue efforts, state media reported, with the risk of more collapses very high.
Around half of Inner Mongolia's coal mines are open-pit operations. It was unclear if the mines will continue operating during the safety inspections.
Three hundred rescue workers were using heavy machinery and rescue dogs in their search for the miners, state media said.
Li Zhongzeng, head of the town of Alxa League, said the rescue mission was difficult due to the threat of more landslides, and rescue plans include layered excavation and trapezoidal descending methods from both sides of the mountain, CCTV News said on Friday.
Inner Mongolia is the country's No 2 coal-producing region. Other key coal-producing provinces, such as Shanxi and Shaanxi, have also ordered mine safety inspections.
The mine, once underground, was converted to an open-pit operation in 2012, according to state media. It had suspended production for three years before restarting in April 2021, state media said, without specifying the cause of the closure.
Coal is a major source of energy in China, but its mines are among the world's deadliest, largely due to lax enforcement of safety standards, despite repeated government orders for improvements in safety over the years.
China's mines have been trying to boost output over the past year under a government call for greater supplies and stable prices.
This has coincided with an increase in accidents and fatalities in the sector. Data released by China's National Mining Safety Administration this month showed that the number of accidents at coal mines almost doubled in 2022 compared to 2021 and that the death toll reached a six-year high of 245, just after China called for higher coal output.