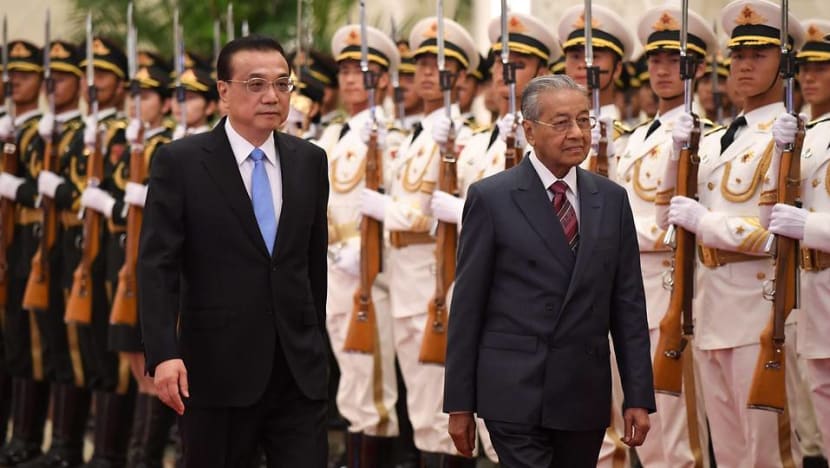 BEIJING: China's Premier Li Keqiang said on Monday (Aug 20) his government is willing to promote bilateral ties and economic cooperation with Malaysia as Malaysian Prime Minister Mahathir Mohamad visited China to discuss trade and investment.
The agreements reached on Mahathir's trip showed the two countries would remain friendly in the long term, Li told a joint news conference at Beijing's Great Hall of the People.
Mahathir is seeking to renegotiate, and perhaps cancel, billions of dollars worth of Chinese-invested projects entangled in domestic graft probes.
Ties have been strained since a stunning election victory returned Mahathir to power in May and he then suspended unpopular Chinese projects authorised by former premier Najib Razak.
Najib courted Chinese investment and was a cheerleader for President Xi Jinping's signature Belt and Road Initiative in Southeast Asia during his decade-long rule.
However, Mahathir has vowed to discuss the "unfair" deals on his visit.
The Malaysian premier said his trip had been fruitful and that he believed China would look sympathetically towards the problems both sides have to resolve.
Addressing Mahathir directly, Li asked if he believed they had consensus on upholding free trade.
"I agree with you that free trade should be the way to go but of course free trade should also be fair trade," Mahathir said.
"We should always remember that the level of development of countries are not all the same. We do not want a situation where there is a new version of colonialism happening because poor countries are unable to compete with rich countries," he said.