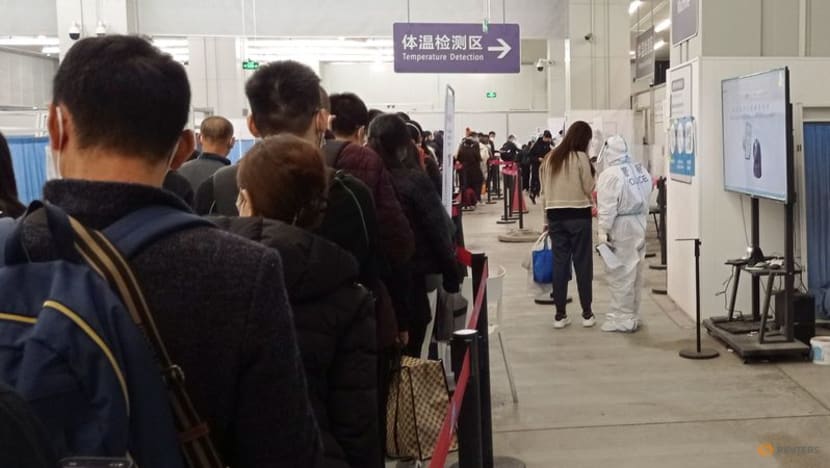 HONG KONG/BEIJING: Travellers began streaming into mainland China by air, land and sea on Sunday (Jan 8), many eager for long-awaited reunions, as Beijing opened borders that have been all but shut since the start of the COVID-19 pandemic.
After three years, mainland China opened sea and land crossings with Hong Kong and ended a requirement for incoming travellers to quarantine, dismantling a final pillar of a zero-COVID policy that had shielded China's people from the virus but also cut them off from the rest of the world.
China's easing over the past month of one of the world's tightest COVID-19 regimes followed historic protests against a policy that included frequent testing, curbs on movement and mass lockdowns that heavily damaged the second-biggest economy.
Long queues formed at Hong Kong's international airport for flights to mainland cities including Beijing, Tianjin and Xiamen and some Hong Kong media outlets estimated that thousands of people were travelling across.
"I'm so happy, so happy, so excited. I haven't seen my parents for many years," said Hong Kong resident Teresa Chow as she and dozens of other travellers prepared to cross into mainland China from Hong Kong's Lok Ma Chau checkpoint early on Sunday.
"My parents are not in good health, and I couldn't go back to see them even when they had colon cancer, so I'm really happy to go back and see them now," she said, adding that she plans to head to her hometown in eastern China's Ningbo city.
Investors hope the reopening will eventually reinvigorate a US$17-trillion economy suffering its lowest growth in nearly half a century. But the abrupt policy reversal has triggered a massive wave of infections that is overwhelming some hospitals and causing business disruptions.
The border opening follows Saturday's start of "chun yun", the first 40-day period of Chinese New Year travel, which before the pandemic was the world's largest annual migration of people returning to their hometowns of taking holidays with family.
Some 2 billion trips are expected to travel this season, nearly double last year's movement and recovering to 70 per cent of 2019 levels, the government says.
Many Chinese are also expected to start travelling abroad, a long-awaited shift for tourist spots in countries such as Thailand and Indonesia, though several governments - worried about China's COVID-19 spike - are imposing curbs on travellers from the country.
Travel will not quickly return to pre-pandemic levels due to such factors as a dearth of international flights, analysts say.
China on Sunday also resumed issuing passports and travel visas for mainland residents, and ordinary visas and residence permits for foreigners. Beijing has quotas on the number of people who can travel between Hong Kong and China each day.
VISITORS, HOMECOMINGS
At the Beijing Capital International Airport, families and friends exchanged emotional hugs and greetings with passengers arriving from places such as Hong Kong, Warsaw and Frankfurt, meetings impossible just a day earlier.
"I've been looking forward to the reopening for a long time. Finally we are reconnected with the world. I'm thrilled, I can't believe it's happening," said a businesswoman surnamed Shen, 55, who flew in from Hong Kong.
Other people waiting at the airport included a group of females fans carrying long-lens cameras in the hope of catching a glimpse of South Korean boy band Tempest, the first idol group from South Korea to enter China in the past three years.
"It's so good to see them in person! They are much more handsome and taller than I expected," a 19-year-old who gave her name as Xiny told Reuters after chasing the seven-member boyband, who flew in from Seoul via the Chinese city of Dalian.
"With quarantine restrictions lifted, it's going to be so much more convenient to fly over to see them, and for them to come to Beijing," she said.
CONCERNS OVER RURAL AREAS
China downgraded its COVID-19  management to Category B from A, which had allowed local authorities to quarantine patients and their close contacts and lock down regions.
But concerns remain that the great migration of city workers to their hometowns and reopening of borders may cause a surge in infections in smaller towns and rural areas that are less-equipped with intensive-care beds and ventilators.
The World Health Organization said on Wednesday that China's COVID-19 data underrepresents the number of hospitalisations and deaths from the disease.
Chinese officials and state media defended the handling of the outbreak, playing down the severity of the surge and denouncing foreign travel requirements on Chinese residents.
Jiao Yahui, an official from the National Health Commission, said in an interview published by state broadcaster CCTV on Sunday that demand for emergency and critical care in China's large cities had likely peaked but was rising fast in small and midsize cities and rural areas due to the Lunar New Year travel.
Some 80 per cent of ICU beds in China's top- and second-tier hospitals were in use, up from 54 per cent on Dec 25, she said, adding that the country's medical services to treat COVID-19 were facing an "unprecedented challenge".
Health officials told a news conference they would not rule out the possibility of taking emergency COVID-19 prevention measures such as suspending nonessential large-scale activities and business at large entertainment venues to deal with large outbreaks.
China's Center for Disease Control and Prevention announced two new daily COVID-19 deaths on the mainland, compared with three a day earlier, bringing the official death toll to 5,269.