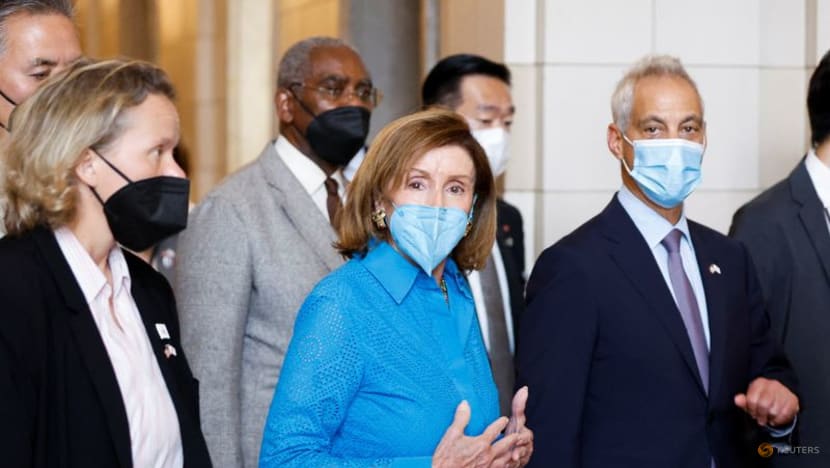 BEIJING: China has decided to sanction US House of Representatives Speaker Nancy Pelosi and her immediate family in response to her "vicious" and "provocative" actions, the Chinese foreign ministry said on Friday (Aug 5).
"Despite China's serious concerns and firm opposition, Pelosi insisted on visiting Taiwan, seriously interfering in China's internal affairs, undermining China's sovereignty and territorial integrity, trampling on the one-China policy, and threatening the peace and stability of the Taiwan Strait," a ministry spokesperson said in a statement.
This is the latest in a series of responses to Pelosi's decision to visit Taiwan, the highest-level visit by a US official in 25 years, despite China's repeated warnings.
During her visit, Pelosi lauded Taiwan's democracy, economic success and its human rights record. She also met with President Tsai Ing-wen and held a joint news conference.
In response, China fired ballistic missiles and deployed fighter jets and warships on Thursday, launching its largest military exercises around Taiwan. It straddled some of the busiest shipping lanes in the world, at some points just 20km from Taiwan's shore.
On Thursday night, Japan's defence minister said five missiles landed in the country's exclusive economic zone.
China also imposed curbs on the import of fruit and fish from Taiwan, as well as halted shipments of sand to the island. 
Beijing has imposed sanctions on a number of US officials in recent years for acting against what it views as its core interests and speaking out on human rights issues in Hong Kong and the northwestern region of Xinjiang, often without specifying punitive measures.
In March this year Beijing said it was imposing visa restrictions on an undisclosed list of United States officials who had allegedly "concocted lies on human rights issues involving China".
Former US secretary of state Mike Pompeo, as well as Peter Navarro - a trade adviser to former president Donald Trump - were among those hit by earlier waves of sanctions and are forbidden from entering China as well as doing business with Chinese entities.
Beijing's ruling Communist Party views self-ruled, democratic Taiwan as part of its territory and has vowed to one day take it, by force if necessary.