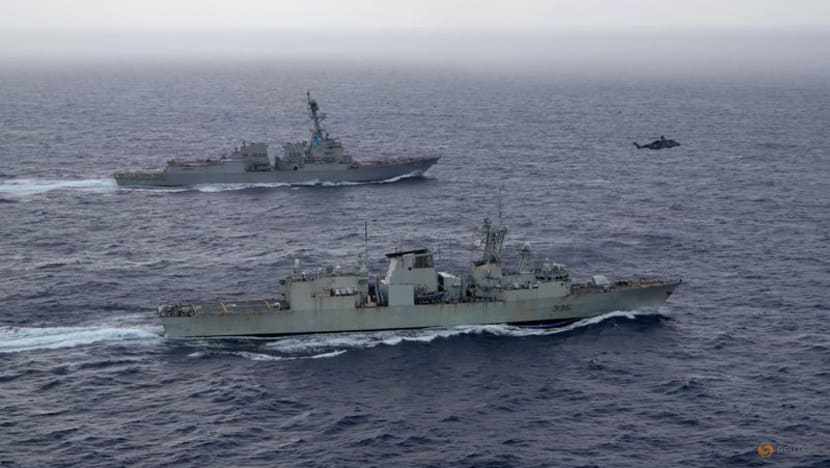 WASHINGTON: A Chinese Navy ship maneuvered in an "unsafe manner" near an American destroyer transiting the Taiwan Strait, the US military said Saturday (Jun 3). 
It is the second close encounter between American and Chinese military assets in less than 10 days, following what the US military said was an "unnecessarily aggressive manoeuvre" by one of Beijing's fighters near one of Washington's surveillance planes last week.
The Chinese ship "executed manoeuvres in an unsafe manner in the vicinity of Chung-Hoon," an American destroyer, during the Saturday transit, the US Indo-Pacific Command (USINDOPACOM) said in a statement.
Beijing's ship "overtook Chung-Hoon on their port side and crossed their bow at 150 yards. Chung-Hoon maintained course and slowed to 10 (knots) to avoid a collision", the statement said.
It then "crossed Chung-Hoon's bow a second time starboard to port at 2,000 yards and remained off Chung-Hoon's port bow", coming within 150 yards at the closest point, the US military said, adding that the "US military flies, sails, and operates safely and responsibly anywhere international law allows".
The incident occurred as the Chung-Hoon sailed through the Taiwan Strait with a Canadian warship in a joint mission through the sensitive waterway that separates self-ruled Taiwan from China.
The Chinese military said it had monitored the passage, but made no mention of a close encounter.
"The relevant countries are intentionally creating trouble in the Taiwan Strait, deliberately stirring up risks, and maliciously undermining regional peace and stability," said Senior Colonel Shi Yi, the spokesman of China's Eastern Theatre Command.
US warships frequently sail through the strait. The last joint US-Canada passage was in September 2022.
China claims Taiwan as its territory - vowing to take it one day, by force if necessary - and has in recent years ramped up military and political pressure on the island.
The Taiwan Strait ship encounter followed what the US military characterised as a risky manoeuvre by a Chinese jet that "flew directly in front of and within 400 feet of the nose" of an RC-135 surveillance plane on May 26 over the South China Sea.
Beijing blamed US "provocation", with a foreign ministry spokeswoman saying the "United States' long-term and frequent sending of ships and planes to conduct close surveillance on China seriously harms China's national sovereignty and security."