New Chinese ambassador to US acknowledges 'serious difficulties' in relations
Xie Feng, China's new ambassador to Washington, made the comments after he landed in New York City.
NEW YORK: China's new ambassador to Washington Xie Feng said on Tuesday (May 23) that he will seek to enhance China-US cooperation, but that relations face serious challenges.
"I have come here to safeguard China's interest. This is my sacred responsibility," Xie told reporters after landing at New York City's John F Kennedy International Airport.
"I'm also the envoy of Chinese people, so I've come here to enhance China-US exchanges and cooperation," said Xie, who has garnered a reputation for blunt rebukes of US actions as ties between the strategic rivals have deteriorated over issues ranging from Taiwan to trade.
Xie, 59, has worked in the foreign service since at least 1986 and spent much of the 1990s rising through the ranks of the ministry's bureau for North American affairs.
He served two stints in China's outpost in Washington during the following decade, before becoming ambassador to Indonesia.
Most recently, Xie worked as commissioner of Beijing's foreign ministry in Hong Kong, and as vice minister of foreign affairs.
The two countries' relations face "serious difficulties and challenges", Xie said on Tuesday.
"We hope that the United States will work together with China to increase dialogue, to manage differences, and also to expand our cooperation so that our relationship will be back to the right track," he added in his brief remarks before departing the airport and boarding a van. Chinese officials said he would be driven to Washington.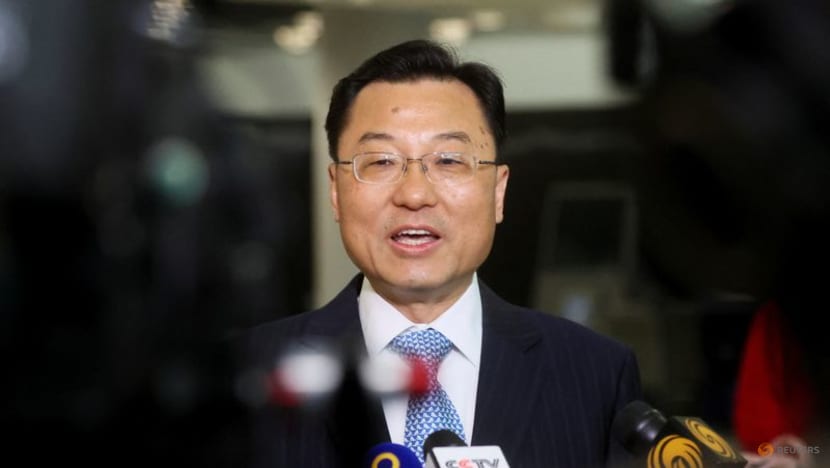 A fluent English speaker, Xie lodged China's formal denunciation in February accusing Washington of "obstinately" shooting down what it suspected was a Chinese spy balloon after its flight over the United States spurred a diplomatic crisis.
Beijing has said it was a civilian airship.
State Department spokesperson Matthew Miller said the US welcomed Xie's arrival.
"We look forward to working with the ambassador designate and his team. We remain committed, as we said on a number of occasions, to maintain channels of communication with the PRC (People's Republic of China) to responsibly manage competition," Miller said.
Xie has taken a confrontational tone in past meetings with Biden administration officials, including when hosting Deputy Secretary of State Wendy Sherman in 2021 in Tianjin, where he issued a long list of demands for the US to improve ties while accusing Washington of creating an "imaginary enemy" in China.
Nonetheless, Xie's arrival at the embassy post, which has been vacant since his predecessor Qin Gang was elevated to foreign minister late last year, could help Beijing parry criticism that it has ignored the Biden administration's calls for increased engagement.
Qin told Washington's envoy to Beijing this month that it was essential to stabilize relations, and US President Joe Biden - who expressed a desire to speak with Chinese leader Xi Jinping after the downing of the balloon - said on Sunday that he expected more US-China talks "very shortly".
Bonnie Glaser, an Asia expert at the German Marshall Fund of the United States, said Xie, as an experienced diplomat well-acquainted with US policymakers, was capable of facilitating better communication "if he chooses to do so".
"The decision to finally send Xie Feng appears to be part of this effort to prevent a spiralling deterioration of bilateral ties," Glaser said.