commentary Asia
Commentary: Faced with a troubling blasphemy verdict, Ahok at least left Jakarta a legacy of reform
The former governor had done a lot to improve the lives of ordinary Jakarta residents. But his blasphemy trial verdict sets a troubling precedence for pluralism in Indonesia and Indonesia's reform agenda.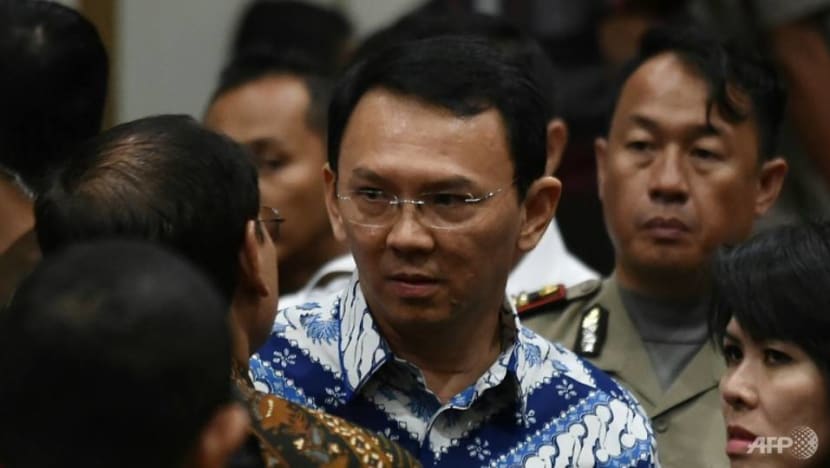 SINGAPORE: Supporters of former governor Basuki Tjahaja Purnama (popularly known as Ahok) were flabbergasted when the judges of Jakarta's district court sentenced the Christian governor to two years in jail for blasphemy on Tuesday (May 9). Among them number many pro-reform groups, minority groups and moderate Muslims in Jakarta.
The straight-talking, Christian governor had cited a verse from the Quran in his campaign visit to a north Jakarta neighbourhood last year.
For his supporters, the verdict is particularly disheartening for several reasons. First, the verdict was harsher than expected. Prosecutors had previously sought a lighter sentence of a two-year probation with a possible one-year jail term for hate speech (under Article 156 of the Criminal Code) and not blasphemy (which falls under Article 156a). Yet the judges ruled that Ahok was guilty of blasphemy and sentenced him as such. 
Second, the judges seemed to have neglected the social context of Ahok's comments, which was the open and growing intolerance and discrimination against minorities, which his comments had intended to address. Instead, they seemed to be adamant that the governor had the intention to blaspheme.
Third, coming on the back of Ahok's defeat by Anies Baswedan, the candidate supported by hardliners in the recent Jakarta gubernatorial election, many had thought that there would be a political trade-off which would allow Mr Purnama to be acquitted if he lost the election. This did not happen.
Fourth, the verdict was released in the aftermath of the disbandment of Hizbut Tahrir Indonesia (HTI), a group calling for a united Islamic caliphate, whose flags were frequently seen in the demonstrations against the governor. Some Ahok supporters who had seen this as a welcomed move against intolerant groups, are now disappointed by the court's ruling against Ahok, which to them seemed like a succumbing to Islamist pressure. 
AHOK STILL HAS MANY SUPPORTERS
In Jakarta and across the archipelago, Ahok's supporters, many of whom are Muslims, are using this moment to reconsolidate. Thousands flooded Jakarta's city hall and the Proclamation Monument yesterday to lament the verdict and show support to Djarot Saiful Hidayat, Ahok's vice governor and former running mate, who would take charge until October when the governorship will be passed to Anies.
But this verdict delivered a huge blow against pro-reform efforts in Jakarta. Over the past eight months, the trial has polarised Jakarta politics and public opinion, dividing the city up into hardliners and tolerant moderates and generated countless inflammatory messages and fake news on social media. It has also given legitimacy to thousands of hardliners who took to the streets to demand the imprisonment of the governor and sought to hinder his re-election.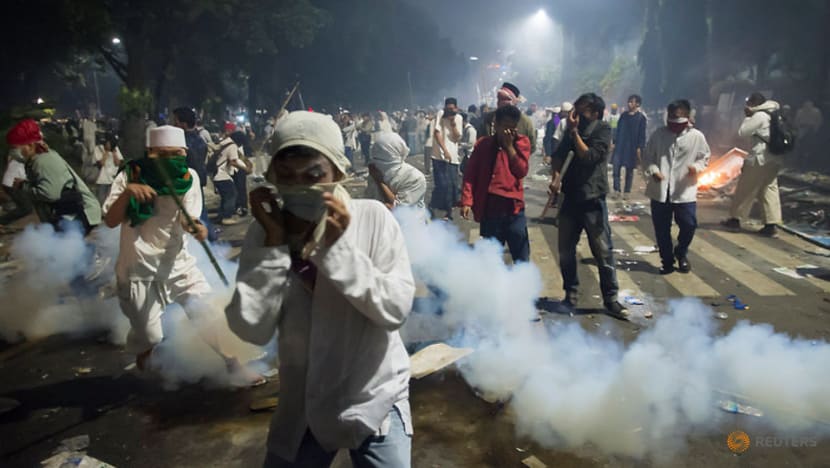 Exit polls conducted on voting day by a polling agency Indikator Politik Indonesia reportedly showed that 30.1 per cent of voters who expressed satisfaction with Ahok's performance in office still did not vote for him. Among them, 73.5 per cent stated that they believed he was guilty of blasphemy. So there is something to the theory that the blasphemy charges have overshadowed the governor's performance and achievements and swayed the results of the election.
This brings out an interesting question: Why are there many who still support Ahok, despite his election loss, blasphemy charges and now his guilty verdict?
First, many observers say there was a general understanding among many Jakarta residents that the trial was politicised and driven by anti-reform elements and elites, who were threatened by Mr Purnama's reform agenda and wanted to overthrow the prominent and popular pro-reform leader. There is also speculation that these anti-reform elements would continue using the Islamist card to attack more pro-reform leaders, and these efforts may ultimately end up targetting President Joko Widodo, Mr Purnama's close ally. So there are a few who do not buy into the rationale for the judgment and worry about what this means for reform in Indonesia going forward.
Second, for many, the blasphemy charges do not overshadow Mr Purnama's many successful programmes, which have improved the lives of many Jakarta residents.
AHOK LEFT BEHIND A LEGACY FOR JAKARTA AND INDONESIA
Ahok's implemented Smart Jakarta Card programme (Kartu Jakarta Pintar or KJP), a government aid programme for underprivileged students, waives the school fees of elementary, junior and high-school students from poor families. In 2013, there were 390,000 recipients. In 2016, this number increased to 750,000, with the programme's budget increasing in tandem to a total of IDR2.5 trillion (S$264.6 million).
Under Mr Purnama, Jakarta's unemployment rate decreased from 9.84 per cent in 2014 to 5.44 per cent in 2016. Poverty increased slightly from 3.92 per cent in 2014 to 3.93 per cent in 2015, yet decreased to 3.75 per cent in 2016, with local economic growth.
Mr Purnama also made great strides in improving the sanitation and living conditions for many residents. Under his watch, the Jakarta government recruited more than 12,000 city cleaners, dubbed "the orange troop" who cleaned and revitalised rivers in the city. This reduced the risk of flooding with significant results: The reported instances of flooding fell from 900 in the first quarter of 2015 to 700 in the same period in 2016.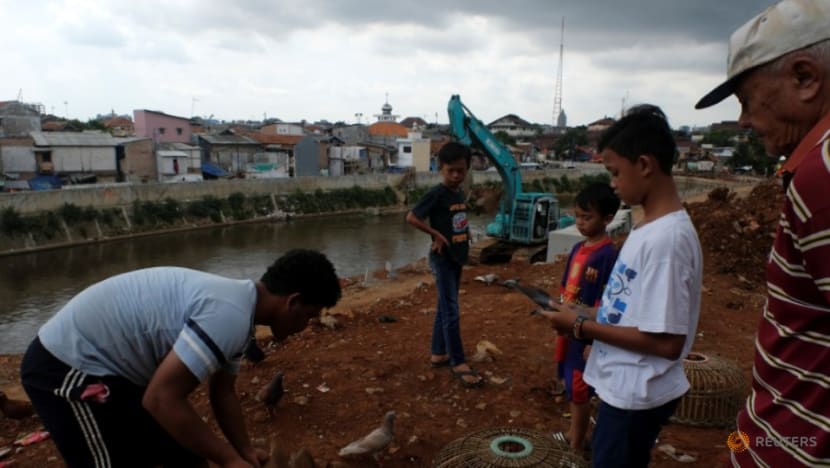 The provincial government also built thousands of state-subsidised rental flat units to house the poor and underprivileged, many of whom previously lived in denser riverside slums. To be fair, this policy met with mixed reviews, given that many residents were relocated without much option and the relocation involved moving from their larger dwellings to a small flat. Fair criticism also came from urban policy scholars who saw this as a harsh eviction policy, even though it was aimed at reducing the risk of flooding. This policy became a point of contention for many, especially throughout the campaign period. However, the fact that Djarot, the interim governor, has recently stated that he would continue with the policy further indicates that urban policy making in Jakarta is a complex business.
In recent years, the Jakarta government also built hundreds of child-friendly public spaces, which host playgrounds, small mosques, libraries, mini-markets and even lactation rooms.
In the transport sector, new measures to make the city friendlier to those with disabilities have been introduced. Sidewalks were enlarged and special minibuses which could be booked by users beforehand were introduced. The government also started work to construct 117 kilometres of MRT and LRT routes, to increase the number of Transjakarta buses to 3,000 units and to provide a 24-hour bus service.
To counter graft, Mr Purnama introduced a new unit that would act as a one-stop service unit to help potential investors with their queries and cut red tape for new businesses, with over 300 branches in Jakarta and at the sub-district and municipality levels established.

The provincial government also implemented various measures to improve transparency and stem corruption, including new recruitment criteria based on competence, a formal declaration process of government officials' wealth and e-budgeting to prevent the outflows of illegal funds. The climate of strict discipline in city hall and the proliferation of these regulations has led to the dismissal of hundreds of under-performing or corrupt officials.
City programmes promoting religious piety have also flourished. Jakarta's government has built many mosques, donated funds to hundreds of small mosques and Islamic prayer groups (majelis taklim) and sent hundreds of mosque guardians (marbut) on pilgrimage to Mecca. The Jakarta government also now gives a monthly salary to Quran recitation teachers of IDR3.1 million, which is Jakarta's official minimum wage. The government also closed off Kalijodo, where prostitution is said to be rampant, demolishing hundreds of buildings there, as well as shut down several discotheques across the city.
Indeed, Mr Purnama leaves behind a significant reform agenda, the efforts of which are starting to bear fruit but these still require significant momentum to reach fruition.
A NEGATIVE PRECEDENT FOR A NATION THAT USED TO TAKE PRIDE IN ITS TOLERANCE?
While the United Nations High Commissioner and Amnesty International have expressed concern over Ahok's sentencing and called for a review, the verdict presents an opportunity for proponents of reform to come together to reconsolidate.

There are budding signs that this is happening. Many have signed petitions for the law to be repealed and for Mr Purnama to be acquitted. The Jakarta Legal Aid Institute (LBH) has also labelled the verdict an "injustice" and recognised the troubling precedence it sets for Indonesia's pluralism and reform agenda.

Yet, more serious efforts are needed for pro-reform groups to credibly stand up to anti-reform elements going forward.
One satirical meme circulating around social media reads: "Today we are taught that it's okay for government officials to be corrupt as long as they don't say anything wrong." As Mr Purnama and his lawyers prepare for an arduous appeal, many Indonesians continue to lament this setback on reform and the negative precedent this case has established for the majority-minority relations of a nation which used to take pride in its tolerance.
Deasy Simandjuntak is a visiting research fellow at the ISEAS-Yusof Ishak Institute.