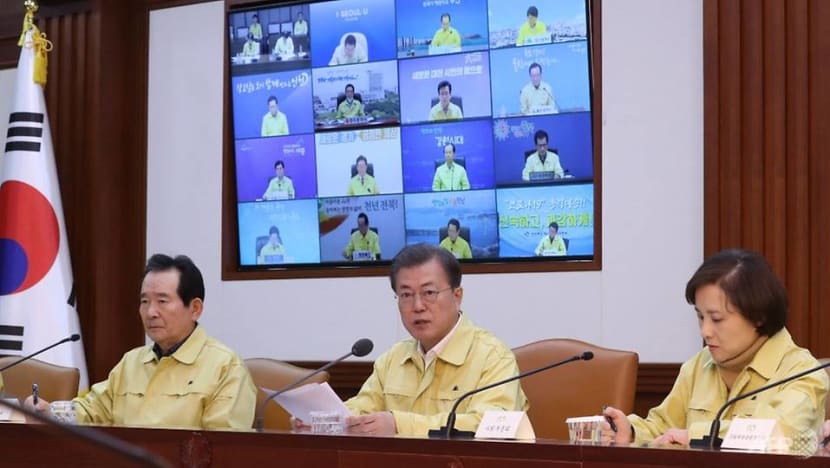 SEOUL: South Korea raised its alert on the coronavirus to the highest level on Sunday (Feb 23) after reporting three more deaths and 169 new infections.

"The COVID-19 incident faces a grave turning point. The next few days will be crucial," said President Moon Jae-in following a government meeting on the virus.

"The government will raise the alert level to the highest level of 'grave' according to experts' recommendations and drastically strengthen our response system," Moon said.

He also urged officials not to hesitate from taking "unprecedented powerful measures" to contain the outbreak.

South Korea has seen a rapid surge in the number of coronavirus cases in recent days after a cluster of infections emerged from a religious sect in the southern city of Daegu last week.
The national toll of 602 cases is now the highest outside China, apart from the Diamond Princess cruise ship in Japan.
The escalation in the alert level allows the government to send extra resources to Daegu city and Cheongdo county, which were designated "special care zones" on Friday.

The alert level also enables the government to forcibly prevent public activities and order the temporary closure of schools, the health ministry said, though it gave few details of immediate measures.

"The coronavirus virus is more contagious and spreads quickly during the early stage of the outbreak, and therefore preemptive measures are needed considering a possibility that the virus could develop to a nationwide spread from a community spread," Health Minister Park Neung-hoo told a news conference.
"We believe a week to 10 days will be crucial to determine the spread of the coronavirus."
Education Minister Yoo Eun-hae told the news conference that kindergartens, elementary and secondary schools would start the new semester one week later on Mar 9, from Mar 2.
The last time South Korea raised the alert level to "red" was 11 years ago during the Influenza A, or H1N1 outbreak, South Korea's Yonhap News Agency said.
Earlier on Sunday, the ruling Democratic Party asked the government for an extra budget and also to free up emergency funds from the existing budget worth 3.4 trillion won (US$2.82 billion) to tackle the outbreak. Parliament will hold a plenary session on Monday to discuss further measures.
Download our app or subscribe to our Telegram channel for the latest updates on the coronavirus outbreak: https://cna.asia/telegram