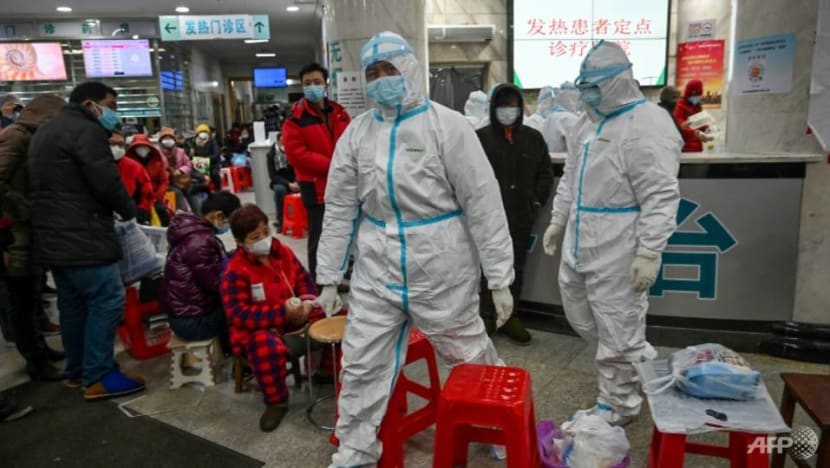 BEIJING: The death toll from a coronavirus outbreak rose by 121 in mainland China, the national health commission said on Friday (Feb 14).
The majority of the deaths came from the central province of Hubei and its capital Wuhan, where the flu-like virus named COVID-19 is believed to have originated late last year.
Hubei's health commission said there were 116 new deaths in the province, including 88 in Wuhan.
A further 5,090 cases had been detected, including 4,823 in Hubei. More than four-fifths of the province's new cases were in Wuhan.

The accumulative death toll was, however, revised downwards from 1,488 to 1,380, after officials said some fatalities had been counted more than once.
The National Health Commission removed 108 deaths after discovering "duplicate statistics" in Hubei, according to its daily update, without providing more details.
The commission also subtracted 1,043 from the total number of confirmed infections in Hubei after a "verification". The total number of cases now stands at 63,851.
The extent of the epidemic seemed to deepen on Thursday after authorities in Hubei started counting patients who were diagnosed through lung imaging, in addition to those who undergo lab tests.
The revision added nearly 15,000 patients to Hubei's count in a single day, with officials explaining that past cases were included. 
The World Health Organization has moved to calm fears, saying the new numbers did "not represent a significant change in the trajectory of the outbreak".
But Adam Kamradt-Scott, an infectious diseases expert at the Centre for International Security Studies at the University of Sydney, said the new figures give no indication the outbreak is nearing a peak.
"Based on the current trend in confirmed cases, this appears to be a clear indication that while the Chinese authorities are doing their best to prevent the spread of the coronavirus, the fairly drastic measures they have implemented to date would appear to have been too little, too late," he said.

BACKLASH AGAINST BUREAUCRATS
The epidemic has given China's ruling Communist Party one of its sternest challenges in years, constrained the world's second-largest economy and triggered a purge of provincial bureaucrats.

Provincial Communist Party boss Jiang Chaoliang was fired as secretary of the Hubei Provincial Committee, and Ma Guoqiang removed as party chief in Wuhan, state media said. They were the two highest-profile officials to be axed since the outbreak.
Economists are assessing the impact of the outbreak on the world's second-largest economy and scaling back their expectations for growth this year.
China's economy will grow at its slowest rate since the global financial crisis in the current quarter, according to a Reuters poll of economists who said the downturn will be short-lived if the outbreak is contained.
Download our app or subscribe to our Telegram channel for the latest updates on the coronavirus outbreak: https://cna.asia/telegram