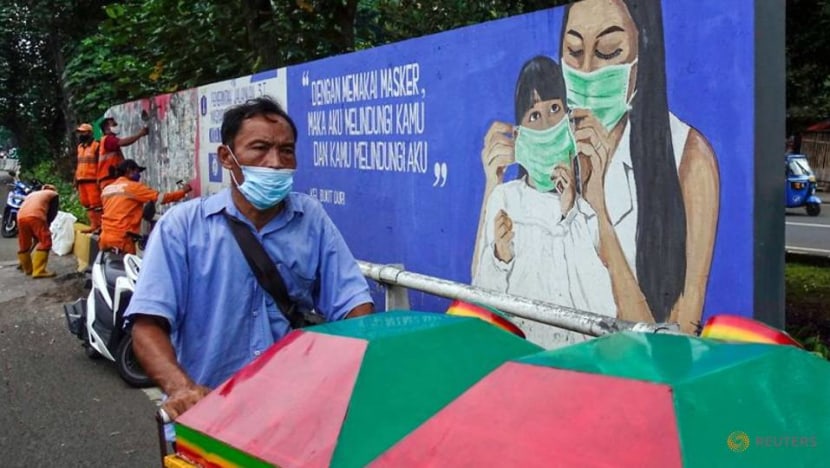 JAKARTA: Indonesian President Joko Widodo said on Sunday (Jul 25) that the current restrictions put in place to curb COVID-19 will continue until Aug 2, but several adjustments related to community activities and mobility will be made.

Under the PPKM (community-level public activity restrictions enforcement) Level 4, people's movements are restricted according to the sectors they work in, and only employees in critical sectors such as energy and health are allowed to go back to the workplace.

However, in a televised address President Widodo said there will be certain adjustments, taking into account health and economic aspects as well as social dynamics.
"Traditional markets that sell daily basic necessities may be open as usual under strict health protocols.
"Traditional markets that sell other than daily basic necessities, may be open with a maximum capacity of 50 per cent until 3pm and further arrangements will be made by the local government," said Mr Widodo.
He added that street vendors, grocery stores, mobile phone voucher agents or outlets, barbershops, laundromats, hawkers, small automotive repair shops, car wash, and similar small businesses are allowed to open under strict health protocols until 9pm. Further arrangements will also be made by the local governments.
Jokowi, as the president is popularly known, also said that food stalls, street vendors, hawkers, and other similar outlets that are operating outdoors or in an open space can stay open for business until 8pm, with each patron allowed to visit for a maximum of 20 minutes.
He stated that the government has increased social assistance for the community and small businesses, and the details will be announced by relevant ministers.

PPKM Emergency, which was subsequently renamed to PPKM Level 4, has been imposed from Jul 3 to Jul 25 in Java and Bali as Indonesia is battling a surge in COVID-19 cases.
The restrictions were later extended to 15 other regions outside of Java and Bali.
The Indonesian government has classified regions in the country into four levels - with level 1 being the safest and level 4 showing the highest levels of transmission.
This is in accordance with the World Health Organization (WHO) guidelines that 50 confirmed cases daily per 100,000 people would be classified as level 4, said the government.
Speaking at a virtual press conference also on Sunday, Coordinating Minister for Maritime Affairs and Investment Luhut Pandjaitan said that from Jul 26, there will be 95 cities and regencies in Java and Bali which will be classified level 4. But he did not reveal which cities and regencies are at this level.
Meanwhile, there will be another 33 cities and regencies in Java and Bali which are at level 3, said Mr Pandjaitan who was appointed by the Mr Widodo to oversee the restrictions there.
Export-oriented industries which are in regions at level 3 are allowed to open in shifts and each can operate with a maximum of 50 per cent capacity under strict health protocols. 
"So if there are two shifts, it can operate 100 per cent in the production facility," said Mr Pandjaitan.
Malls in cities and regencies at level 3 can also operate with a maximum capacity of 25 per cent until 5pm.
Furthermore, places of worship in cities and regencies at level 3 can also open with a maximum capacity of 25 per cent or a maximum of 20 people.
Meanwhile, Coordinating Minister for Economic Affairs Airlangga Hartarto who also heads the COVID-19 Handling and National Economic Recovery (KPCPEN) Committee said at the same press conference that the government has now identified 45 cities and regencies at level 4 outside of Java and Bali.
He added that starting Monday, 276 regions will be at level 3 in 21 provinces outside of Java and Bali.
COVID-19 infections in Southeast Asia's biggest economy are currently among the highest in the world.
Indonesia has recorded more than 3 million infections and 83,000 deaths.
Download our app or subscribe to our Telegram channel for the latest updates on the coronavirus outbreak: https://cna.asia/telegram