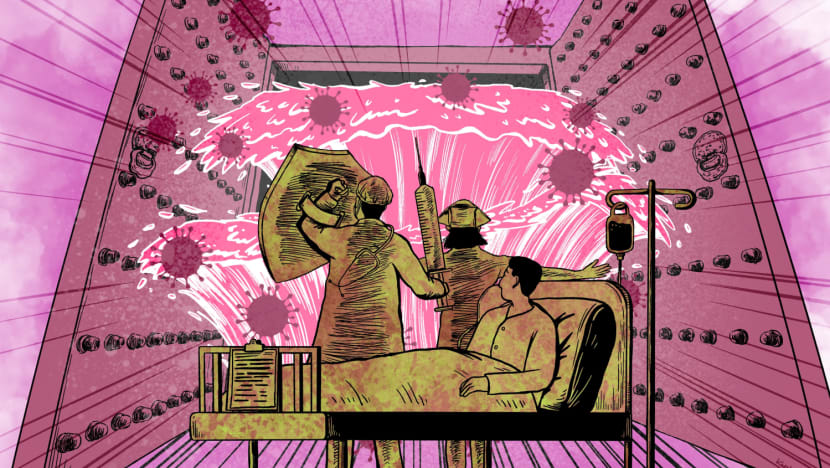 Emergency doctor Ai Fen was one of the first in the world to see the effects of the new coronavirus and has just coped with the latest wave.
The city's healthcare system was better prepared this time and handled the rising cases with ease, but there is still room for improvement.

About 10 million residents of Wuhan, where COVID-19 was first reported, endured a 76-day lockdown from January 2020 to contain the virus that causes the disease. Such responses became a key pillar of China's zero-COVID policy, but another wave of infection hit the city three years later when the authorities pivoted to living with the virus. In the second of a three-part series on the anniversary of the lockdown, Luna Sun talks to a doctor who has battled COVID-19 twice on the frontlines about how well the healthcare system has handled the latest surge.
One of the first doctors to confront the new coronavirus that causes COVID-19 said Wuhan's healthcare system was better prepared for the latest wave of infections, compared to the chaos and disorientation of December 2019, but there is still room for improvement.
Ai Fen, director of the emergency department at the Central Hospital of Wuhan, was on the frontline when she started seeing patients with a mysterious SARS-like pneumonia.
A snapshot of her initial report – which warned that the illness was likely to be highly contagious and dangerous – was shared by eye doctor Li Wenliang, one of the first whistle-blowers to the public about the emergency that later became known as COVID-19, which also killed him.
Ai was reprimanded by hospital officials for her report and accused of spreading rumours, but she continued to emphasise the importance of preparedness to her staff, insisting that they wear masks, wash their hands and offer masks to patients.
Now, after weeks of fighting the renewed wave of COVID-19 infections – which has ripped through the population at a much larger scale compared to three years ago – Ai said the healthcare system had learned the lessons and was better prepared.
Hospitals in Wuhan did not experience the shortages of drugs and medical supplies reported in other cities, but more could still have been done, she said.
"Compared to 2020, it's obvious that this time we prepared more comprehensively, including in leadership management, the coordination of resources (and) the stockpiling of supplies," Ai said.
Another possible reason for Wuhan's resilience is that the city had already been through the challenge in 2020, she added. "At least people were mentally prepared."
In the latest surge, all departments at her downtown hospital were required to admit patients with fever or COVID-19 unconditionally. This took much of the burden from the emergency room, as well as the respiratory diseases department and intensive care unit, Ai said.
The hospital had also stockpiled enough medical supplies – including gloves, N95 masks, ventilators and high-flow nasal cannula oxygen therapy devices – to be able to run at an overloaded capacity for three months.
In 2020, when the Central Hospital was designated to treat COVID-19 patients, it struggled with oxygen shortages, Ai said. This time, the hospital has built oxygen tanks two storeys tall, which have helped significantly in giving relief to patients in need.
Overall, Wuhan's healthcare system had handled the wave of new infections with "ease and composure", but things could never be "perfect".
Areas which could be further improved included better training of medical staff on respiratory diseases and usage of equipment, the smoothing of certain procedures, as well as public education.
"If the public had known what the whole process of the illness is like, they would not have all crowded the hospitals," she said.
"(The government) could better educate the public about what medicine to buy for what symptoms. Sometimes, people stand in long lines (at the hospital), just for a pack of fever medicine, when they could be purchased at pharmacies. And pharmacies could implement a 24-hour operation."
Community clinics could also be better equipped with oxygen and trained medical staff before outbreaks, Ai said.
Wuhan was among the first Chinese cities, along with Beijing and Shanghai, to experience a surge in new cases after the initial easing of COVID-19 restrictions in early December.
But the shortages and panic buying of ibuprofen and other antifebriles that made headlines in Beijing throughout December were not as dramatic in Wuhan, according to Ai.
Antifebrile medicines were always available at the hospitals and she had heard no reports of people unable to buy ibuprofen in the city, Ai said.
A pharmacy within walking distance of her hospital also confirmed that it had sufficient supplies of antifebriles throughout the surge, even during its peak in mid-December. A neighbouring pharmacy said it ran out of antifebriles for a week but was soon restocked.
"On one hand, 2020 left an indelible impression on Wuhan residents, so people were not as panicked (this time) as we had fought (in 2020) for two months, before the assistance came from all over the country," Ai said.
She also pointed out that Beijing and Shanghai have larger ageing populations with chronic conditions, the group most vulnerable to severe symptoms.
Despite their ample preparations, officials in Wuhan were surprised to see so many infections emerge so quickly last month, after China changed its COVID-19 response from containment to living with the virus.
The city's hospitals were crowded with COVID-19 patients, some with high fever, some with breathing difficulties, and some already developing pneumonia.
At the height of the outbreak in mid-December, Wuhan's healthcare system exceeded its maximum capacity, though the surge in patients was less severe than early 2020, when the emergency department was taking in more than 1,500 cases a day.
This time around, more than 90 per cent of the medical staff at Ai's emergency department were infected, compared to fewer than half in 2020. She estimated the infection rate was likely to reflect the situation across the city.
With sickness leaving her department understaffed, Ai had to borrow medical staff from other departments, which took a lot of effort and coordination. There was also plenty of back-and-forth across the hospital to solve problems as they arose – from bed shortages to oxygen supplies.
After a month of fighting to save her patients from the worst effects of COVID-19, Ai can finally breathe a sigh of relief. The narrow corridors of the emergency department are no longer full of distressed relatives of the sick or fever patients on the edge of consciousness.
"We have very few patients still under monitoring but the whole ER is gradually resuming to its common level," Ai said.
Admissions to the emergency room peaked at close to 900 in mid-December, but had dropped to fewer than 500 by the end of the first week of January.
But there had been more critically ill patients this time, compared to 2020, and more fatalities among the elderly, she said.
While a young person can usually be discharged after three to five days, older patients can be in hospital for seven to 10 days – longer if they have been intubated.
"They might stay as long as February or March, so the discharge of patients might be longer for some departments," Ai said.
Like many Wuhan residents, Ai has questions about the timing of China's sudden reopening – during winter when things are already bad for people with cardiovascular diseases, and with the take-up of vaccine booster shots very low among the elderly.
At the same time, Ai said she knew zero-COVID could not be sustained and a head-on battle against COVID-19 was inevitable.
"Sometimes we are thinking from an individual standpoint, but the leadership would be making policies from a holistic and macro perspective. For instance, if people were told in advance the time of the reopening and what needed to be prepared, would there have been panic buying leading to chaos?" she said.
"China has 1.4 billion people and everyone has a different opinion. History will prove whether we made the right policies. Many things, that we now deem poorly handled, could be understood as the best option at the time in years to come."
Ai said she believed Wuhan's latest wave has peaked, but it was still important to stay focused and vigilant.
"Recently an official with the Wuhan Health Commission came to visit our ER and said this wave of new infections has yet to end and could last until March," Ai said.
"Nobody knows when the next wave will come. Will the Spring Festival travel lead to new outbreaks? Will the virus further mutate? We can't know for certain and that requires scientific assessments from virologists and public health experts."
This article was first published on SCMP.
Source: South China Morning Post/kg