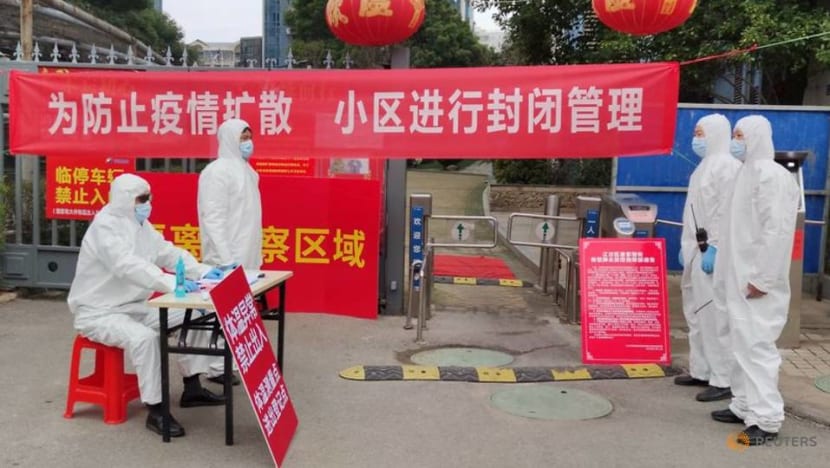 SHANGHAI: China reported another fall in the new coronavirus infections outside of its epicentre on Sunday (Feb 23), but world health officials warned it was too early to make predictions about the outbreak as new infections and fears of contagion increased elsewhere.
China's health commission confirmed 648 new infections on Sunday - higher than a day earlier - but only 18 were outside of Hubei province, the lowest number outside of the epicentre since authorities started publishing data a month ago.
But new infections outside of China continued to worry world health authorities, with South Korea on Sunday reporting a fourth death due to the virus and 123 new cases, bringing its total to 556, having doubled from Friday to Saturday.
Cases in Italy, Europe's worst hit country, more than quadrupled to 79 on Saturday, with two deaths. Japan confirmed 27 new cases on Saturday, while 10 new cases in Iran took the total to 29 there, and six deaths - all since Tuesday - deepening unease at home and in its neighbouring countries.
The World Health Organization said it was channelling efforts into helping to prepare vulnerable countries, including 13 in Africa. It expressed concern on Saturday about the number of new infections that had no clear link to China, such as travel history or contact with a confirmed case.

PATIENT BACKLOG
China's health commission said the number of new deaths from COVID-19, as the disease caused by the virus is known, was 97, all but one of which were in Hubei. Eighty-two of those were in the provincial capital Wuhan.
The official Xinhua news agency reported Wuhan had conducted nucleic tests for all its backlog of patients in a bid to arrest the coronavirus spread, including those confirmed or suspected to be infected or in close contact with confirmed cases and patients with fever.
Guo Shengkun, secretary of the Communist Party's Politics and Law Commission, inspected several jails on Saturday and stressed that China should learn from the infections last week of hundreds of inmates, including taking extraordinary measures and "wartime strategies" to tackle the spread.
In total, China has reported 76,936 cases, and 2,442 deaths. The WHO says the virus remains mild in 80 per cent of patients, and severe or critical in 20 per cent.
South Korea's earlier cases were linked to China but the new infections centre in two places, Daegu, a city of about 2.5 million, and a hospital in Cheongdo, a county with about 43,000 people. Both have been designated "special care zones".
The coronavirus has spread to more than 25 countries and is causing mounting alarm due to new pockets of outbreak in Europe, the Middle East, and Asia.
China has sowed confusion about its numbers by repeatedly changing its counting methods, which could further complicate efforts to track the contagion.
China had reported a sharp fall in new deaths and cases of the coronavirus on Saturday, but the World Health Organization's warned it was too early to make predictions about the outbreak as new infections continued to rise in other countries. 

"Our biggest concern continues to be the potential for COVID-19 to spread in countries with weaker health systems," WHO chief Tedros Adhanom Ghebreyesus said.
COMPLACENCY WARNINGS
Beijing, Zhejiang, Sichuan had no new infections on Feb. 22 for the first time since the outbreak was detected.
State run television on Sunday urged people to avoid complacency, warning China had yet to reach the turning point. It said people had been gathering in public areas and tourist spots without wearing masks.
Analysts have been closely watching out for any secondary wave of infections as transport restrictions are eased and many migrant workers return to factories and offices, as concern mounts globally over disruptions from containment measures in the world's second-biggest economy.
The Shanghai Daily newspaper said more businesses there have reopened, including over 90% of convenience stores and 95% of malls. The Sichuan daily reported crowds of people at a square in Guangyuan city drinking tea, despite health warnings.
The number of cases in Japan not connected to the cruise rose to 132 on Saturday, and the United States raised its travel advisory warning level against "sustained community spread".

Download our app or subscribe to our Telegram channel for the latest updates on the coronavirus outbreak: https://cna.asia/telegram
Source: Agencies/nh/ek/hm