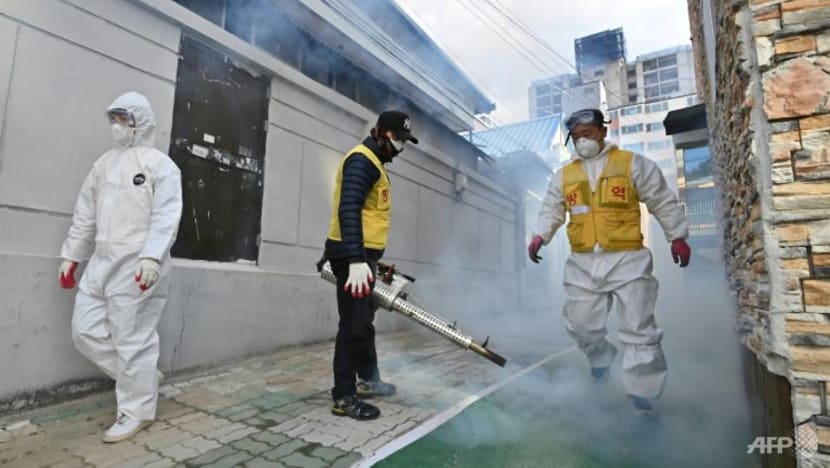 SEOUL: South Korea's president declared "war" against the coronavirus on Tuesday (Mar 3), ordering additional hospital beds and more face masks to be made available as the country's total cases - the largest in the world outside China - surpassed 5,000.
President Moon Jae-in apologised for shortages of face masks and promised support for virus-hit small businesses in Asia's fourth-biggest economy, which reported 851 new cases and three more deaths on Tuesday. 
This brings its total number to 5,186 cases and 28 deaths, the Korea Centers for Disease Control and Prevention said in a statement.

Moon said the government will inject more than 30 trillion won (US$25 billion) into the economy to address the "grave" situation brought on by the outbreak.

"The entire country has entered a war with the infectious disease," Moon said, ordering all government agencies to operate around the clock.
"I am very sorry to the people that we are not able to supply masks swiftly and sufficiently, and have caused inconvenience."

BATTLE FOR MASKS
Moon ordered masks to be stockpiled as a strategic item so suppliers can produce them without the risk of surpluses.
People are forming long queues for masks at retail stores and online suppliers are selling out as soon as stock arrives, even though the World Health Organization says healthy people only need to wear masks if they are caring for someone who is sick.
Lee Ji-eun, a 34-year-old doctor in Seoul, said her daily routine began with surfing the Internet to try to find masks for her family.
"It is totally a lottery. I click 'buy' like crazy every morning, but I only succeeded in purchasing a few last week," she said.
"There aren't enough even for doctors when treating patients."
A man was caught lining up to buy a mask in Daegu after testing positive for the virus, a police official told Reuters. 
South Korea has seen a rapid rise in infections in recent days and scores of events - from K-pop concerts to sports seasons - have been cancelled or postponed over the contagion, with school and kindergarten breaks extended by three weeks nationwide.
The central bank has warned of negative growth in the first quarter, noting the epidemic will hit both consumption and exports.
More than half of the cases have been linked to the Shincheonji Church of Jesus, a secretive religious group often accused of being a cult.
A 61-year-old female Shincheonji member developed a fever on Feb 10 but attended at least four services in Daegu - the country's fourth-largest city with a population of 2.5 million and the centre of the outbreak - before being diagnosed.
Authorities said more than 190,000 members had been checked as of Tuesday.
Of the 5,186 cases nationwide, the majority were in Daegu and the neighbouring province of North Gyeongsang, the KCDC said.

SHINCHEONJI FOUNDER TESTED NEGATIVE
South Korean health authorities said on Tuesday that Lee Man-hee, the 88-year-old founder of the sect, has tested negative for the coronavirus.

Lee was taken late on Monday to one of the many test sites set up around the country where people can remain in their vehicles while getting samples taken, according to Mayor Kim Jong-cheon of the city of Gwacheon, where the church's headquarters is located.
The test result came back negative, an official in the province of Gyeonggi said, asking not to be named because he was not authorised to speak to the media.

Lee apologised on Monday and called the epidemic a "great calamity" but refused to be tested by public authorities until a local governor threatened to drag him by force to be tested.

Seoul city authorities have filed a complaint with prosecutors seeking to have him and other Shincheonji leaders charged with murder and other offences.

Download our app or subscribe to our Telegram channel for the latest updates on the coronavirus outbreak: https://cna.asia/telegram
Editors Note: The death toll in this article has been corrected to reflect official figures from the KCDC.