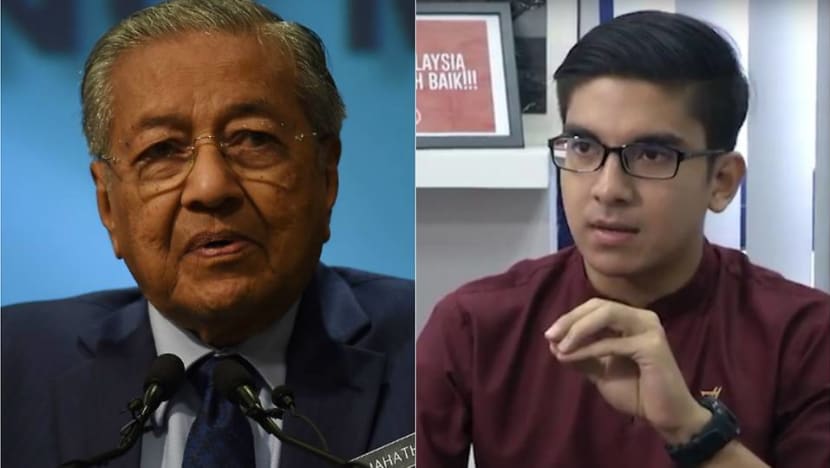 KUALA LUMPUR: Malaysia's Youth and Sports Minister Syed Saddiq offered words of encouragement for Prime Minister Mahathir Mohamad on social media, following the latter's heated exchange with taxi drivers in Langkawi.
In a Twitter post in English and Malay on Sunday (Oct 21), Syed addressed the leader and said: "Don't be sad and please don't give up on us."
On Sunday morning, Dr Mahathir was addressing taxi drivers in Langkawi about their concerns over ride-hailing service Grab when some shouted and walked out of the room in disagreement.
Amid the disruption, Dr Mahathir said: "If you don't want me to be the prime minister, I can resign today, it's no problem for me."
In a separate post on Instagram, Syed was also critical of the taxi drivers who were "rude" during the dialogue session and questioned their manners.
According to the New Straits Times (NST) Online, at least 10 taxi drivers among the 200 gathered staged a walkout during the dialogue.
The report added that Dr Mahathir said measures would be put in place to ensure fair competition, and that Grab would be asked to use vehicles approved by the government as well as pay insurance and taxes just like normal taxis.
"I have brought this up in Cabinet ... I told the minister (transport) to fix it, but unfortunately, there has been no progress.
"I will try again ... I too feel it is unfair. This matter has my attention but I cannot give my assurance that Grab will be abolished, but we can make them equal like taxis," Dr Mahathir was quoted as saying by NST.